*This post may contain affiliate links, which means as an Amazon Associate I may receive a small percentage from qualifying purchases if you make a purchase using the links, at no additional cost*
---------------------------------------------------------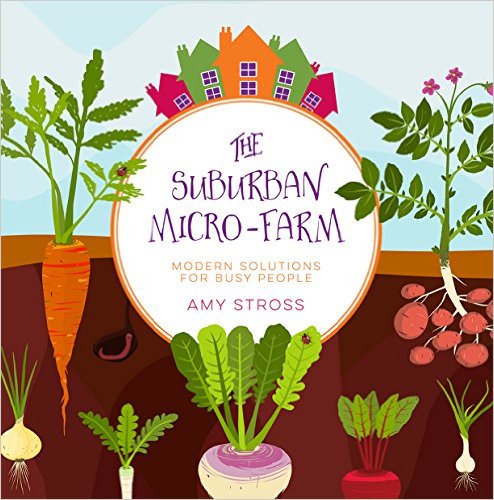 **UPDATE for March 2018 Amy has released a new version of her popular book – now in FULL COLOR so you can really appreciate her gorgeous gardens!**
When I found out that one of my favorite garden bloggers, Amy Stross from Tenth Acre Farm was writing a book, I couldn't wait to get my hands on it! I was recently given the opportunity to preview her book "The Suburban Micro Farm" and it positively lived up to all my expectations!
If you have never visited Amy's blog, I highly recommend it. She lives on a small suburban lot (just 1/10 of an acre) and she grows over half the produce her family needs. She utilizes her extensive knowledge of permaculture principles, companion planting, soil maintenance and organic gardening to farm her small lot, replacing the traditional suburban lawn with a delicious and gorgeous edible landscape. I am constantly inspired by her posts and photos of her garden set up. Not only does she manage to get a huge harvest in a small space, Amy proves that an edible yard is just as beautiful (I would argue MORE beautiful!) than a lawn
"If you have dreamed of growing food but the demands of modern life have left you feeling overwhelmed, then this book is for you." – Amy Stross
I love that her book has all the great, practical ideas on her blog, all in one convenient location. She breaks down what can be an overwhelming task of starting a backyard farm into three mini sections.
The first part deals with planning your micro farm: learning how to properly prepare your soil (SUCH an important step), deciding what to grow (with amazing, detailed growing guides to veggies, fruit & herbs you can grow right in your yard), and even preparing your neighbors for the idea you are trading your lawn for food.
Part two gets into the nitty gritty of farming your yard: sketching out the garden beds, monthly to-do checklists, garden chores and calendars, how to start seeds and my favorite section – how to maintain your micro farm. Amy has some great tips on sustainable watering, composting, natural pest control (with helpful charts on types of pests and how to deal with them), seed saving and keeping up with weeds in your busy life.
Part three is for when you are ready to move beyond the basic raised bed or container and get into full edible landscaping (making your micro farm pretty AND productive!) and a helpful chapter on selling your excess harvest at farmer's markets.
I am definitely a visual learner so I really appreciate all the beautiful, full color photos and diagrams through out the book. Especially for someone new to permaculture, having diagrams on how to create a swale, capturing rain water, and details on making a rain garden were exactly what I needed.
I know this book is going to becoming a well used part of my gardening reference library. Her book hits shelves on December 14, 2016 – just in time for the holidays or to start your own spring time garden planning! If you are looking for the perfect gift for that aspiring farmer (or yourself) in your life, click here to order "The Suburban Micro Farm" , it's a must have!
"The greatest change we need to make is from consumption to production, even if on a small scale, in
our own gardens. If only 10% of us do this, there is enough for everyone." – Bill Mollison