*This post may contain affiliate links, which means as an Amazon Associate I may receive a small percentage from qualifying purchases if you make a purchase using the links, at no additional cost*
---------------------------------------------------------
Ascites, also called Water Belly, is a common problem with fast growing meat chickens, and also in older laying hens. It is not a disease, so it is not contagious to the rest of your flock. It is a symptom of a deeper problem, and unfortunately, the underlying cause is eventually fatal.
Symptoms
A hen with water belly will usually have the following symptoms:
*swollen & distended abdomen that is soft, squishy and feels full of liquid
*red skin along their abdomen, likely missing feathers
*waddling when walking
*blue/purple tint to her comb & wattles
*labored breathing
*lethargy & lack of appetite
Causes
A chicken with water belly is usually suffering from heart failure and/or hypertension. The heart disease stress causes their liver to stop functioning properly. When the liver isn't functioning properly, fluid begins leaking from the liver into the abdominal cavity causing "water belly". Occasionally in very old (5+ years) chickens, the cause of the liver failure is a tumor in their reproductive system. In any event, if your chicken has water belly, it is definitely not a good sign. There is likely a serious issue with your chicken's health.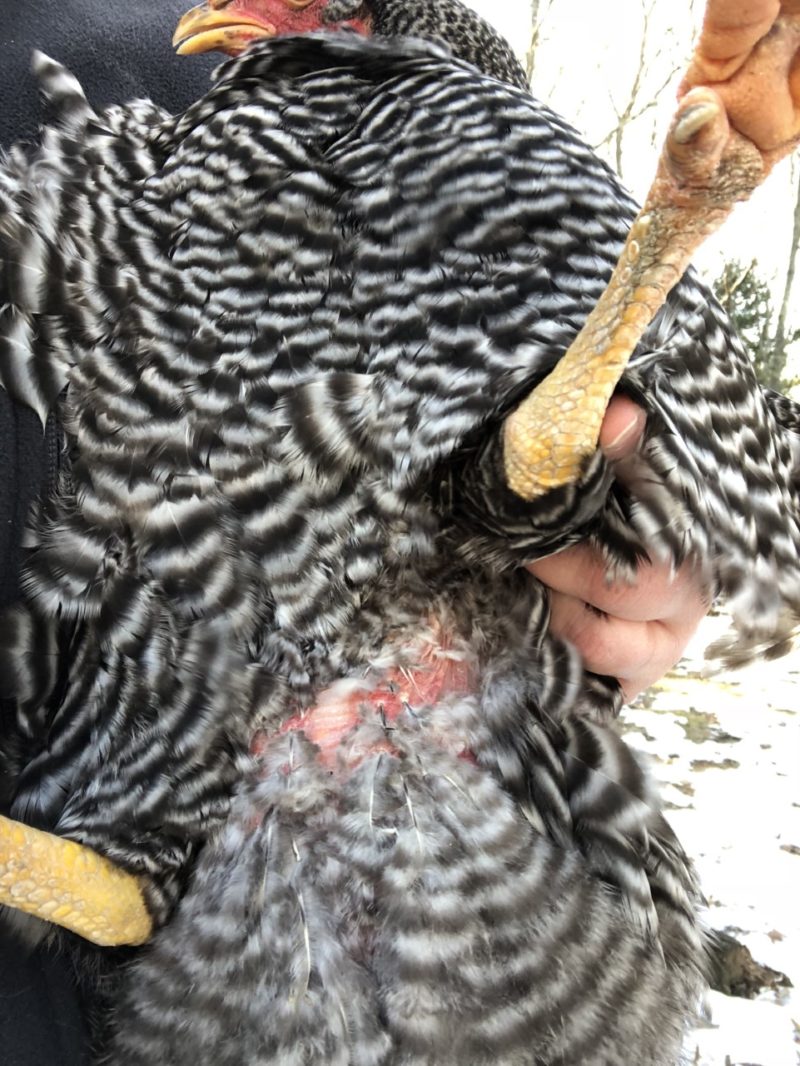 Risk Factors
Water belly is most often seen in fast growing meat chickens. Their bodies sometimes grow too fast, putting too much stress on their hearts. In meat chickens this can often happen around 4-6 weeks when they go through a growth spurt.
Older laying hens (4-5 years or older) also have a higher risk just because of their advanced age and the natural deterioration of their systems as they age.
Genetics – premature heart failure and developing water belly can both be hereditary. A chicken with water belly should not be used in breeding programs.
High altitudes – less oxygen in the air can put stress on the chicken's heart
Extreme temperatures – stress the chicken's system, especially when they are chicks, make sure they don't get chilly. Extended heat waves can also stress their heart.
Diet issues – too much feed can lead to obesity and stress on the heart & liver. Too much protein & too much sodium can also cause premature heart failure.
Ventilation issues – not enough ventilation in the coop can lead to excessive ammonia fumes which causes issues with several organs
How to help a chicken with water belly
Unfortunately, there is no cure for water belly. A similar situation can happen in humans with certain cancers. In humans, the fluid build up can be very painful as it stretches the skin and pushes against internal organs. I would assume this condition is also painful for chickens.
You can help relieve the pain by draining the fluid build-up with a syringe. It is a temporary fix. It will make your chicken more comfortable in the short term but will not "cure" the problem. The cavity will fill back up and you will have to keep draining it to relieve the pressure.
Use a sterile small gauge needle with a syringe. Clean the area before & after draining. Do not drain all of the fluid in one sitting to avoid shock. The fluid drained from the cavity should be yellow in color which confirms it is indeed leaking from the liver. Sadly, the only other option, if you do not want to drain the cavity, is to cull the bird to end their suffering. Click here to read about assembling a chicken first aid kit
Prevention
While many of the risk factors for developing water belly are out of your control, there are a few things you can do to raise healthy hearted hens. Just like human hearts, chicken hearts respond best to a balanced, nutritious diet, plenty of fresh air & exercise, and a low stress lifestyle. Regularly cleaning your chicken's living quarters, giving them quality feed and fresh, clean water will go a long way in raising healthy, long lived hens.