*This post may contain affiliate links, which means as an Amazon Associate I may receive a small percentage from qualifying purchases if you make a purchase using the links, at no additional cost*
---------------------------------------------------------
Ducks are pretty easy animals to add to your farm. They don't need much in terms of shelter – just a secure, safe place to retreat to. It can be a sectioned-off corner of your barn or shed, or you can even house them in your chicken coop if you want to.
When I started out with ducks, I gave them their own house for a couple of reasons. First, my chicken coop was already pretty full of chickens and pretty small. Second, ducks don't roost up high when sleeping, they just bed down on the ground. I didn't want the ducks nesting under the chicken roosts and getting pooped on all night. But third and most important to me, is that ducks are just really wet.
Chickens hate being wet and in the winter that moisture can leave them susceptible to frostbite. When ducks come into the house, they are often wet and their poop is mostly liquid from all the water they drink. They expel a lot of moisture when they breathe. I decided it was best for the chickens and ducks to just have separate homes, but they would be sharing a run & free-range space. Click here to read more about keeping chickens & ducks together
What do ducks need in a house?
Ducks don't need anything fancy. They sleep on the floor and don't even really need a nest box. A cozy corner of the house with a pile of straw is good enough for egg laying. Their house can just be a wooden box or old dog house that is at least 3 feet high, with 4 square feet of floor space for each duck you plan to have.
In addition to the indoor area, ducks will need a minimum of 10 square feet of secure outside space per duck. I think 20 square feet per duck is MUCH more realistic, however, especially if you won't be allowing your ducks to free range.
Ducks are large and somewhat awkward on land so you want to have a decent size door – about 14 inches wide and 12-14 inches tall. The house should either be on the ground or have a low ramp. You might need to add traction strips or a mat on the ramp to help wet, webbed feet navigate. Fill the house with plenty of straw for them to snuggle down into and for making a nest out of.
The most important thing the duck house needs is ventilation. All that moisture needs to escape somewhere so be sure to add plenty of ventilation at the top of the house.
How we made our first duck house
We had a pretty big scrap wood pile so we decided to save money and build our duck house entirely out of scrap wood. Was it the most beautiful duck house ever? No, but it was nearly free and kept our ducks warm & safe.
We only planned on raising two ducks. Famous last words right? We made our first duck house 2 feet x 4 feet and about 4 feet high. We laid everything out on the ground before screwing it all together. Below you can see how we laid out the front and back walls and floor. We didn't have any big sheets of plywood in our scrap pile, so we had to piece together smaller pieces of wood to cover the walls.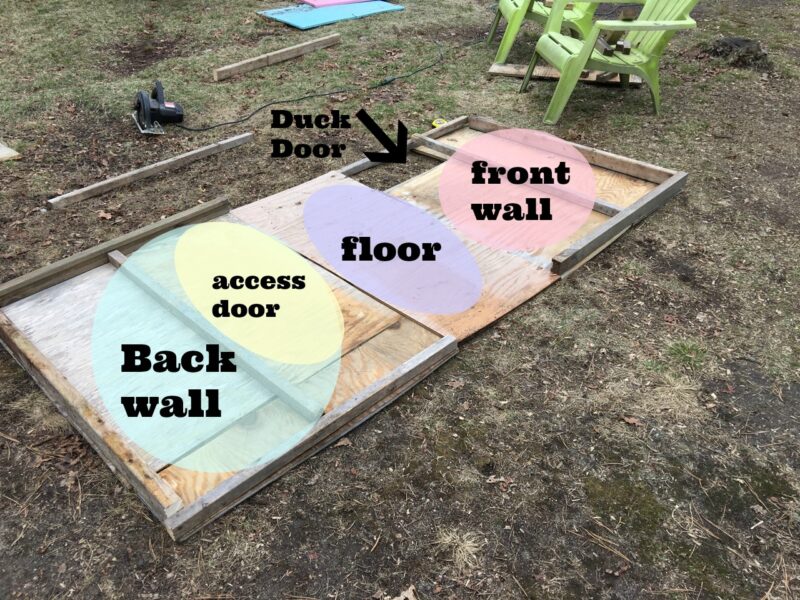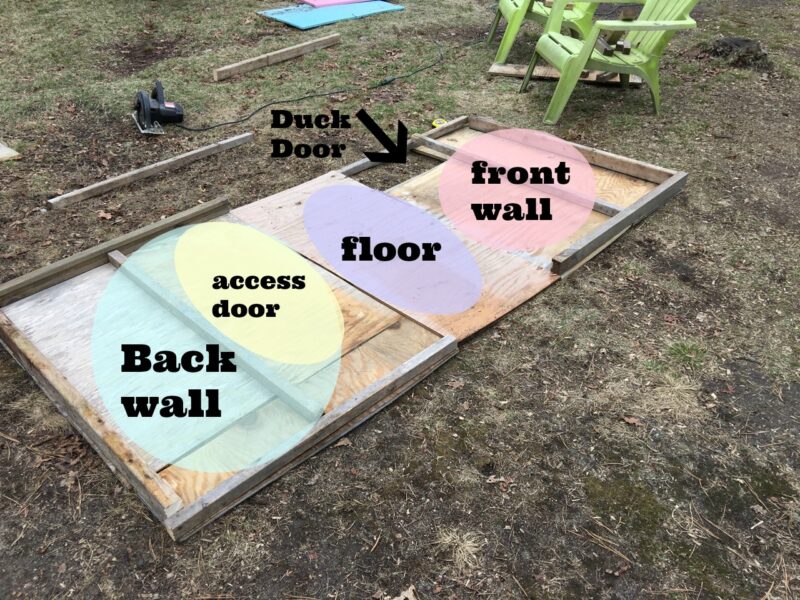 Once the pieces were all cut, we assembled the frame and screwed on the random plywood pieces. We attached the bottom of the back wall to the floor with hinges so we could have a large, drop-down access door for cleaning and collecting eggs. Don't forget to include human access when building your duck house! We used a window sash lock & a spring-loaded eye hook to keep the door closed and predator-proof.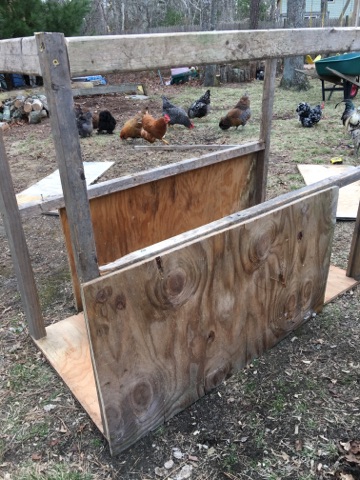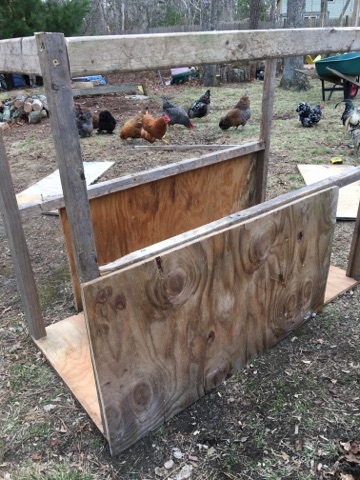 The chickens thought it was perfect just the way it is – no ducks needed.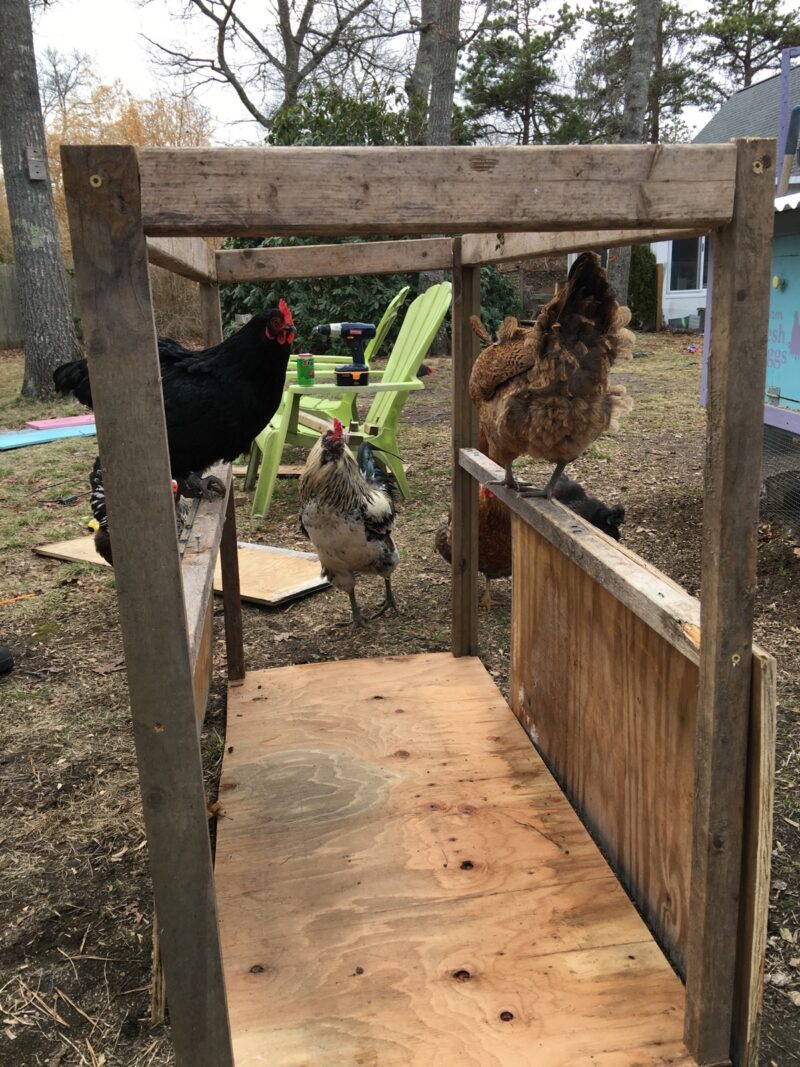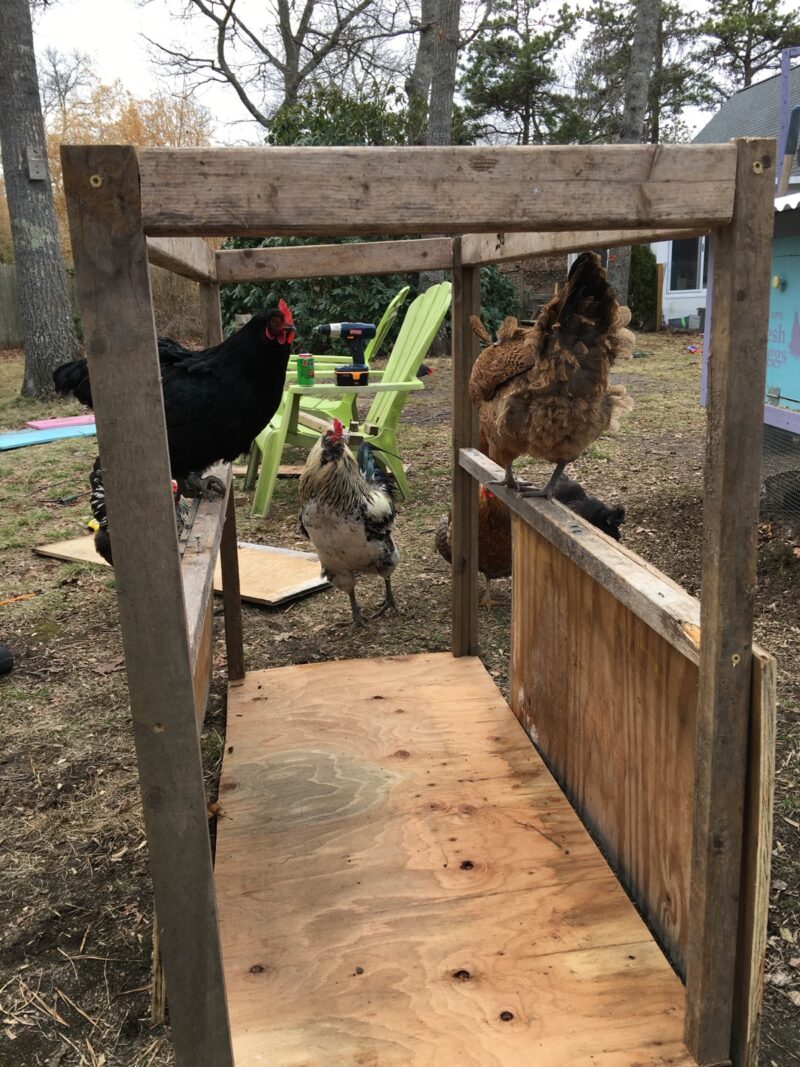 Be sure to include lots of ventilation
Before we built the ends, we attached some hardware cloth over the roof and down about 6 inches on one side for ventilation. To cover the sides, it got really tricky as we ran out of plywood scraps. Luckily, we had some random boards and some wood from an old swingset we had dismantled so we cut those down to size.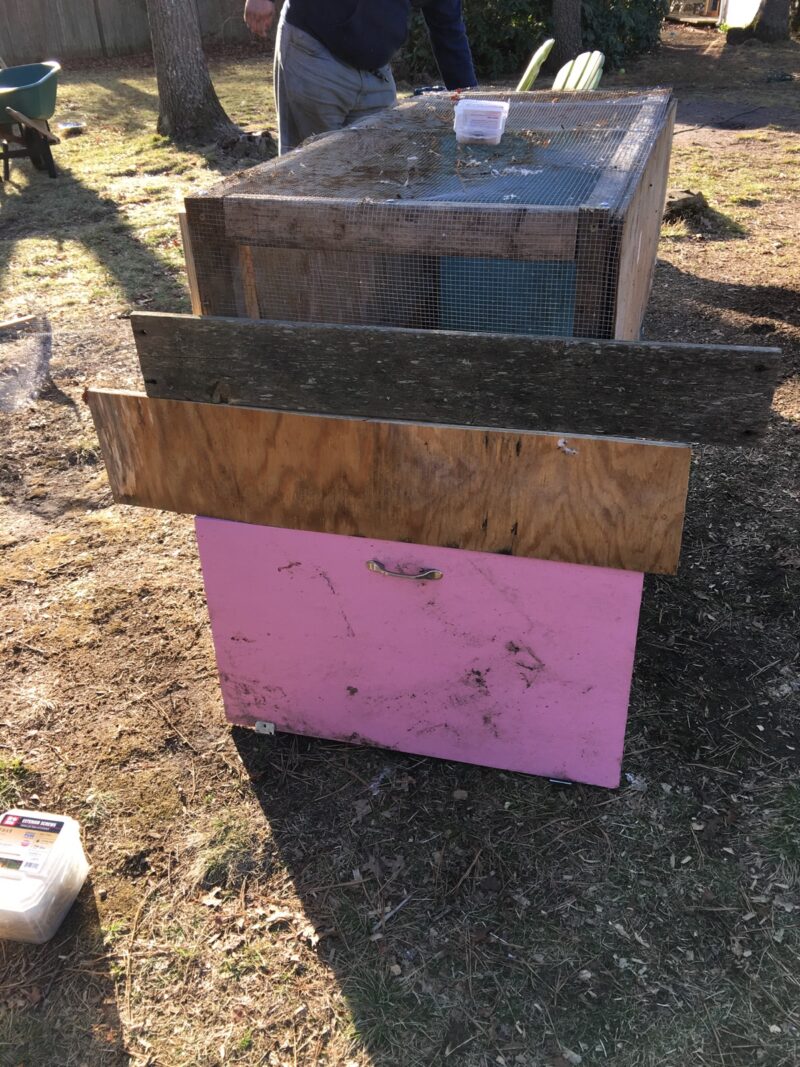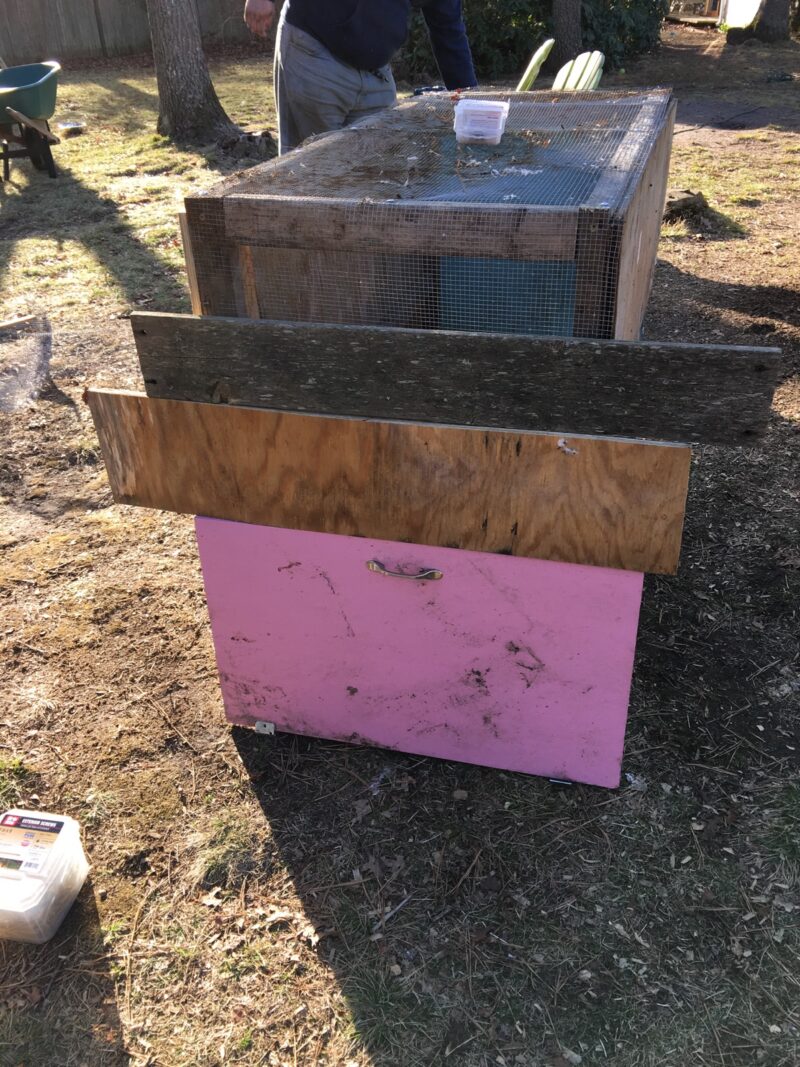 We had some leftover corrugated roof panels from when we built our chicken run. We attached these over the hardware cloth roof. The hardware cloth keeps it predator proof and the panels keep the rain out. Because the panels are ridged, air can be exchanged in each ridge so it provides tons of ventilation. Additional ventilation comes in that 6-inch side we left open at the top of the left end.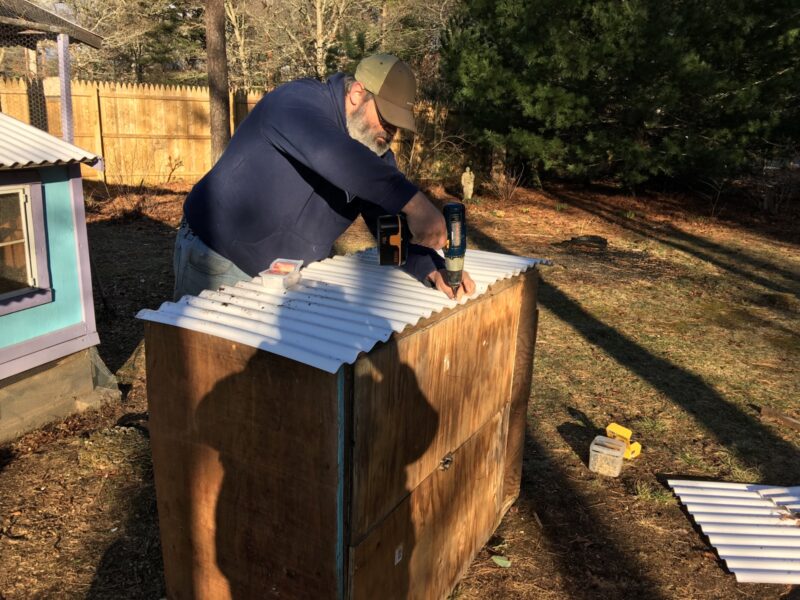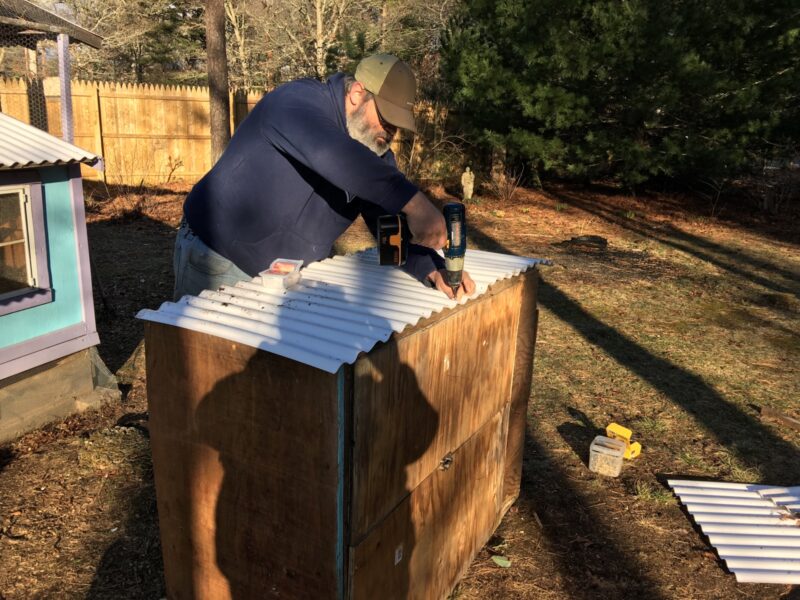 Finishing Touches
To cover up the horrible gaps and imperfections that come with using scrap wood, we added some 1x4s (also from our scrap pile – I wasn't kidding when I said it was a big pile!) on all the corners as trim. Then we used exterior caulking to seal all the edges so the house wouldn't be drafty. Before the final installation, we had all our work verified by "official" home inspectors and got the all-clear.
One of the best things we ended up doing was laying down peel & stick vinyl tiles on the floor and about 1 foot up each wall. Between their poop and all the mud & water they track in, it made clean up so much easier and will save the wood from rotting.
We painted the entire duck house in the same blue as the chicken coop. It amazes me how transformative a simple coat of paint can be. Once all the boards and random pieces of wood were painted the same color, it didn't look all that bad.
Giving the ducks a space in the chicken run
Our chickens have a nice, secure, and spacious run. We decided to take a little of that as a "duck only" area. Using 2x4s and chicken wire, we constructed a wall inside the run to separate the ducks. The wall doesn't have to be predator proof because it is inside the run, it just has to keep the chickens out. The duck area we walled off will be 44 square feet, just right for two ducks.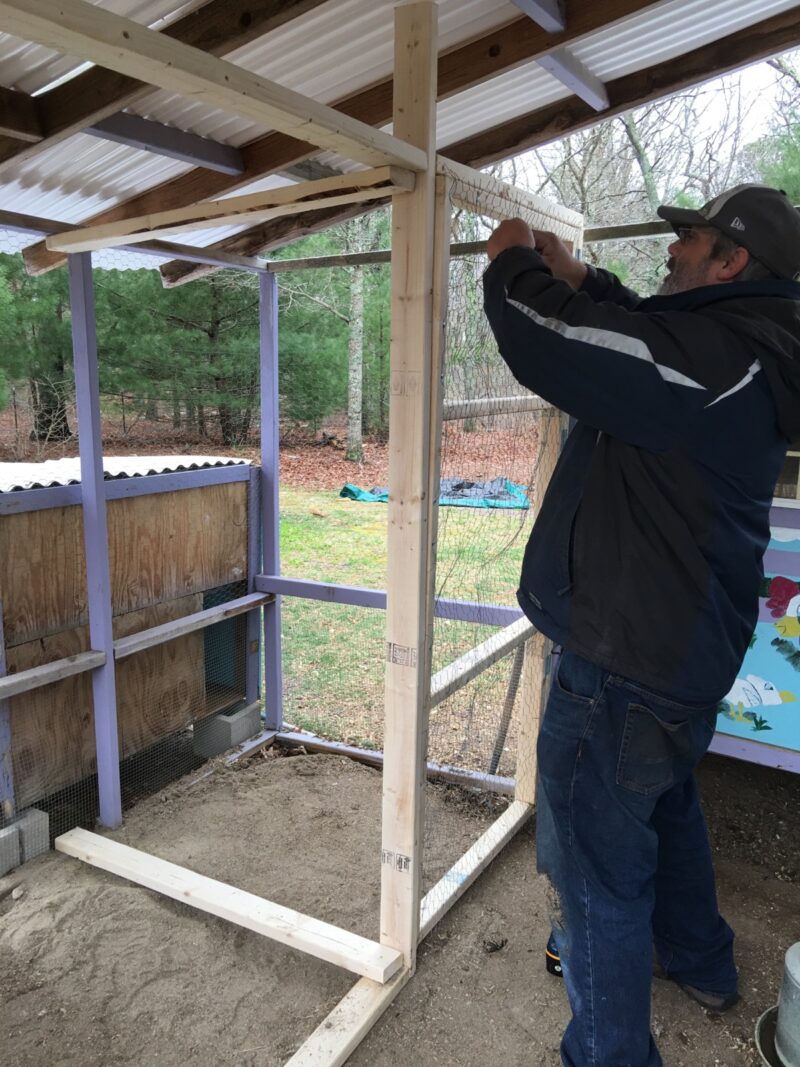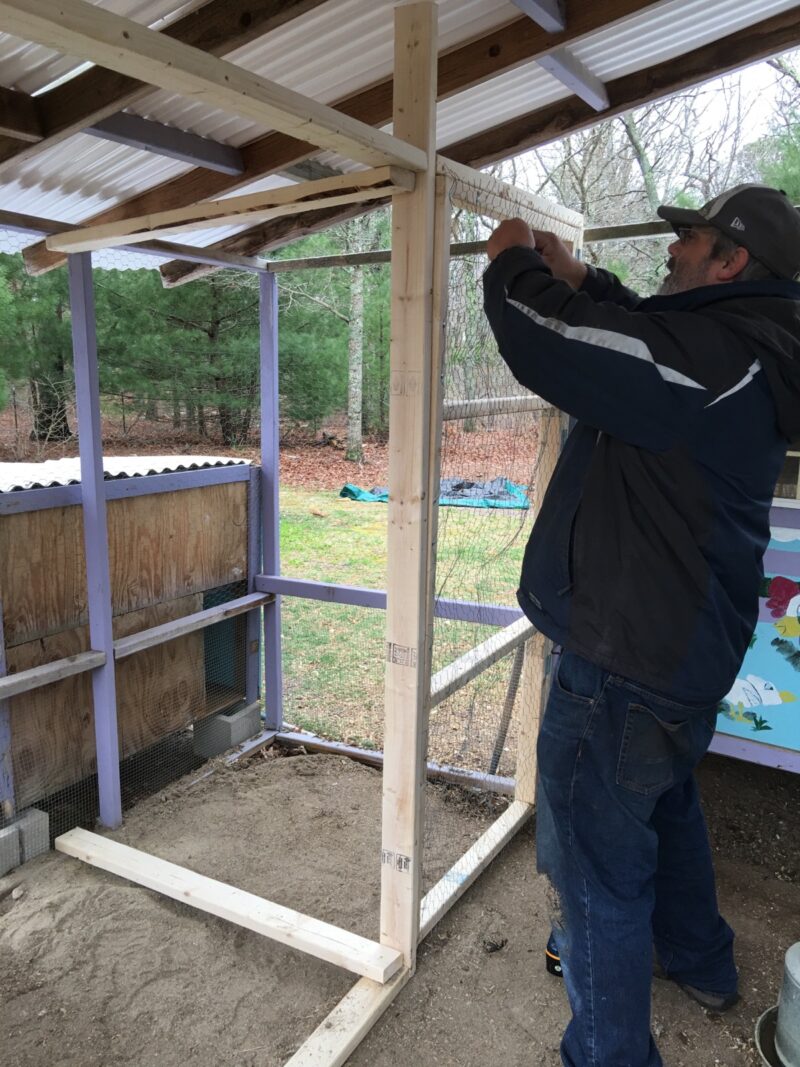 Once the run was all set, we leveled some cinder blocks for the house foundation. Then we cut a hole in the wall of the run for the duck door and screwed the wire in several places to the front of the duck house. We added a little ramp and everyone was good to go!
We decided not to have a door on the duck house. The ducks actually liked to sleep outside, or at least have access to the outside at night. They are much more cold-hardy than chickens. Not having a door is not practical for everyone. The run our ducks are living in has a solid roof and hardware cloth buried 2 feet in the ground to stop digging predators. I feel safe letting them have outside access all the time. We also bring their food dish in at night to discourage any rodent visitors.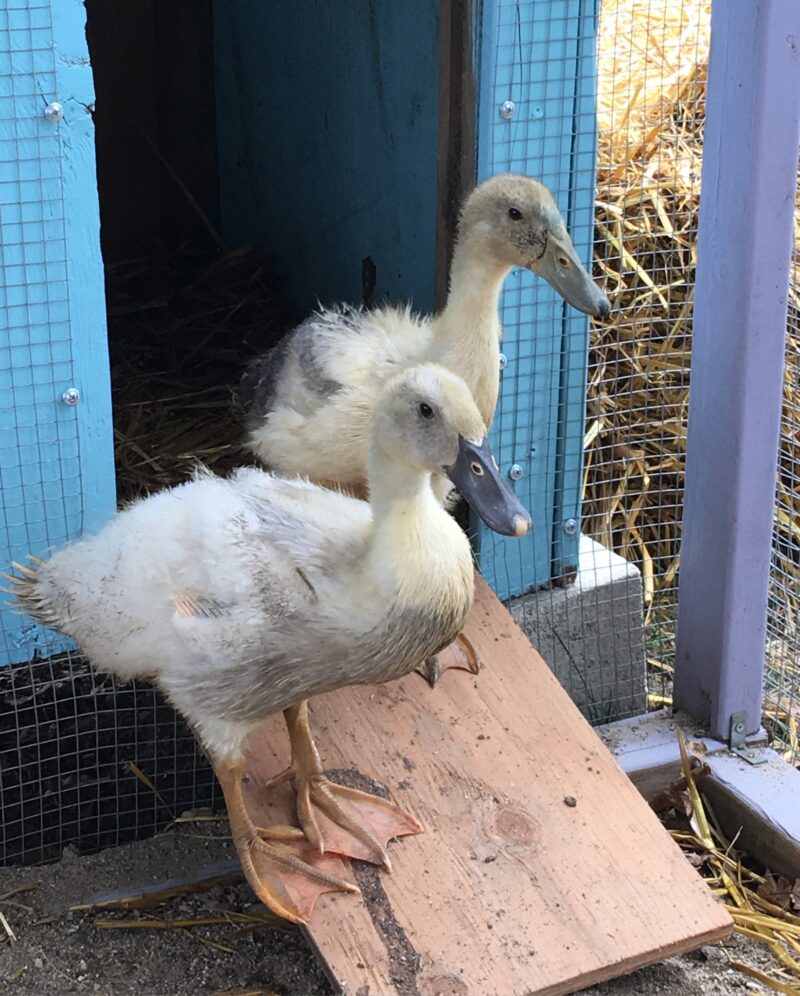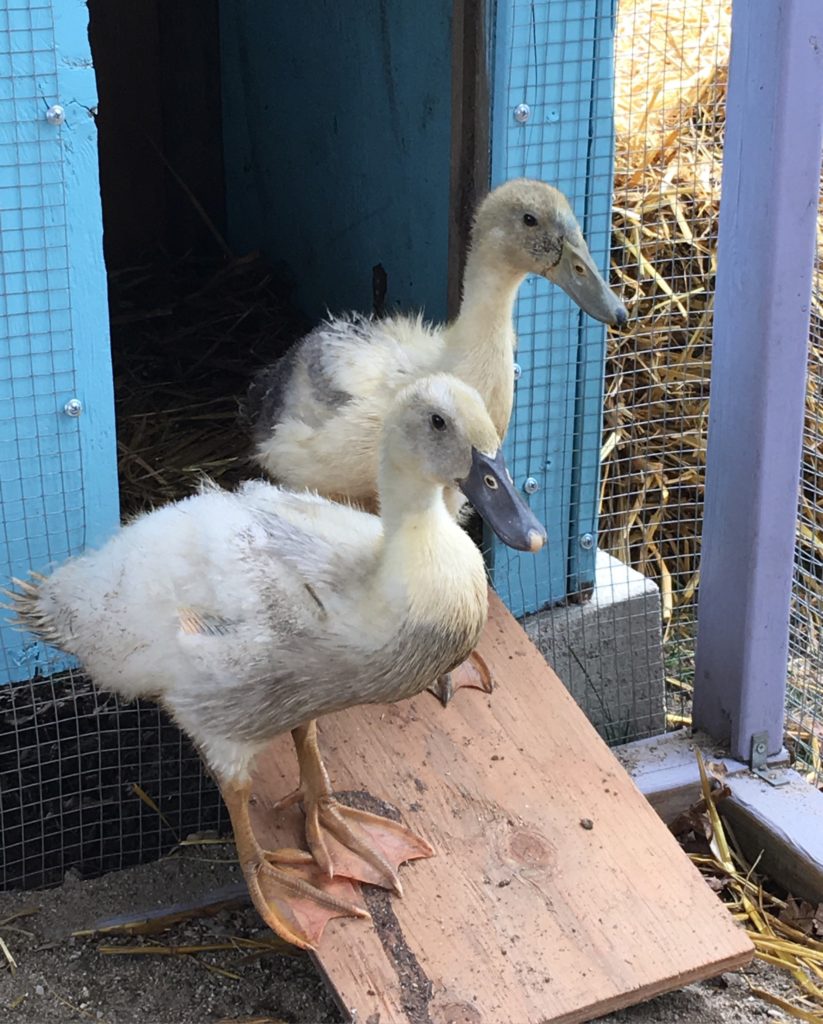 This duck house is not going to win any prizes for being the most beautiful, but the price was certainly right!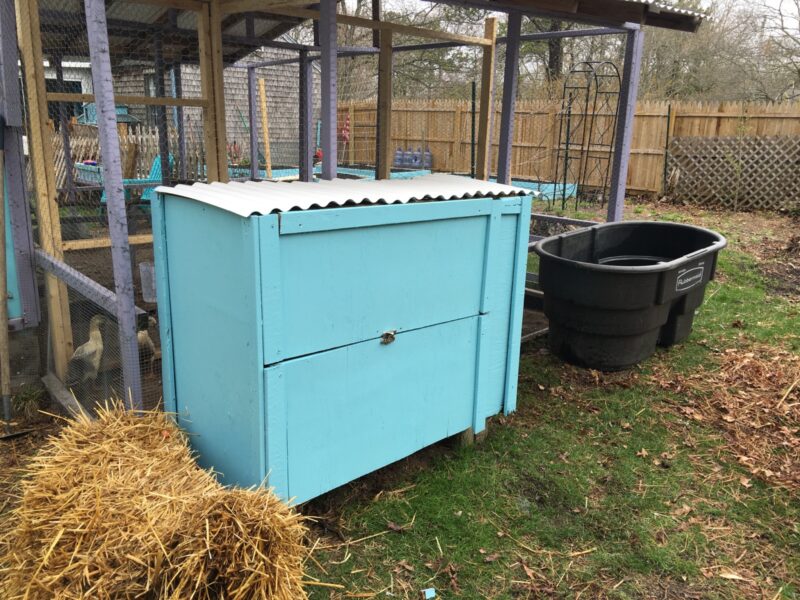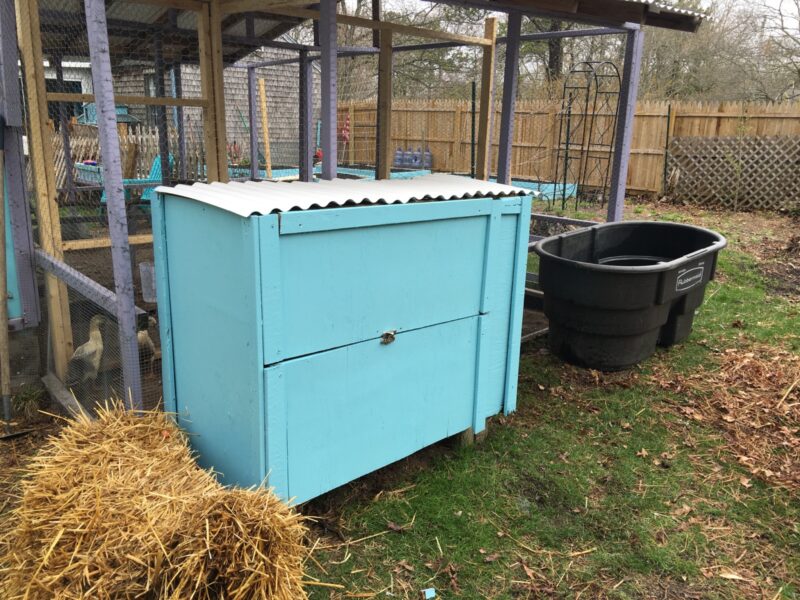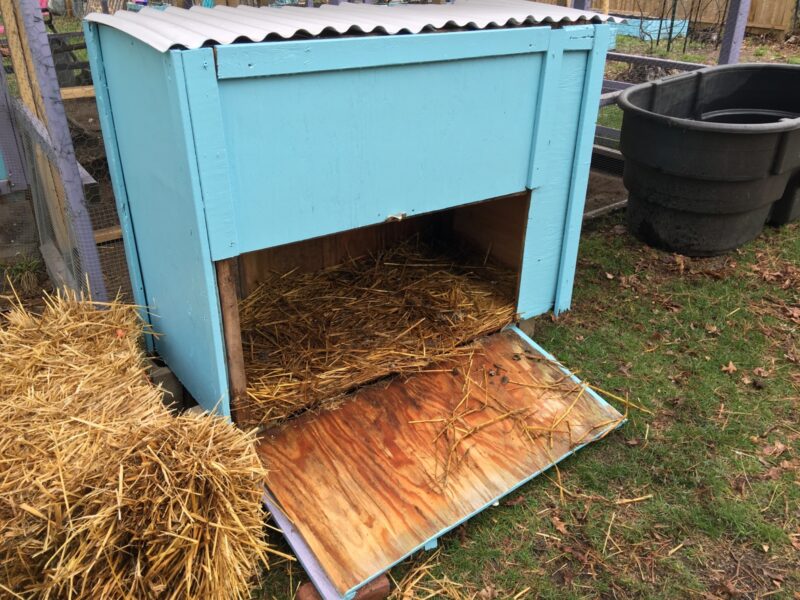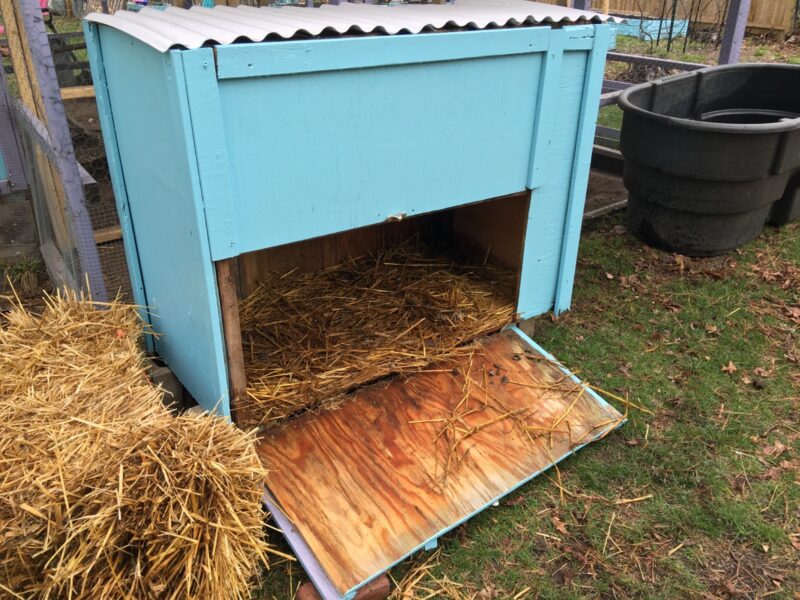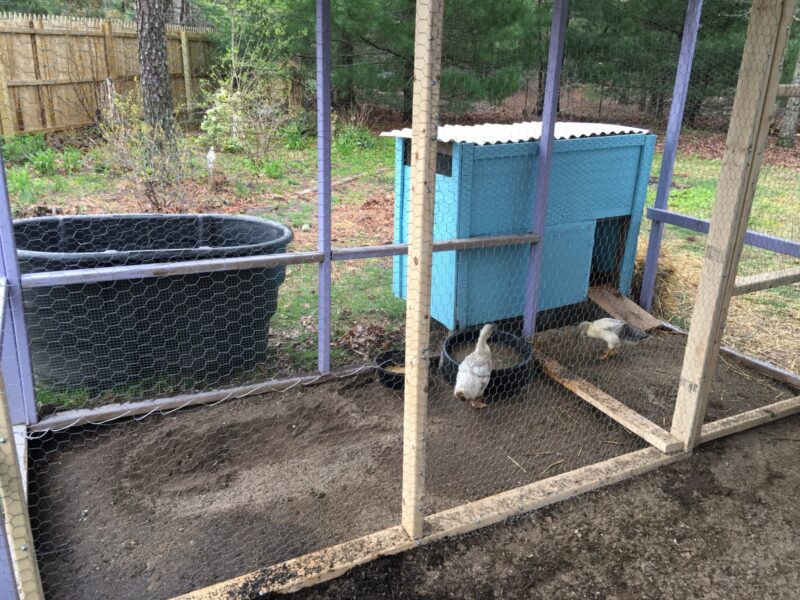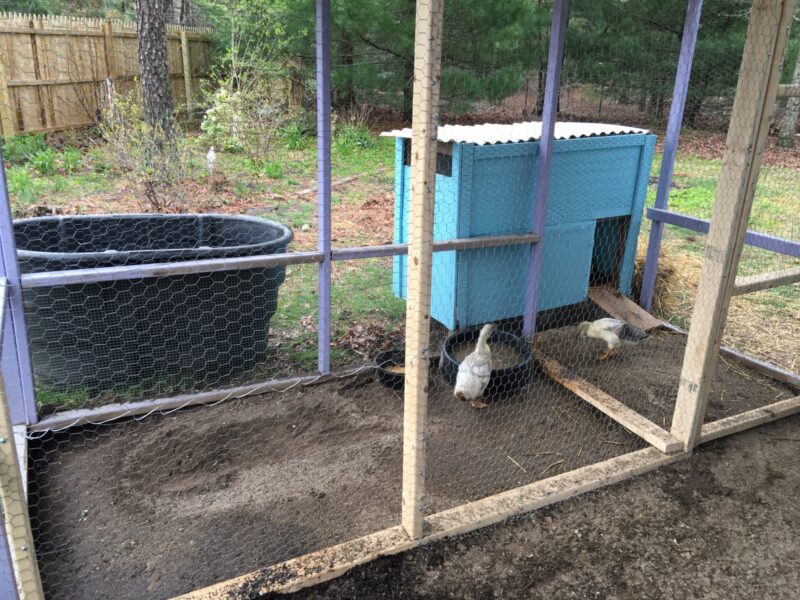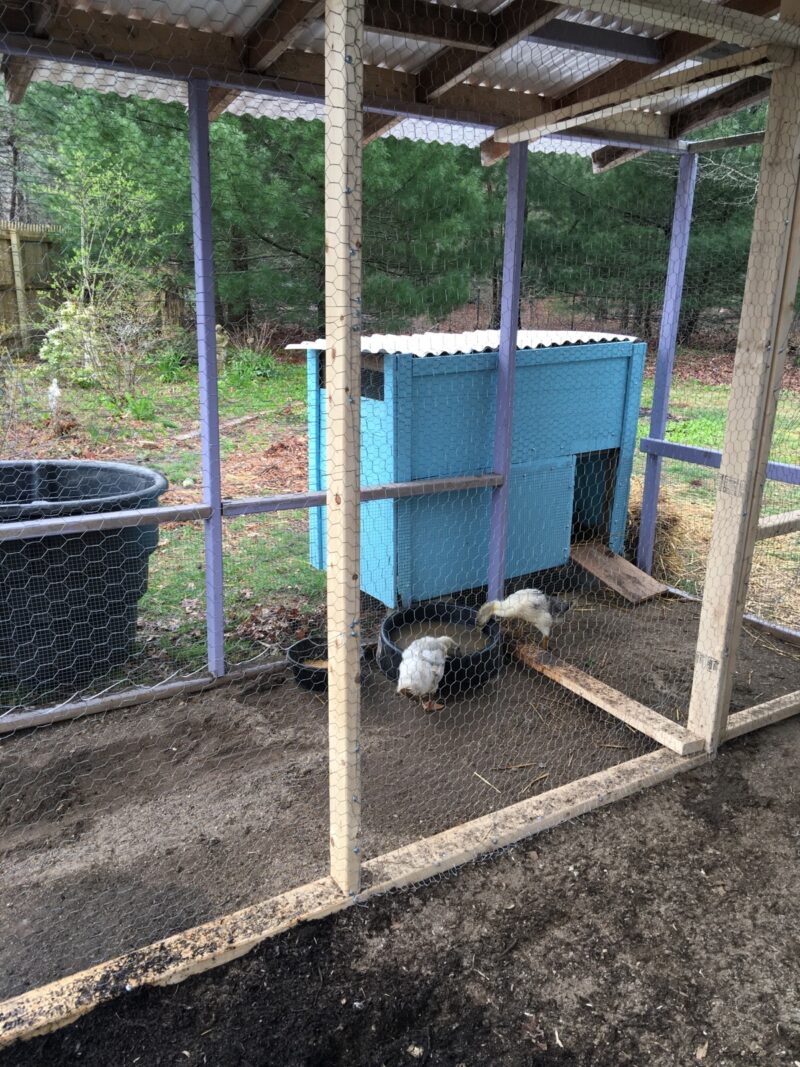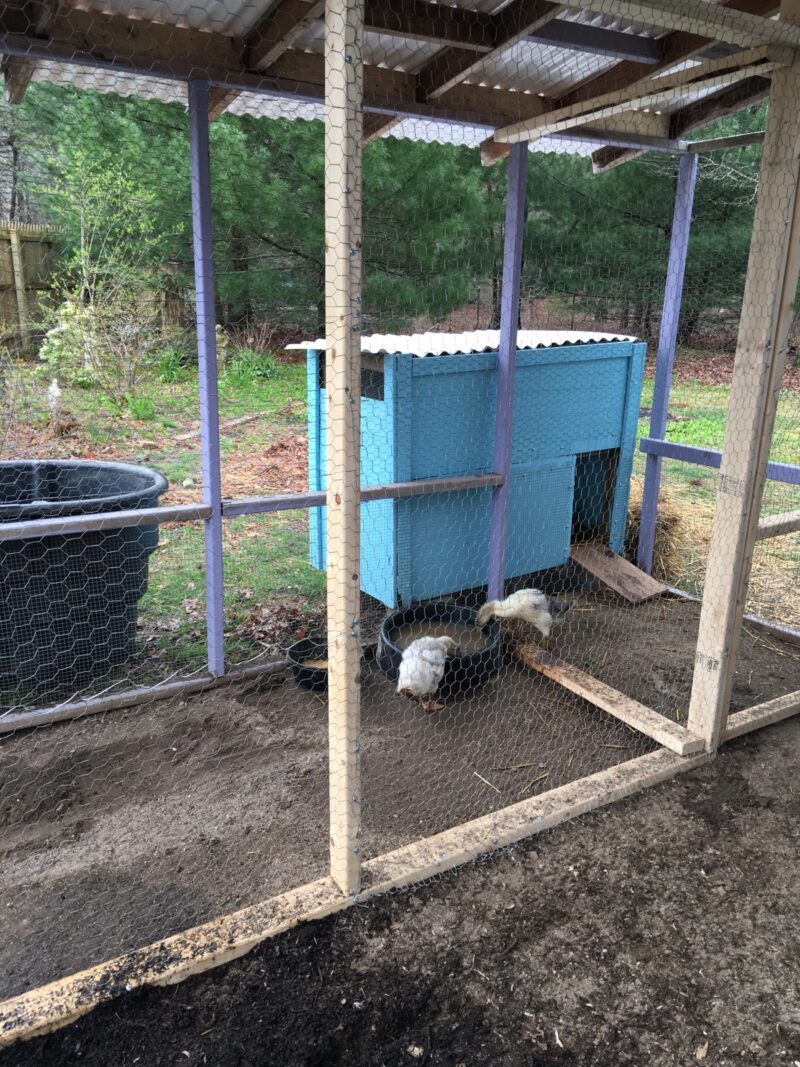 EDITED: I was right, we ended up adding onto our duck flock after just a couple of months, and just a few years later we had over a dozen! Word to the wise, always go bigger! The chickens & ducks now share a very roomy 300-square-foot barn. you can click here to read more about our current poultry barn