*This post may contain affiliate links, which means as an Amazon Associate I may receive a small percentage from qualifying purchases if you make a purchase using the links, at no additional cost*
---------------------------------------------------------
This is one of those topics you don't bring up in polite conversation with rabbit owners…like discussing politics or religion. Many rabbit keepers have strong opinions in this area and they aren't afraid to share them. Let's look at the pros and cons of each setup, and more importantly how to give rabbits what they need no matter where they call home.
Indoor Rabbits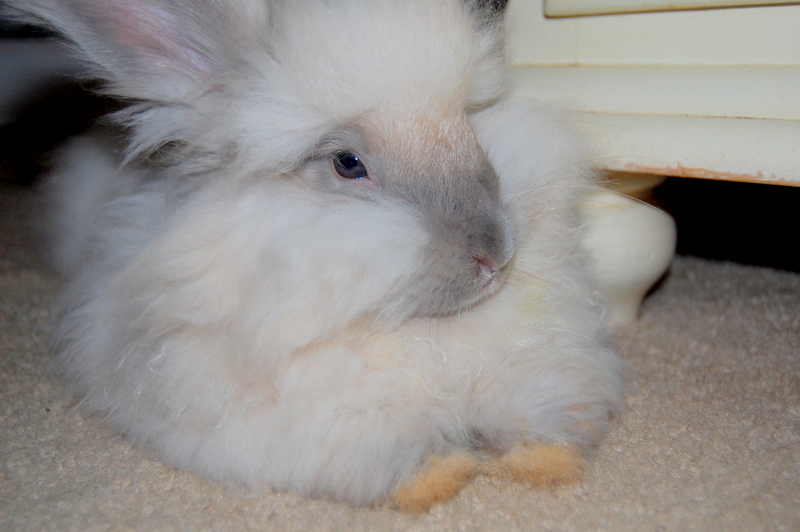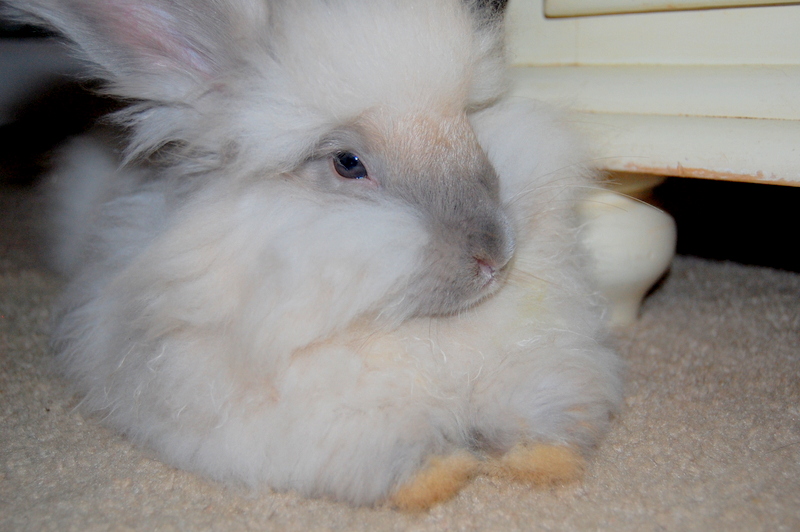 Pros of keeping rabbits indoors
The biggest pro to keeping rabbits inside with you is they are safe from predators (assuming your other pets are well-mannered). Keeping them inside also means they don't have to live in harsh weather and for the most part, parasites are not a problem. Inside, you can easily monitor your rabbit's health & play with them.
Rabbits are great house companions and can be happy in even the smallest home or apartment. They have sweet personalities and spending time with them can be a relaxing & entertaining part of your day. As prey animals, they are excellent at hiding pain or illness. The more time you can spend with your rabbit, the more likely you are to notice subtle changes in behavior that could alert you to a problem. When litter box trained and with a properly rabbit-proofed house, they can be allowed to roam the house like a dog or cat (although most people still keep a cage or secure area for when they are not there to supervise).
Cons of keeping rabbits indoors
Rabbits are very curious and their instincts tell them to dig, chew, burrow, and explore. These destructive habits could be unwelcome in your home when they chew the cord off yet another expensive electronic item, burrow through your couch, or chew up rugs, woodwork, or furniture.
Other pets in your household could pose a danger to your rabbits. They generally do well with cats and smaller dogs, but every animal is different. Some dogs (especially hunting or herding breeds) will never get used to having a prey animal in the house. If you are afraid to take the rabbit out of the cage to run around and socialize because you can't trust your other animals, you are not doing it any favors by keeping it inside stuck in a cage. If you are concerned about rabbit damage or finding random piles of poop on your rug, you are going to be more inclined to leave the rabbit bored & inside a cage for days on end.
How to happily keep rabbits inside
Prepare your home for rabbits just like if you were bringing home a new baby. Secure cords out of the way and block access to areas (like behind the couch or under beds) where you might not want them to go. If it is too overwhelming to rabbit-proof your whole house, designate a "rabbit room" where the rabbit can have free reign and you can visit often.
Rabbits are very social, if you don't think you can devote lots of time every day to hanging out with your rabbit consider getting a second rabbit. click here for tips on introducing a new rabbit Provide things your rabbit can chew on: blocks of wood, commercial rabbit toys, paper towel tubes, wicker baskets, cardboard boxes, etc.
Wild rabbits spend a lot of time digging & tunneling. An indoor rabbit will enjoy plush cat tunnels, contractor tubes, and a few cardboard boxes taped end to end. Provide them with some loose towels or old shirts for them to push around and burrow into. Give them some natural sisal mats to dig and tear apart. If your rabbit is kept busy mentally & physically in constructive ways, they will be less likely to take their boredom out on your furniture.
Outdoor Rabbits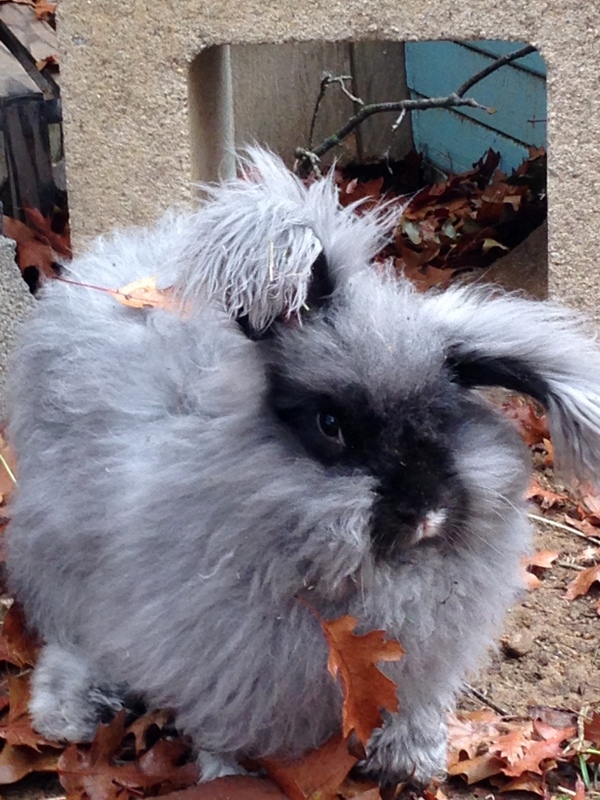 Pros to keeping rabbits outdoors
Keeping rabbits outdoors can allow more people to enjoy rabbits in their life. Some reasons people choose to keep rabbits outdoors include: living with someone with allergies, having a dog with a high prey drive, not having enough space inside for a proper rabbit room, or having a landlord with a no indoor pet policy.
Outdoor rabbits with a proper enclosure can live a more natural life – digging, tunneling, chewing to their heart's content without damaging human property, and enjoying the freedom of living in the fresh air. Most people can provide a much larger area outside for a rabbit exclosure than can be provided indoors. Happy rabbits have plenty of room to run and access to dirt for digging.
Cons to keeping rabbits outdoors
Protecting your rabbits from predators & harsh elements are the biggest challenges to keeping rabbits outdoors. Serious thought needs to be given to keep them safe. Secure & dry housing is important to the rabbits, but you also have to be prepared to tend to your rabbits in all types of weather. Even in the snow, rain, & wind your bunnies need social interaction, food, fresh unfrozen water, and clean, dry, bedding. Keeping your rabbits outside means you must be committed to attending to them every single day, year-round in every type of weather.
How to happily keep rabbits outside
The first and most important step in keeping rabbits outdoors is to provide a large, predator-proof area for them to live. You should have wire buried around the perimeter to stop animals from digging or chewing their way in and the rabbits from digging out. Use strong, hardware cloth wire, not flimsy chicken wire which a raccoon or other animal could bend and break.
The rabbits should have an exercise run that is at least 35 square feet per rabbit and at least 2 feet high. Making it 6 feet high will allow you to come into the enclosure and visit with them. Ideally, the enclosure will be covered on top to prevent aerial predators. They should have a secure, weatherproof house that is at least 7 feet long x 2 feet wide x 2 feet tall (this is enough for 2 large bunnies to be secured at night). You should be able to lock them in the house at night when the predator danger is highest and when you will be away from home for an extended time.
Rabbits that are housed outdoors should NEVER be kept alone. They are social creatures and will be sad if they are stuck in an enclosure all by themselves most of the time. Giving them a bunny playmate is necessary. Two females can get along, as well as two males (they will get along better if they are both neutered). Males & females also can get along but please make sure they are both fixed!
Outdoor rabbits should be kept near your home, not off in the woods so you can easily check on them and tend to them. Their exercise run should be accessible to them year-round for several hours every day, so in harsh weather you may have to cover the sides or roof. Having the run weatherproof & human size will make it more enjoyable to tend to and socialize with your rabbits year-round. In the winter, you will have to find a way to keep their water from freezing, you can either change it a few times per day or buy a heated water bottle. Either way, it is necessary to always have liquid water available to them.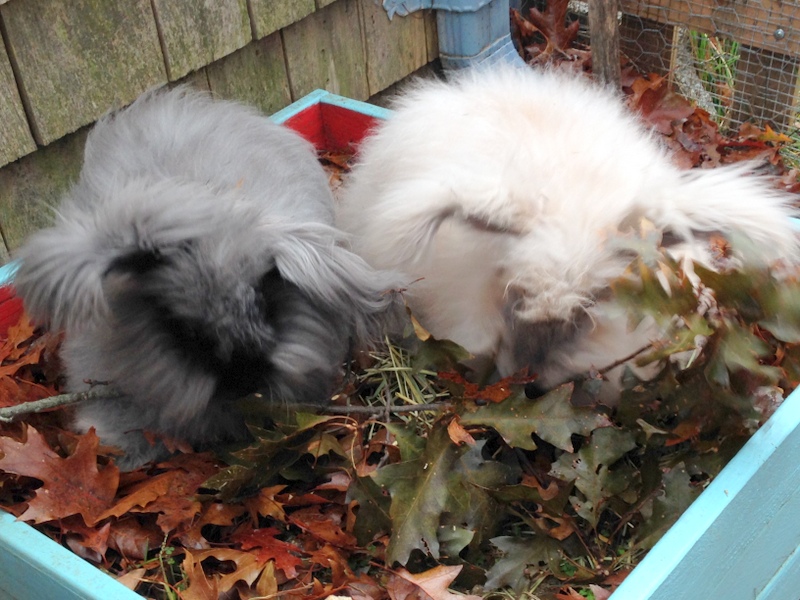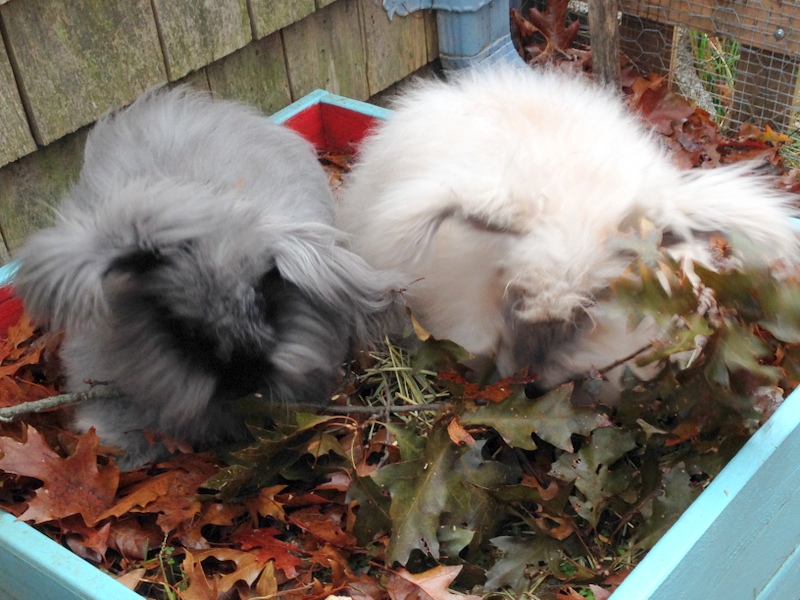 My thoughts
Rabbits are adorable and make wonderful pets. They can live very happily inside or outside with the proper care. You could keep your rabbit in your house, never let it out of its cage, and never visit with it aside from basic care. That does not make you a good rabbit caretaker just because the rabbit is inside. You can keep your rabbits in a secure, roomy outdoor enclosure with lots of time for exercise, and visit with them every day tending to their needs both socially & physically. That does not make you a bad rabbit caretaker because they live outside. Every situation is different, and both can be good or bad.
My rabbits for many years lived outside in a roomy enclosure attached to my house. When we moved we were able to give them a large area inside the barn where they can live and play. I have two 120 square-foot stalls for my rabbits (one for girls and one for boys) to run around. In addition, they have nearly 400 square feet in a secure outdoor area. We would never have that amount of space to dedicate to them inside. There are benches where my family and I can sit and visit them, and plenty of places for them to dig, hide, jump, and climb.
They are very used to humans & are friendly. When they hear the clink of the gate they come running to see us. I have litter box trained my outdoor rabbits (click here to learn more about litter training) so that I can also bring them inside to visit. It makes it easy to socialize with them more even if the weather isn't the best.
In short, ensure your bunny gets plenty of exercise, give them quality food, lots of hay, clean water & bedding, and lots of love and you are being an excellent bunny companion 🙂