*This post may contain affiliate links, which means as an Amazon Associate I may receive a small percentage from qualifying purchases if you make a purchase using the links, at no additional cost*
---------------------------------------------------------
Want to bake up some tasty treats for your favorite bunny? Commercial treats can have lots of icky preservatives and artificial coloring. I guarantee your rabbits don't care what color their treat is (the coloring is just for our benefit) they just want something tasty!
The base of these cookies is your rabbit's normal feed pellets & Timothy hay so a cookie or two each day will not upset their digestive system. It also cuts down on the amount of natural sugars in this treat. To make these cookies a special treat for your bunny we will mix in some healthy fruits that bunnies love! Bananas are some of my rabbit's favorite treats and are a good source of potassium. Pumpkin is a good source of vitamin A. You could use fresh or canned pumpkin or even jarred baby food (with no added sugar). If you don't have pumpkin on hand, you substitute pureed carrots. Papaya is full of antioxidants that can help with skin & fur health but also aids in digestion. We offer papaya tablets to our long-haired rabbits regularly to help ward off wool block. Oregano aids digestion and parsley is high in vitamin A – but you could use any fresh herbs that your rabbit enjoys. Some safe herbs for rabbits include oregano, parsley, basil, dill, cilantro, caraway, rosemary, sage, tarragon, lavender, peppermint, lemon balm, & comfrey.
Ingredients:
1/2 cup ground rabbit pellets
1/4 cup Timothy hay
1/4 cup mashed banana
1/4 cup canned pumpkin (you could also use pureed carrots)
1/4 cup papaya
a few sprigs of fresh oregano & fresh parsley
Preheat oven to 325 degrees. Put the rabbit pellets & Timothy hay in your food processor. Pulse a few times. Add the banana, pumpkin, papaya, oregano, & parsley and blend until mostly smooth.
The hay is probably still going to be sticking out unless you chopped it down pretty small. The rabbits won't mind at all if they look a little messy. If you are looking to make a prettier cookie you could pre-cut the hay with scissors before adding it to the food processor.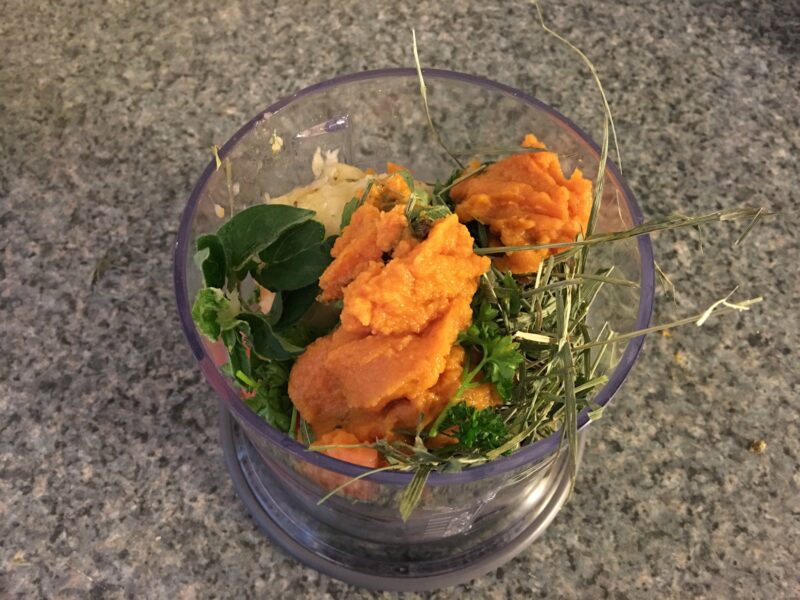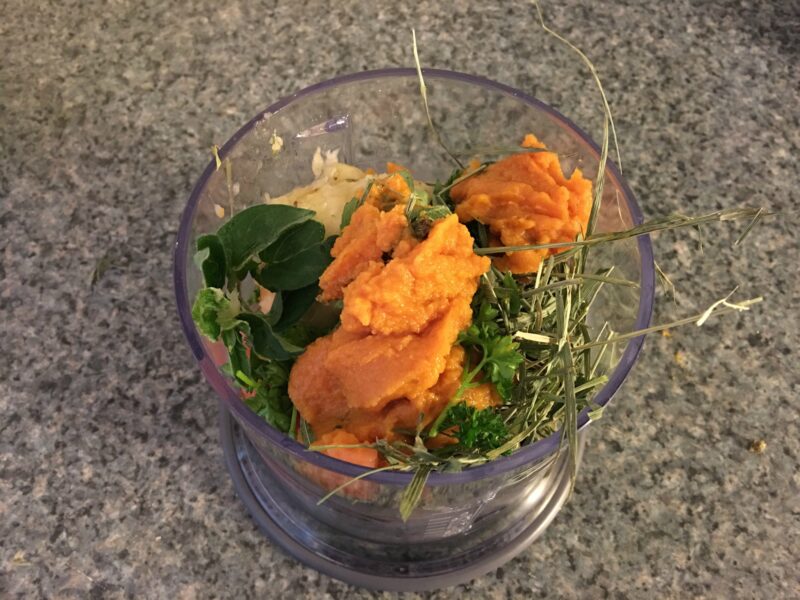 Lightly grease a baking pan. Scoop mix by the tablespoon onto the pan and slightly flatten. They won't look like something you want to eat – that is completely normal!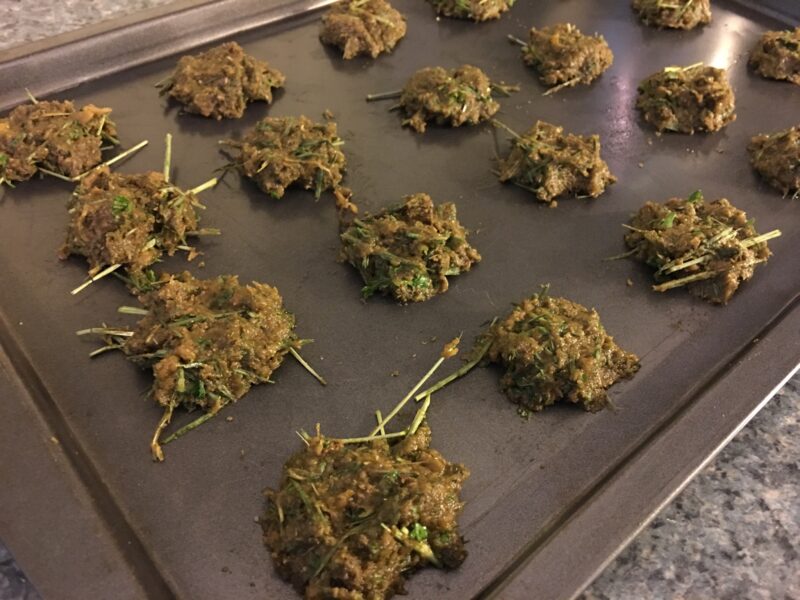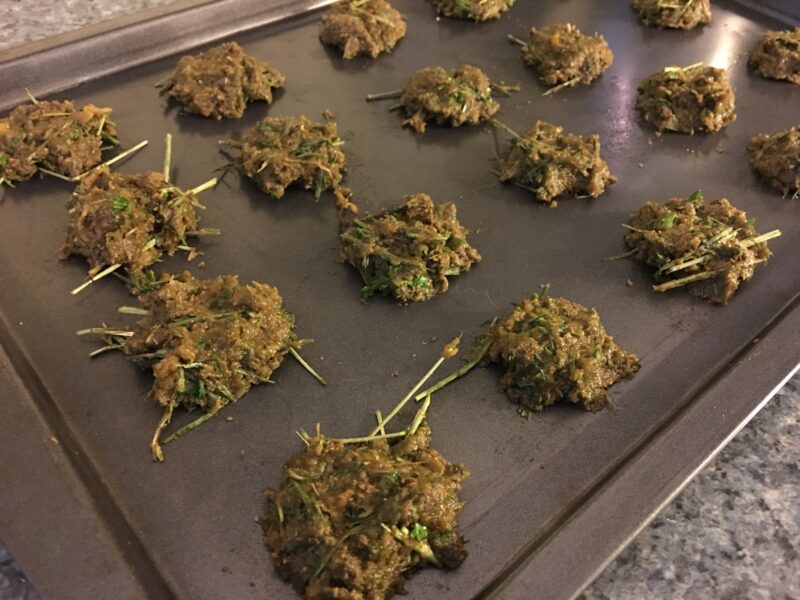 Bake for 30 minutes at 325 degrees.
Leave the cookies on the pan and put the pan on top of a wire rack to cool. The cookies will be soft when cooled
Store unused treats in the refrigerator and use them within a month. Keep in mind these are treats and limit your rabbit to 1-2 cookies a day 🙂