*This post may contain affiliate links, which means as an Amazon Associate I may receive a small percentage from qualifying purchases if you make a purchase using the links, at no additional cost*
---------------------------------------------------------
What would the holidays be without treasured family recipes? This is one my kids beg for every holiday. One my mom made for special meals when I was a kid. A recipe her mother made at the holidays when she was a girl. This one dates back to at least my Great, Great Grandma Jessamine who was born in 1870. It wouldn't be a holiday at my house without them!
Warm, sweet, and buttery you will simply not find a better roll to grace your table this holiday season (or anytime!). Great, Great Grandma Jessamine raised her family on a lovely farm in Connecticut. These raised rolls feature a lot of dairy, as that was always on hand. She passed away when my mom was just a girl so I never had the pleasure of knowing her, but I hope she wouldn't mind me sharing her recipe with you!
Jessamine's Raised Rolls
As with all good, old-school recipes, this one takes some time (allow about 3 1/2 hours) and is definitely not good for those counting calories, but TRUST ME when I say they are worth it!
Ingredients
1 package active, dry yeast
1 tablespoon sugar
1/4 cup warm water
1/2 cup melted butter, plus one full stick cut into 20 pats
1/2 cup sugar
2 well beaten eggs
1/2 teaspoon salt
4 cups flour
Directions
Pour the 1 cup milk into a small saucepan and heat over a medium heat to scald. I use a wire whip to stir and froth up the milk. When scalding milk it is important to stir constantly or you will scald the milk to the bottom of the pan and it is horrible to have to clean (I speak from personal experience here).
Back in my great, great grandma's day, milk had to be scaled before being added because it was not pasteurized and they needed to kill the bacteria. Our milk might be pasteurized, but this is still a worthwhile step as it makes the rolls rise better and makes them nice & fluffy. Do not let the milk boil, but heat it long enough to get a good froth (for those that like to be precise, heat to 180 degrees). Remove the milk from heat and allow it to cool. THIS IS IMPORTANT! If you don't allow it to cool, you will kill the yeast when you combine them.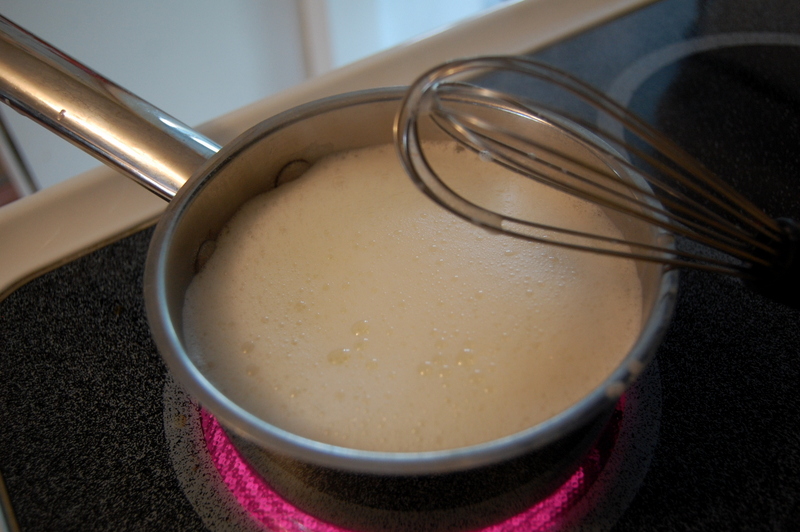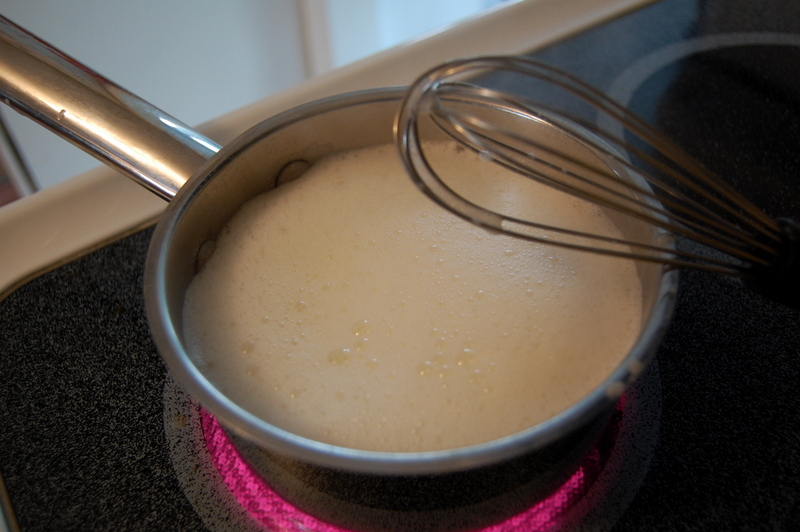 While you are waiting for the milk to cool, combine the 1/2 cup melted butter, 1/2 cup sugar, 2 well-beaten eggs, and 1/2 teaspoon salt in a large bowl. Stir until just combined.
In a separate, small bowl, combine the package of yeast, 1/4 cup warm water (about 105-110 degrees) and 1 tablespoon sugar. Stir until yeast & sugar have dissolved.
By now, your milk should have cooled (it should be at or under 110 degrees). Pour the cooled milk & the yeast mixture into the butter/sugar/egg mixture and stir until combined.
Add flour 1 cup at a time, stirring between each addition.
Fill a shallow baking dish with hot water. Put the mixing bowl with your dough mixture & the baking dish of hot water in your oven (do NOT turn the oven on!). You are just using the oven as a nice, dark place for the bread to rise. The hot water aids by adding moisture & warmth. Let the dough rise for about 90 minutes.
Take the dough out of the oven, flour your hands, and punch the dough down in the middle. Gently knead the dough for a couple of minutes with just the tips of your fingers. The dough should be sticky, flour your hands and work surface as needed, but try not to add too much extra flour.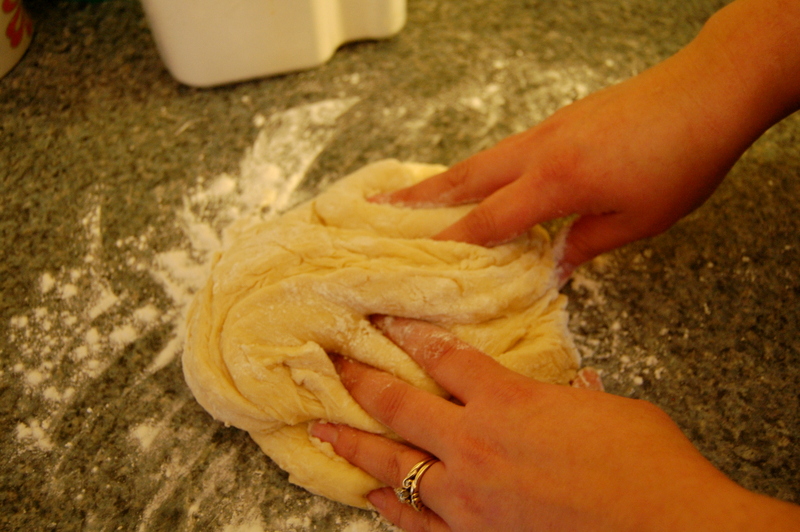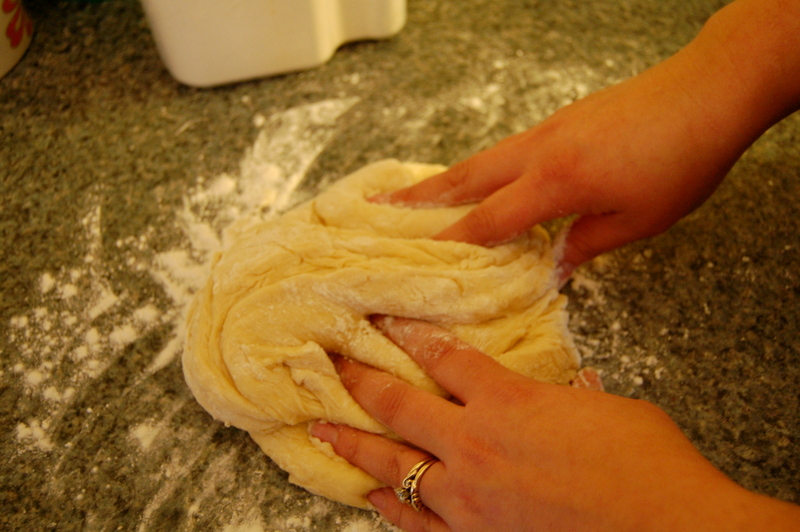 Grease two 8 inch cake pans.
Pull off a 2 inch piece of dough. Put a pat of butter in the middle and shape into a ball. Place dough balls evenly into pans (you should have about 18-20)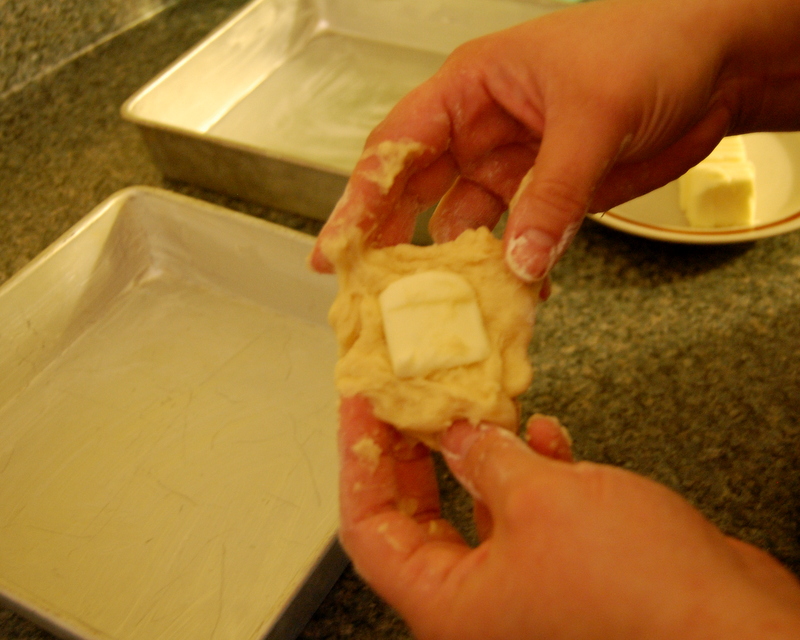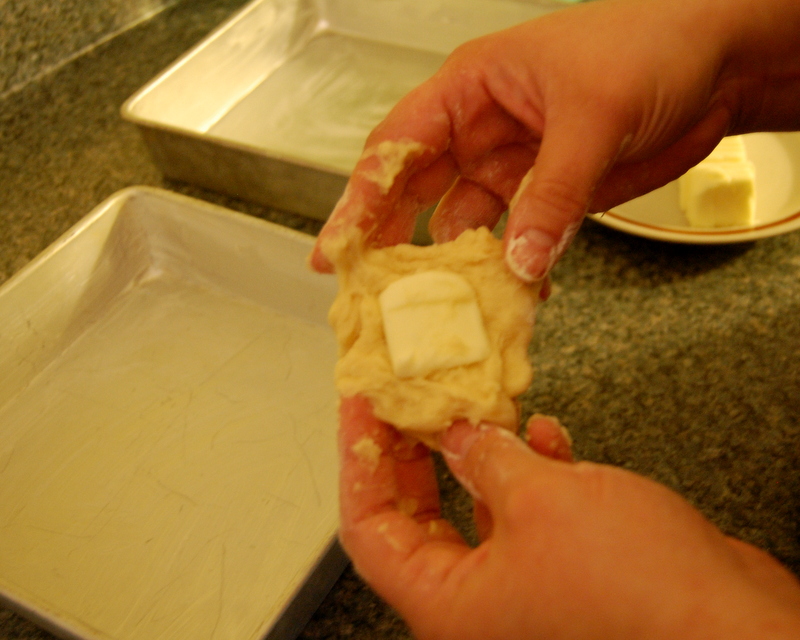 Place the pans with dough balls back in the oven (do NOT turn it on!) with a dish of hot water and allow it to rise again for 1 hour.
Take the pans & water dish out of the oven and preheat it to 375 degrees.
Bake for 17-20 minutes until tops are golden brown. Allow to cool on wire rack