*This post may contain affiliate links, which means as an Amazon Associate I may receive a small percentage from qualifying purchases if you make a purchase using the links, at no additional cost*
---------------------------------------------------------
Have your chickens been working overtime giving you an abundance of eggs? Have some leftover ham to use? Want an easy, delicious meal perfect for breakfast, brunch, lunch, or dinner?
I love quiche, it is so versatile. I love that there are so many ways to make it. I love how easy it is to customize and customize. I love it warmed up the next day for leftovers. Whenever I make quiche I like to make a nice big one so that I can have leftovers for breakfast or lunch the next day. This recipe is great for a big family, a potluck brunch, or to eat half now and freeze the other half for an easy meal later.
Ham & Cheese Quiche for a Crowd
Preheat oven to 375 degrees
Prepare crust (or use premade crust)
Crust recipe:
2 cups flour
dash of salt
2/3 cups butter
6 tablespoons of cold water
Mix flour & salt. Cut in butter until you have small, pea-size pieces. Blend in water until the dough will stick to itself.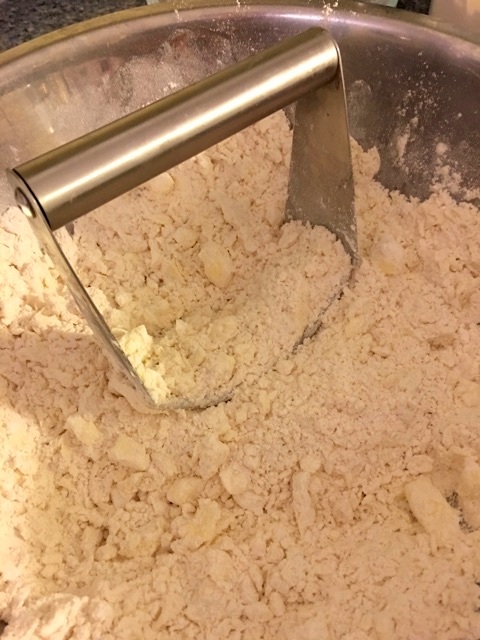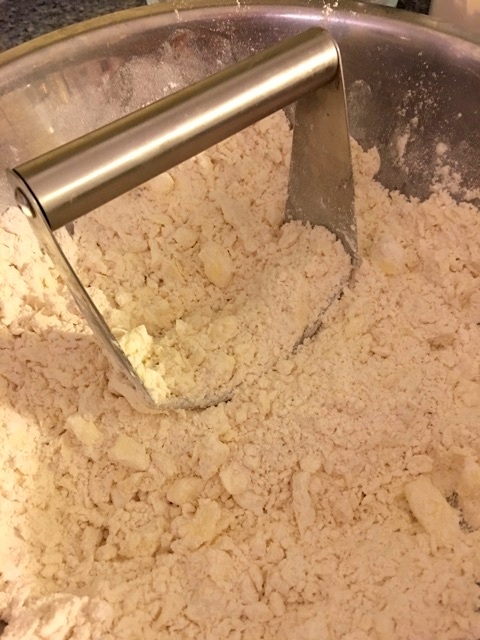 Flour the work surface and roll the dough out until it covers the bottom and up 3/4 of the sides of a 9×13 casserole dish.
Put the dough in a 9×13 casserole dish, and poke the bottom with a fork. Bake the crust in 375-degree oven for 7 minutes.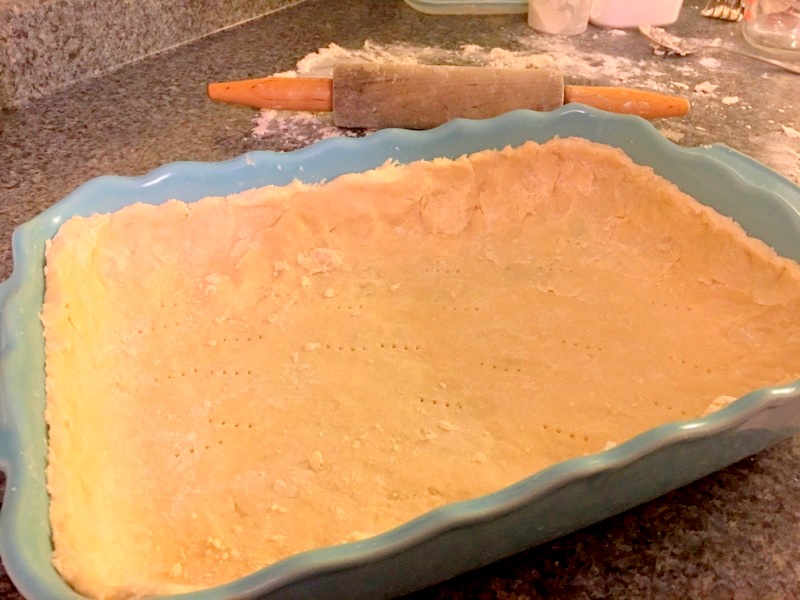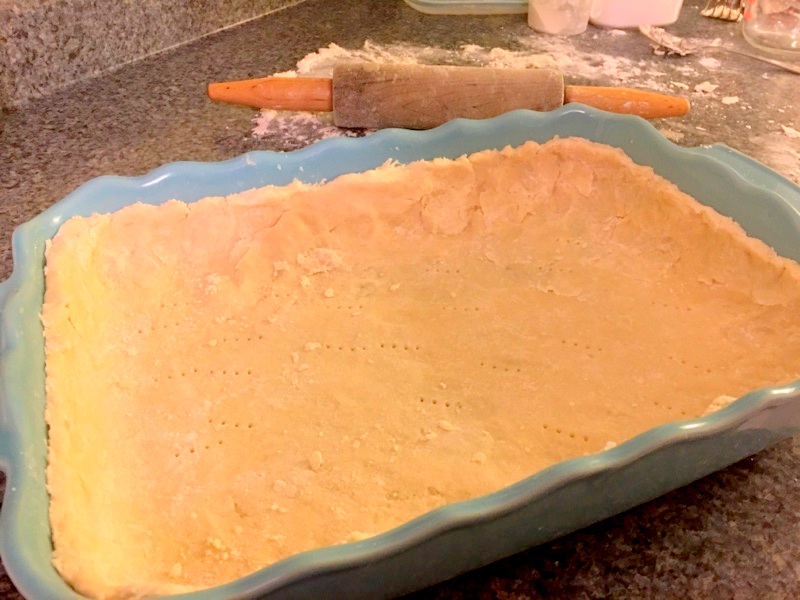 Prepare Filling:
2 cups chopped broccoli
2 1/2 cups shredded cheddar cheese
2 cups cubed ham
10 eggs
3 cups milk
2 teaspoons Italian seasoning
salt & pepper to taste
optional additional toppings to try:
green onion
finely diced tomatoes
diced mushrooms
crumbled bacon
chopped spinach
sauteed onions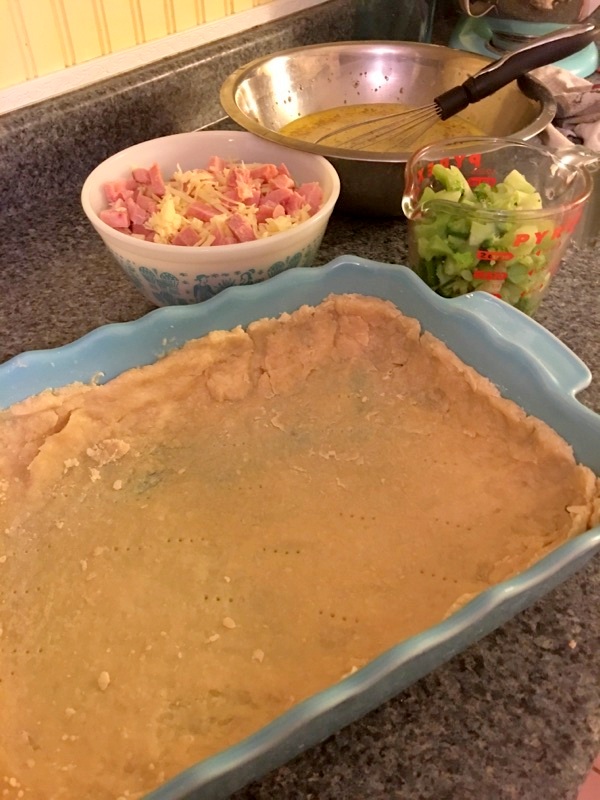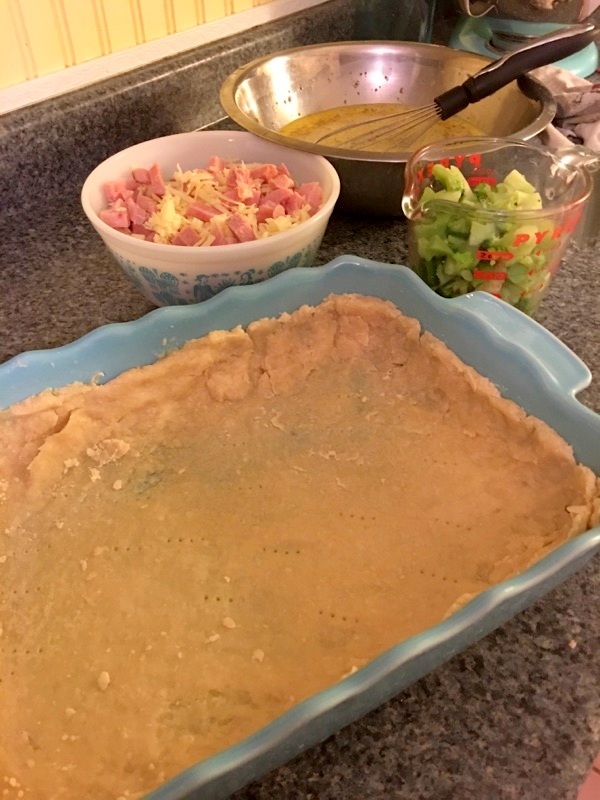 Spread the broccoli for the first layer in the crust
Add the cheese & ham on top of the broccoli
In a medium bowl, whisk the eggs, milk & seasoning. Pour over the broccoli, cheese & ham.
If desired, add optional toppings
Bake at 375 degrees for 45-55 minutes.
Refrigerate leftovers for up to 3 days, or tightly wrap and freeze for up to 3 months