*This post may contain affiliate links, which means as an Amazon Associate I may receive a small percentage from qualifying purchases if you make a purchase using the links, at no additional cost*
---------------------------------------------------------
I have a large family and there isn't much that everyone in the family all likes, but luckily eggs are one of those things!  With all our chickens & ducks, sometimes the eggs can pile up, even with 6 people eating them.  Today, I did quick count and found I have over 3 dozen in the fridge so I knew it was eggs for dinner tonight!
My favorite recipes require little prep and as few pans as possible, and if it can give me leftovers for the next day it's even better.  This is the perfect recipe for crazy weeknight dinners, but it also great for church brunches, family get togethers or any time you need to cook for a crowd.  This Egg Casserole recipe wins on all accounts!  If you don't need such a huge casserole or don't have a crazy surplus of eggs, simply half the ingredients and cook in an 8×8 pan (you may need to adjust the cooking time).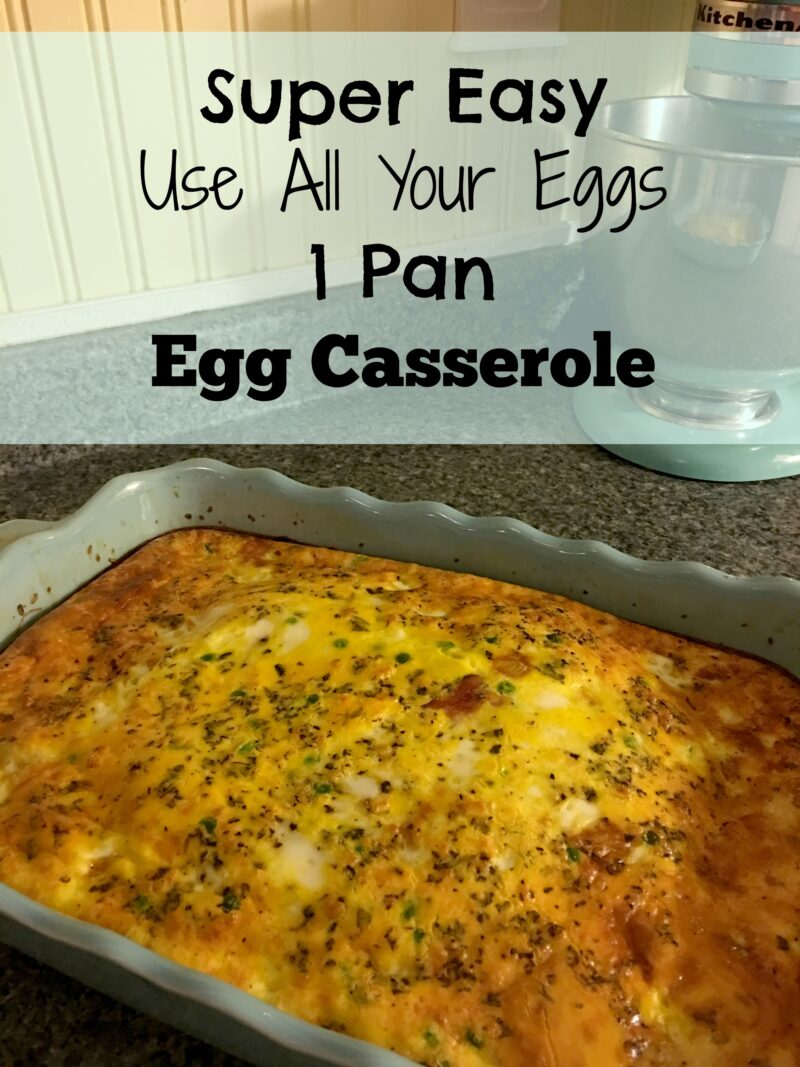 Super Easy Use All Your Eggs 1 Pan Egg Casserole
Prep Time: 5-6 minutes
Cook Time: 1 hour
This makes enough for 8-10 good size, main dish servings
Ingredients:
*18 eggs
*3/4 cup bacon bits, cubed ham or chopped sliced ham
*3/4 cup shredded Mexican cheese blend (or Mozzerella, or Cheddar, whatever you like!)
*1/2 cup milk
*2 cups vegetables (corn, broccoli, peas, cherry tomatoes -whatever you have around – fresh, frozen or canned)
*1/4 cup finely chopped onion
*salt & pepper to taste
*parsley & oregano
Directions:
*Preheat oven to 350 degrees
*Crack all of the eggs into a 9×13 casserole dish
*add meat, cheese, milk, vegetables, onion, salt & pepper
*stir to combine
*sprinkle parsley & oregano over the top
*cook for about an hour, until eggs are cooked thoroughly
That's it, it takes about 5 minutes to whip together and just pop it in the oven.  No extra bowls to clean, just the one casserole dish! Refrigerate leftovers