*This post may contain affiliate links, which means as an Amazon Associate I may receive a small percentage from qualifying purchases if you make a purchase using the links, at no additional cost*
---------------------------------------------------------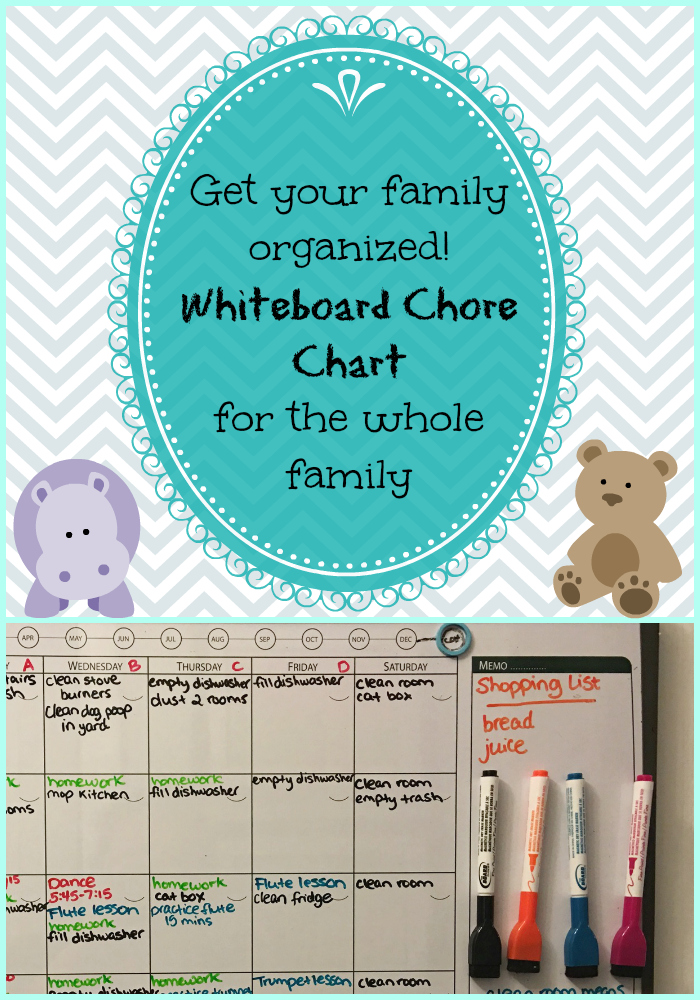 We are a large family of six with school age kids that are running here and there for activities and friends and school and work. Add in caring for all our furry & feathered friends, and my husband and I both working full time jobs – life can sometimes get a little hectic!
Our children are old enough to take on responsibility around the house but without an organized system it usually just falls to mom nagging at everyone to help out. Over the years, we have tried countless chore systems from sticker charts when they were little to marble jars, to assigning set chores to one person. You name it, we probably tried it!
We would run into two problems with most systems – the first is if one person had the same job all the time it eventually just devolved into "her chore is easier than mine" or "why do I always have to do the dishes" and of course no one wanted to go near the poop chores (cleaning up after the animals). So we would rotate the chores with one person doing the dishes for the week and then switching with someone else. I would have to be constantly reminding people what their chore that week was and most nights I would end up just doing it myself.
On top of the daily chores, there are always those "special" chores & organizing. All those chores that don't need doing daily, like cleaning the refrigerator, washing the windows, organizing the drawers or cabinets, cleaning the oven, vacuuming all the crumbs out from under the couch…..well those chores always had their own system and it was always up to me to get them all done.
Many years ago I sat down and wrote out all the chores that needed doing around the house and how often they needed to be done. Then I put them in an online calendar with their frequency and it generates a list of things for me to do every week that includes all those special chores from once a week chores all the way up to once a year chores. The organized neat freak in me loves this system. The only issue with this is I was the only one responsible for getting these chores done.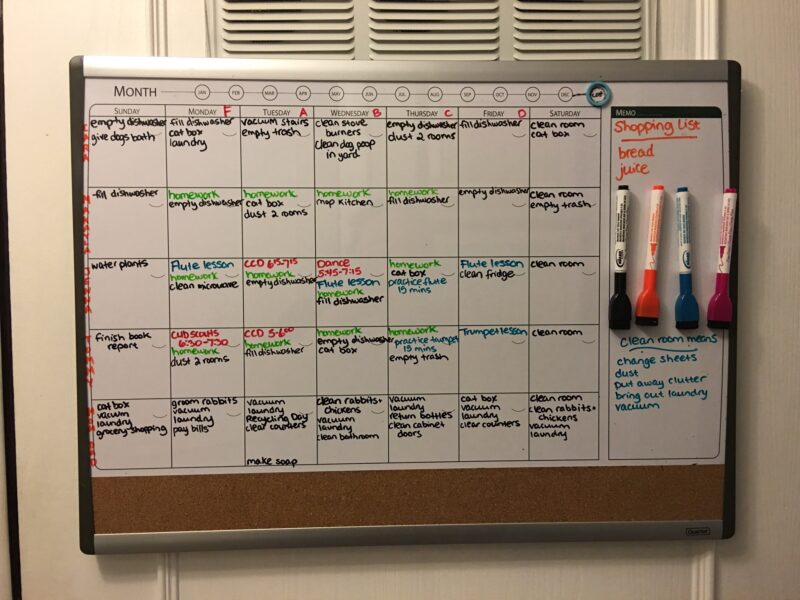 Enter my newest family chore system. We have been using it for a couple months now and I LOVE it. I got a large magnetic monthly calendar whiteboard and hung it right in our main hallway. It has five rows and the days of the week across the top. Each row is assigned to one of the children, with my husband and I sharing the 5th row. Every Sunday I update the board with the upcoming week's chores.
I got whiteboard markers in a couple different colors with magnetic caps so they can stick right to the board.
First I take the red marker and write in any activities, doctor's appointments, teenager's work schedules – just as a reminder of where everyone needs to be each day.
Then I add in any school notes in green (homework, half days, special projects due).
Music lessons/practicing are in blue.
Then in black I assign all the daily chores – dishes, laundry, cleaning the cat box, vacuuming (with 6 humans, 3 dogs and 2 cats in the house, vacuuming daily is a necessity!).
Do I write in every chore my husband and I do daily? No, mostly because the box isn't big enough! Things like feeding animals, walking the dog, cooking, etc don't usually make it up there but you can certainly add those in. I add in just enough that the kids see we all have chores, we all need to pitch in. We don't do allowance here, everyone is expected to help out as a family. Lastly, I pull up my handy online calendar and assign all those "special" chores for the week.
Besides allowing me to not have to do nearly all of the chores in the house, my kids are learning skills to run a household. I realized after I started this system they never noticed me doing all these chores. The first time one of my kids was assigned the chore of wiping down the kitchen cabinet doors they acted like this was something they had never seen before despite the fact that I have done it countless times in their lifetimes!
I also like that on days when they have activities I can give them an easier chore since they will have less free time, and I can schedule more intense chores like cleaning their rooms for weekends when school isn't a conflict.
It's January, so right now my oldest is on winter break from school and my second oldest is on winter break from activities so I can give them a few extra daily chores. I can give the younger ones easier chores and occasionally rotate in slightly harder chores to help them learn new skills. "Many hands make light work" has never been so clear to me since we have started this system. So much so that some weeks I am scratching my head to come up with a chore for each kid to do every day. Each day, each kid is doing probably under 10 minutes worth of work but that has freed me up immeasurably and is teaching them life skills – mothering win!
Need some inspiration for family chores? Below is an outline of some the chores I assign & their frequency from my online cleaning calendar. Kids 10 and up can certainly handle these chores with some initial instruction. You may have to pick and choose for kids under 10, but don't underestimate what they can handle with a little help & guidance from you.
Daily
Vacuuming main rooms (living, dining, kitchen, hall, playroom)
empty dishwasher
fill dishwasher
clean cat box
laundry
make bed
Couple times per week
take out trash
cleaning dog poop from yard
clean animal cages/pens/coops/hutch/tank/stall – we do this twice a week, but as needed for your animals
water garden – in summer
Once Weekly
dust two rooms – weekly I assign this to a couple kids to get all rooms done
mop kitchen
water indoor plants
bring trash to road for collection
clean bathroom
vacuum stairs
pay bills – obviously not for kids but you could show teens about family budgeting
clean bedroom (involves changing sheets, bringing out dirty laundry, vacuuming, dusting, general picking up)
groom animals – depends on animal, but we brush bunnies weekly, cats/dogs monthly
pull weeds from one raised garden bed – in summer
Every other week
bring recycling to road for collection (this is from our schedule)
sweeping deck/front step
clean refrigerator
clean microwave
clean kitchen cabinet door fronts
clean appliance fronts
Monthly
clean stove burners
polish dining room furniture
polish living room furniture
clean car interior
wash windows in one room – rotating rooms every month
vacuum under the couches
bathe dogs
Every other month
organize coat/shoe closet
organize linen closet
organize bathroom cabinet/closet
organizing one kitchen cabinet – I assign this to everyone til they all get done
organize one shelf in playroom – I assign this to everyone til they all get done
organize one shelf in living room – I assign this to everyone til they all get done
wash blankets from your bedroom
wash throw blankets in living room
organize your closet/dresser
vacuum under your bed