*This post may contain affiliate links, which means as an Amazon Associate I may receive a small percentage from qualifying purchases if you make a purchase using the links, at no additional cost*
---------------------------------------------------------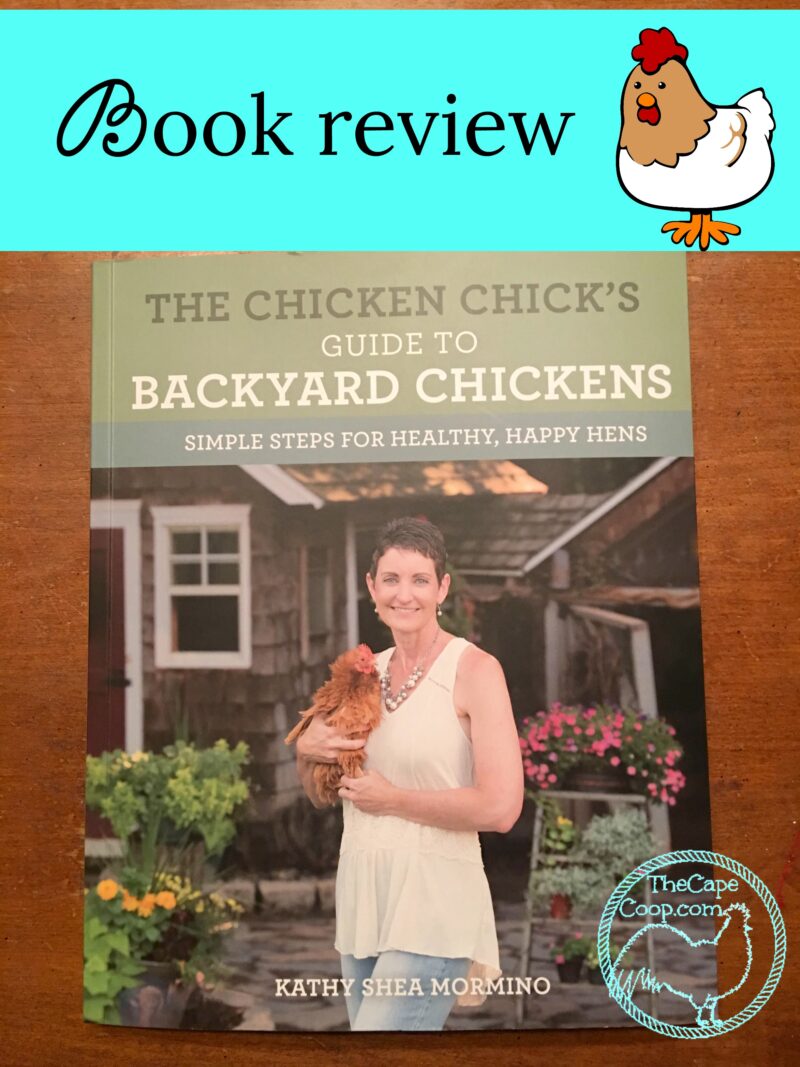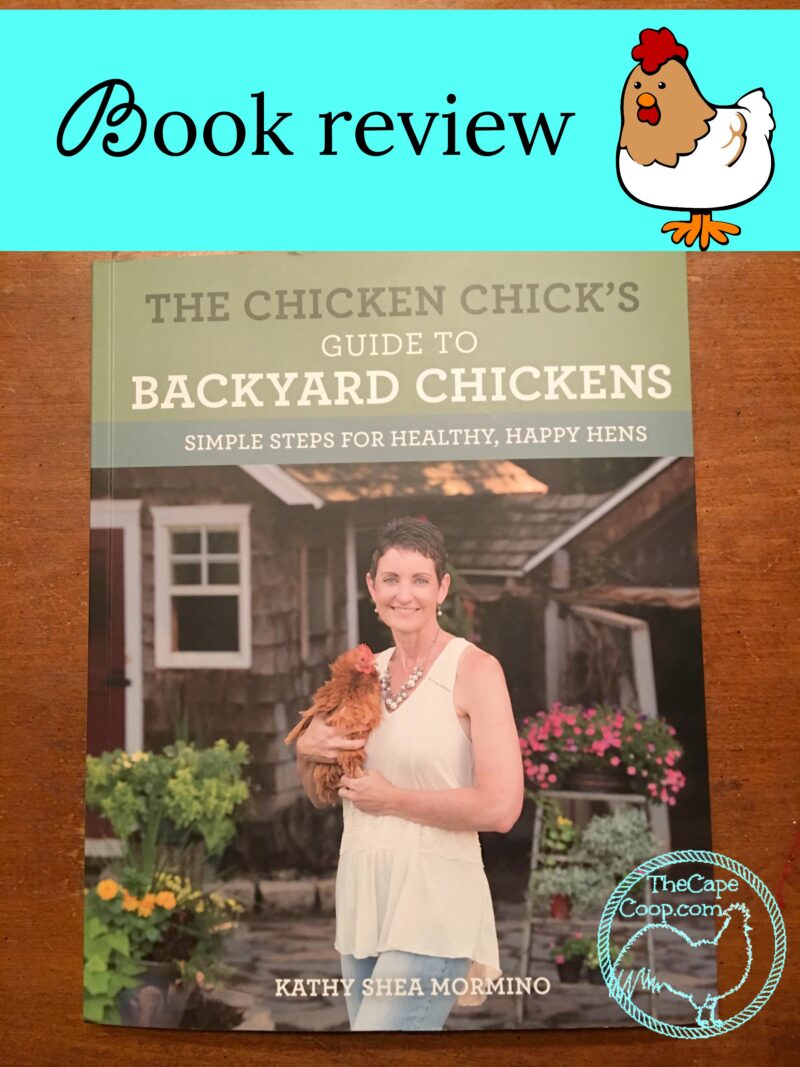 As a fellow chicken keeper & blogger, I was really excited to hear about Kathy Shea Mormino's new book "The Chicken Chick's Guide to Backyard Chickens: Simple Steps for Healthy, Happy Hens". When given the opportunity to review her book, I was thrilled to check it out! Now the same practical advice found on The Chicken Chick's blog & Facebook page can be found in one convenient book.
More and more people are discovering the joy of keeping a flock of chickens in their backyard, from millennials in the city to retirees in the country. Many of these people were not raised on a farm or even know anyone that was. Deprived of that first hand knowledge or real life mentors, we have turned to the internet to help navigate the ins and outs of keeping our hens happy & healthy. With all the blogs & websites dedicated to keeping chickens, The Chicken Chick, run by Kathy Shea Mormino, is one that legions of devoted fans & new chicken keepers alike turn to. Pretty much anyone keeping pet chickens knows The Chicken Chick – she is the rock star of the chicken community! Kathy's trusted, down to earth, and practical advice isn't just earned from her years keeping chickens but she backs it all up with sound science and respected sources.
I loved the intro, where Kathy makes a very compelling case (she is a lawyer after all!) for changing people's attitudes towards chickens. She does an excellent job helping people see beyond the soup pot & Sunday morning breakfast to see that chickens can also make great pets. When asked why would you keep chickens, I love her response of "why not keep chickens? Why must there be a statement of intent when it comes to raising chickens? Nobody ever asks, "Why keep a dog?"". Kathy maintains that "chickens are the new family dog". I certainly agree – chickens make wonderful pets. They are much smarter than most people give them credit for and all have unique personalities.
Perfect for chicken keepers in every stage
This book is a must read for new or aspiring chicken keepers. It is also a great reference for people that have been keeping chickens for years! Newbies will love the sections on creating a healthy, comfortable coop & run, choosing chicken breeds & caring for chicks. For the experienced keeper, this book is a valuable resource with chapters on chicken health & diseases, chicken behavior, even how to landscape your yard with chickens in mind. The internet is a great resource, but I think it is important to build a reference library when running a backyard farm. Books can really help you dive deeper into a subject. When you are starting a hobby like chicken keeping, there are a ton of new things to learn!
Two full chapters are devoted to chicken health. Caring for chickens is not as intuitive as caring for dogs or cats. As ultimate prey animals, chickens are excellent at hiding illness or injury. It is important that chicken keepers know the subtle signs to look for in their flock. Kathy goes over how to give your chicken a complete, routine, health exam, and simple steps to keep your flock healthy as preventative measures. The sections on diagnosing illnesses by symptoms & methods for treating illness & injury should be required reading for all chicken keepers! There is very thorough advice on treating bumblefoot, a common but serious infection, in addition to tips for egg binding, spraddle leg, fowl pox and so much more. She has included a very thoughtfully written section on end of life decisions to help your pet pass in peace. Chicken vets can be difficult to find. Sometimes it can feel like you are on your own when it comes to your chicken's health. Having a reliable & practical guide is essential for keeping your hens happy & healthy!
Good news for all you super fans of the Chicken Chick's most famous hen, Rachel. Little Miss Diva herself is all over this book giving you helpful advice firsthand! **Edited to add – unfortunately sweet little Rachel crossed the Rainbow Bridge at the rip old age of 8, shortly after the release of this book. But at least her memory & sass can live on forever in print now 🙂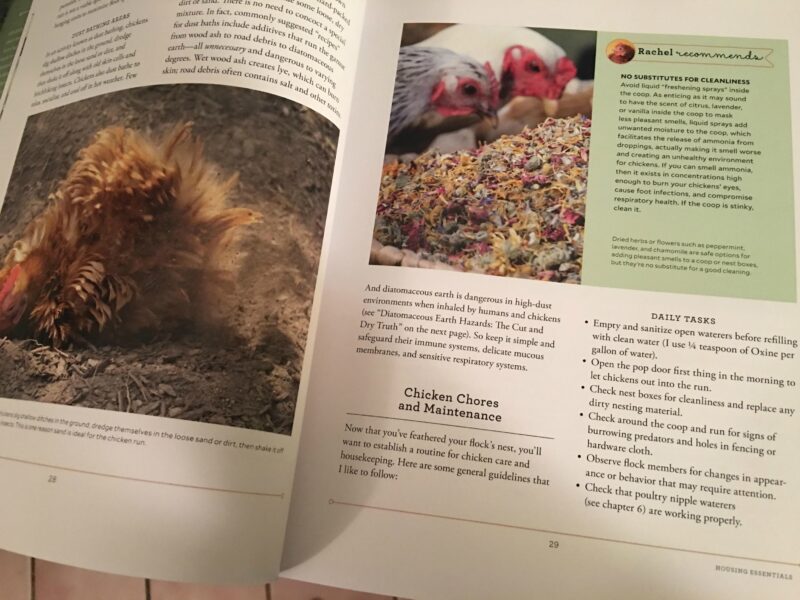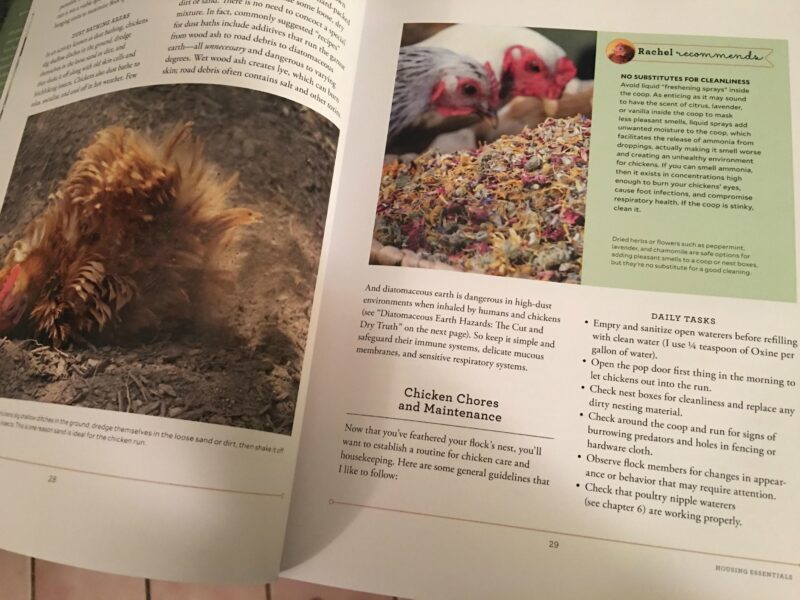 Summary
I would highly recommend this book as a must have addition to your library for any chicken enthusiast! "The Chicken Chick's Guide to Backyard Chickens: Simple Steps for Healthy, Happy Hens" is available now on Amazon and bookstores nationwide!
~In addition to all the valuable advice & helpful diagrams, there are so many adorable chicken photos it will have you running to the hatchery to add to your flock!