*This post may contain affiliate links, which means as an Amazon Associate I may receive a small percentage from qualifying purchases if you make a purchase using the links, at no additional cost*
---------------------------------------------------------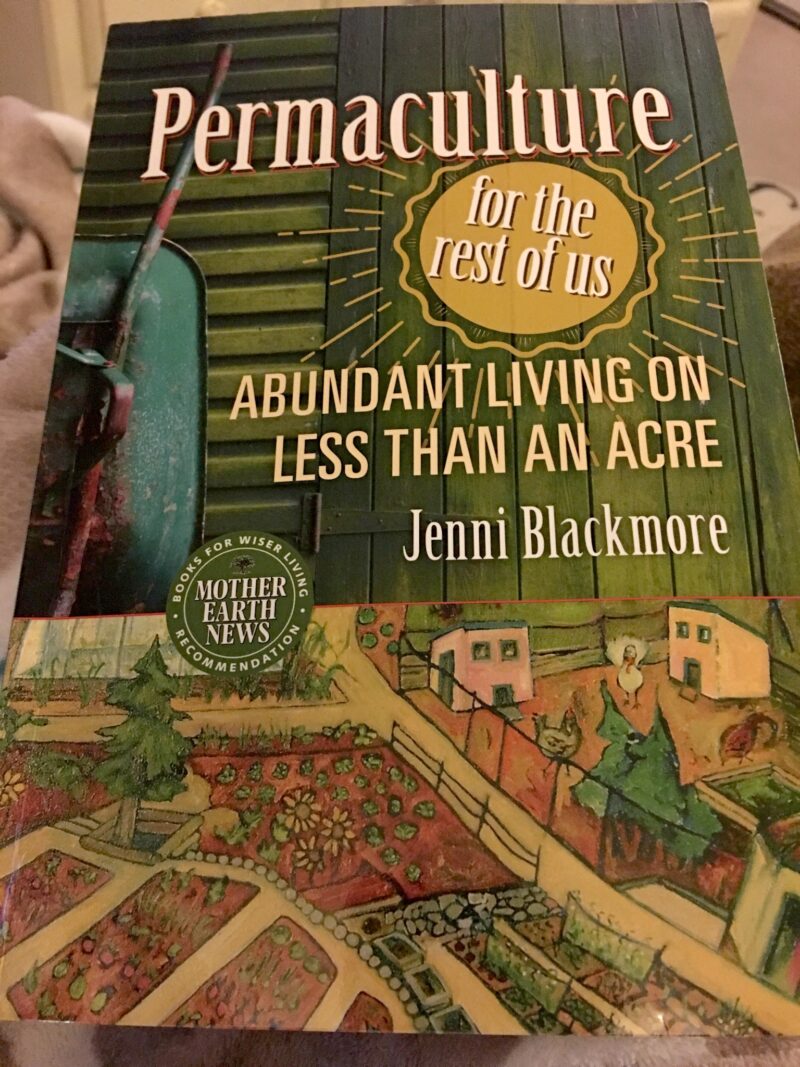 I have been gardening in some form or another for pretty much my entire adult life. I have heard the term "permaculture" here and there but honestly it sounded pretty intimidating and expensive. I never really looked into the concepts behind it because I had decided it was something only big scale farmers needed and because I only have a suburban yard that obviously wasn't me. So when I was given the chance to review "Permaculture for the Rest of Us, Abundant Living on Less Than an Acre" by Jenni Blackmore I was intrigued. Going in, this is the list of what I knew about permaculture:
*it involves setting up zones on your property for different uses
That's it, pretty short list. So I obviously was a beginner who had everything to learn so I decided this book would be a great place to start. Let me tell you that no one was more surprised than me to find out that I am already practicing permaculture principles and I am really eager to learn more! My original misconception about permaculture being only for big scale farmers couldn't be further from the truth. Of course it can be used by big farmers, but it can really benefit small backyard farmers as well. And as far as being expensive, if permaculture is expensive, you aren't doing it right!
If I had to boil down what permaculture is in one thought, it would be: permaculture means living in harmony with nature. Instead of fighting nature, you are working together with it. It involves watching and observing your land and environment, and conserving resources (including your time & energy). If you are practicing natural or organic gardening methods, I bet you will align with many permaculture principals as well. These are just a few ways that I am already a "permie":
*I compost my kitchen scraps (or feed them to my chickens)
*I use the waste from my chickens, ducks & rabbits to enhance my compost vs using chemical fertilizers
*I built up my soil using composted leaves & manure to overcome my poor soil
*I have put my animals pens in close proximity to my home because they will need to be visited often while caring for them
*My vegetable garden is also in a close "zone" to make tending & harvesting convenient
*My orchard is in a further corner as I don't have to tend it that often
*I have a further out wild food/flower garden (food forest) where wildflowers & edible foraging type plants are grown
*In the furthest corner of my yard it is forest (wild zone), where wildlife can live, trees & leaves can decompose
*I preserve food from my garden (and from farmers markets)
*I share/sell the bounty in my community
*I look to buy used or upcycle a lot of items around the yard – use it up, wear it out, make it do, or do without
*I actively encourage pollinators by planting bee friendly plants
*I practice crop rotation & companion planting for rich soil & naturally healthy plants
*I let my birds free range as a form of insect control
*I set up my chicken/duck coop & run, my rabbit pen & my veggie garden after observing the movement of the sun, natural shade and wind patterns
*I use mulch in my garden to help retain moisture and prevent weeds
*I work with the contours of my yard, which means working around stumps and roots from trees we've had to clear
*I started slow and moved slowly – my backyard farm is constantly changing it's been 18 years in the making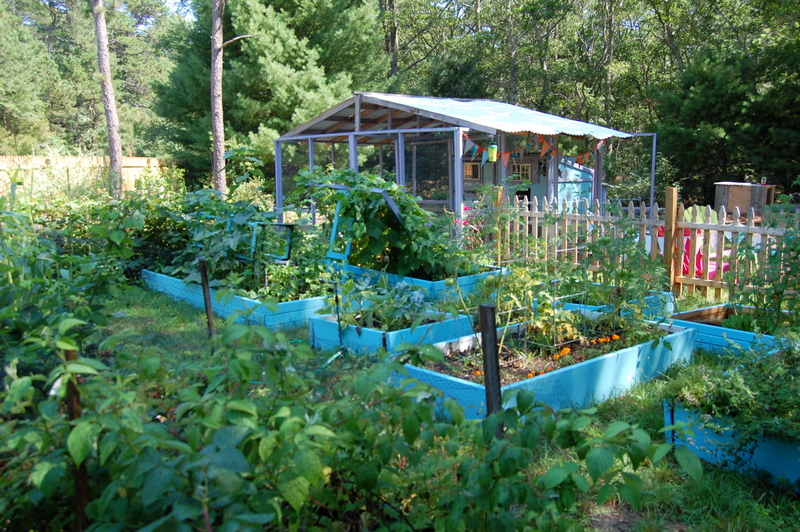 But, don't let that long list fool you, I learned A TON in this book and got lots of ideas that I want to implement like:
*I want to get some cold frames or a greenhouse going to extend my growing season (I love her idea of natural hotbeds)
*I'd love to set up some sort of water catchment system for the garden, and now I have some great ideas
*After reading this book, I ordered some comfrey bare root plants and can't wait to get them started in my orchard
*I don't save my seeds – it's crazy that I don't and intend to start this season!
*I want to learn more about phenology (a method of gardening that goes by nature's calendar vs the Gregorian calendar)
*I loved the hen-poster composter idea. My chickens already love digging in the compost, this lets them do it without all the mess
I would definitely recommend this book to anyone that wants a nature based way of life, is striving for a more sustainable life, or just wants an easier way of growing in abundance in their own backyard. Jenni's relatable writing style highlights not only her successes but some failures as she set up and maintains her homestead in coastal Canada. Not only does she teach us the basics of permaculture, but imparts plenty of practical knowledge in picking the right plants and getting started with livestock in a friendly and down to earth manner.
Want to check it out for yourself?
And for more farming fun, check out Jenni's blog over at Quackadoodle Farm!