*This post may contain affiliate links, which means as an Amazon Associate I may receive a small percentage from qualifying purchases if you make a purchase using the links, at no additional cost*
---------------------------------------------------------
The holiday season is right around the corner. I like to give a lot of homemade gifts so crafting time is kicking into high gear. Let me share with you a super easy and super inexpensive gift that everyone will love – homemade lip balm! Lip Balm makes great stocking stuffers or you can tie them with twine to the top of packages. Homemade lip balm is also great for birthday party favors (with a little adult help around the stove, kids can certainly help make these!).
This recipe will make 12-15 tubes of lip balm
Ingredients for Lip Balm Base
Equipment
pipette or dropper
glass or stainless steel measuring cup
medium saucepan
rubber band
Extras & Additive Options
This is the best part of making your own lip balm – you can make any color or any flavor under the sun for a truly custom creation!
Essential Oils – If you want to stick with natural flavoring, there are lots of essential oils that are safe for lips including peppermint, spearmint, sweet orange, lemon, lavender, clove & tea tree. A recipe I love is an orange spice where I add 25 drops of sweet orange essential oil and 5 drops clove essential oil to the above recipe.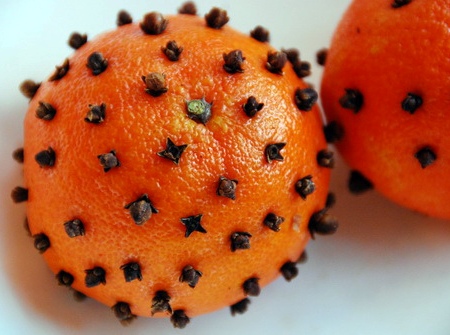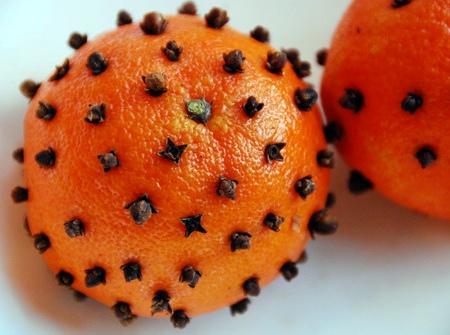 Infused Oils – You can also add a gentle scent and healing properties by using oils infused with herbs. Some soothing lip-safe options include calendula petals, rose petals, chamomile, and lemon balm. To infuse the oils, put 3 tablespoons coconut oil and 3 tablespoons sweet almond oil in a mason jar. Add 2-3 tablespoons dried herbs. Put the mason jar in a medium pan with a few inches of water in it. Simmer the oils for a few hours. Strain the herbs and use the mixture in the above recipe, in place of the regular coconut & sweet almond oil.
Flavor Oils – While not considered a "natural" option, you are still going to come out with a superior lip balm with tons of lip-loving, natural oils. There are TONS of flavor options from a simple strawberry to acai blueberry, melon to mai tai – even bacon! One of the places I order my flavor oils from is Wholesale Supplies Plus. Some flavor oils come pre-sweetened, some are not sweetened. It's mostly a personal preference. Keep in mind, that often the sweeter the flavor, the more likely you are to lick your lips, defeating the purpose of lip balm. Follow manufacturer usage instructions, but I find for the most part, you would add 1 teaspoon of flavor oil to the above recipe.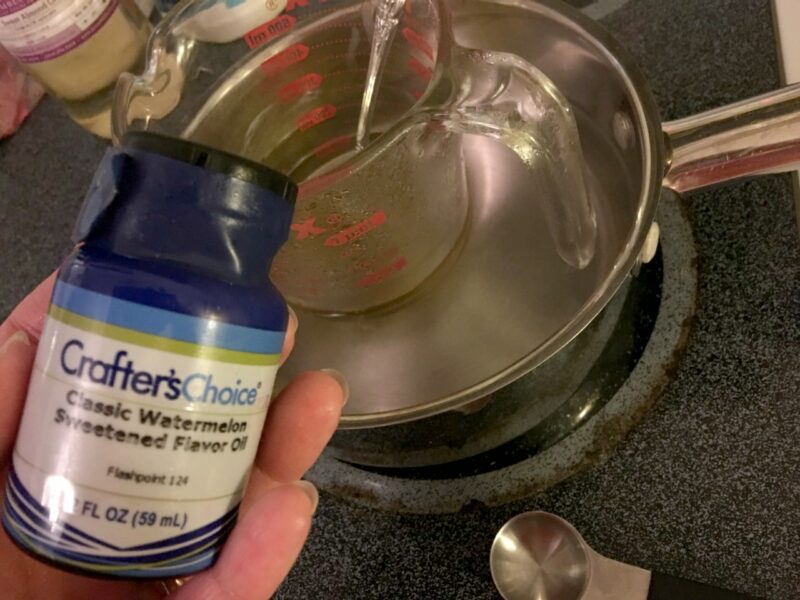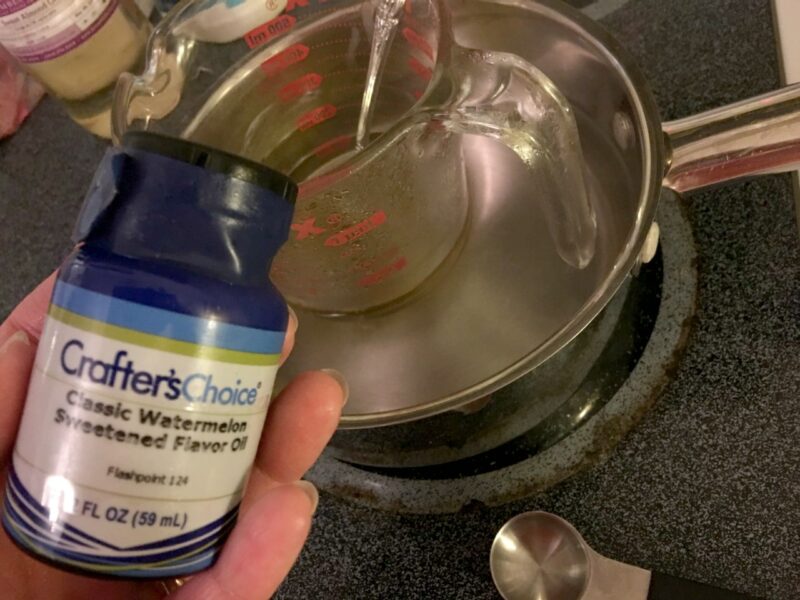 Sweeteners – Honey is a popular additive for sweetening lip balms naturally. Honey can be tricky because it is water based, and you are trying to get it to mix with oils. Use a small amount (1/4-1/2 teaspoon) and thoroughly whisk it into the mixture. It is still likely you will end up with some unincorporated honey settling at the bottom of the bowl. Another natural option is to add a small amount of powdered Stevia (1/8-1/4 teaspoon), and thoroughly whisk until no clumps remain. My favorite honey-sweetened recipe uses 1/4 teaspoon honey and 15 drops peppermint essential oil – it's very similar to the popular Burt's Bees lip balm at a fraction of the cost!
Coloring – If you would like to add a little color to your lip balm, you can use cosmetic grade mica mineral powder. Make sure the kind you buy specifically says it is safe for lips. You only need a very small amount, add it gradually until you get the color you are looking for. 1/8 tsp is plenty in the above recipe. If you would like a natural option, you can also use ground alkanet root.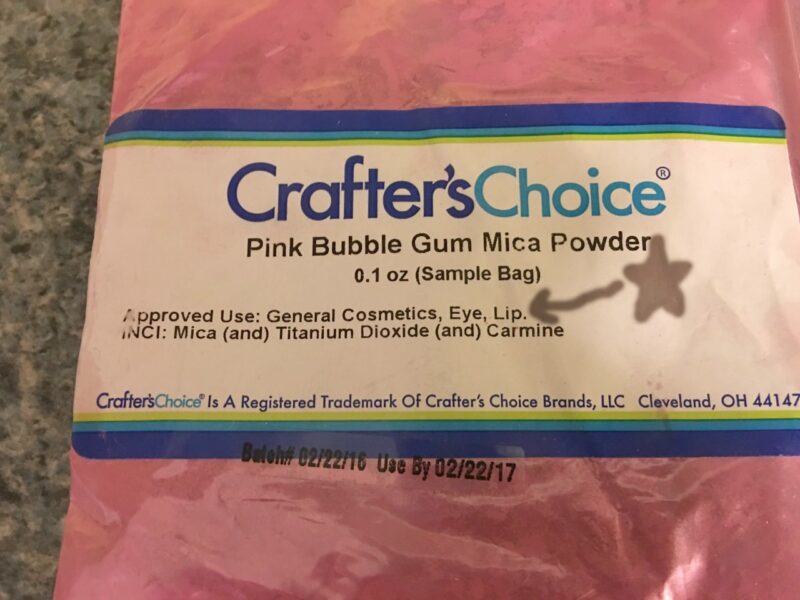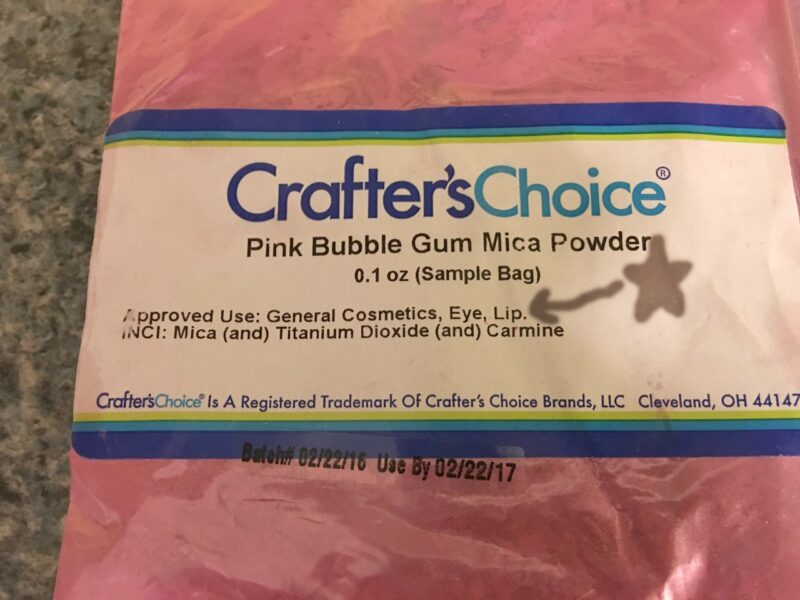 Instructions
Fill the medium saucepan with a few inches of water and bring to a low simmer
Add the Beeswax, Mango Butter, & Shea Butter to the glass measuring cup. Put the measuring cup in the pan and stir until totally melted.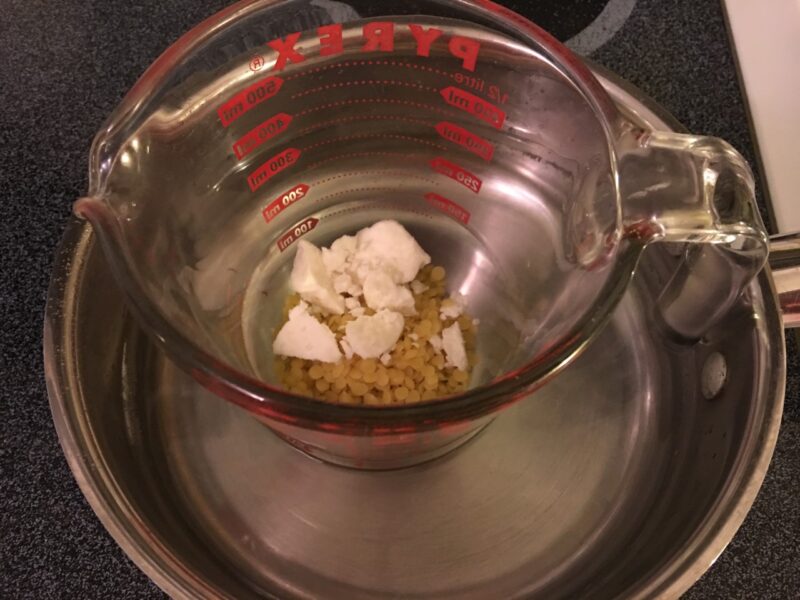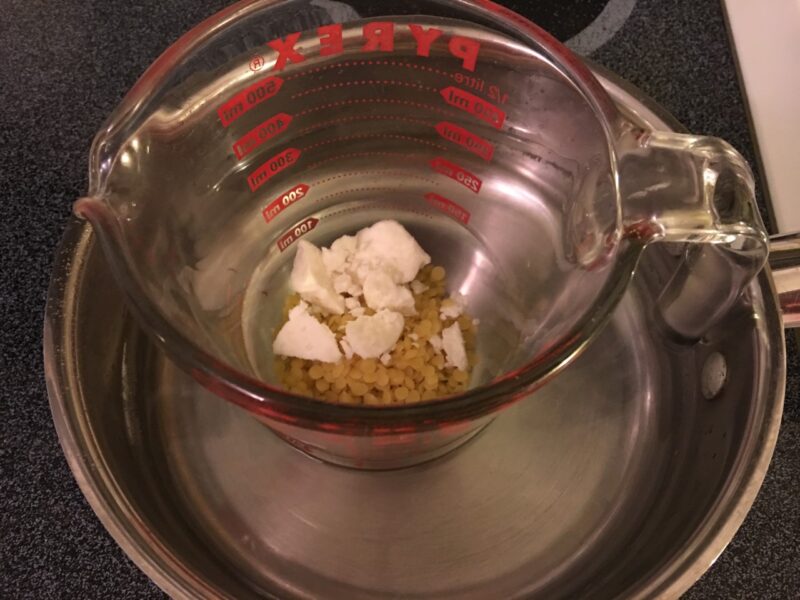 Add the Coconut Oil & Sweet Almond Oil – stir until melted.
Turn the heat to its lowest setting. Let the mixture sit for 15-20 minutes in the liquid form. Make sure the heat is high enough to keep the mixture liquid. The butters need time to temper and fully dissolve in their liquid state. If you don't temper the butters, when it hardens, the lip balm will feel grainy.
Add flavoring, sweeteners, or coloring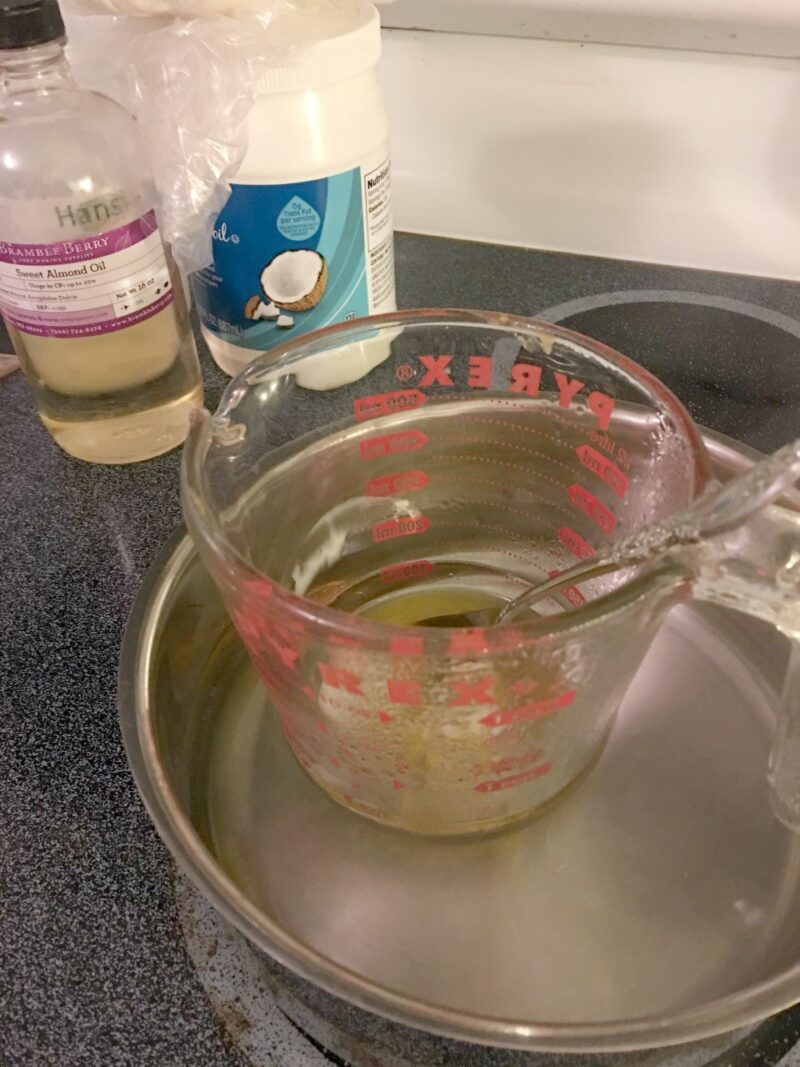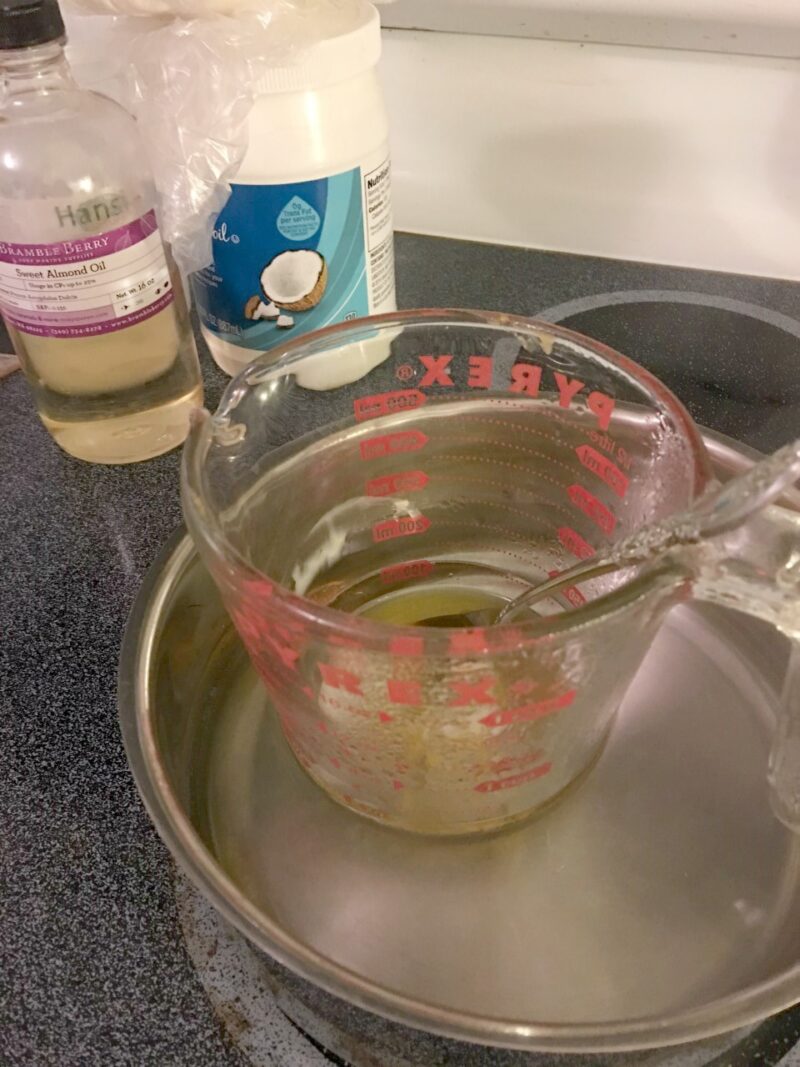 Uncap the lip balm tubes and band them together with the rubber band. This will keep them upright when you are filling them.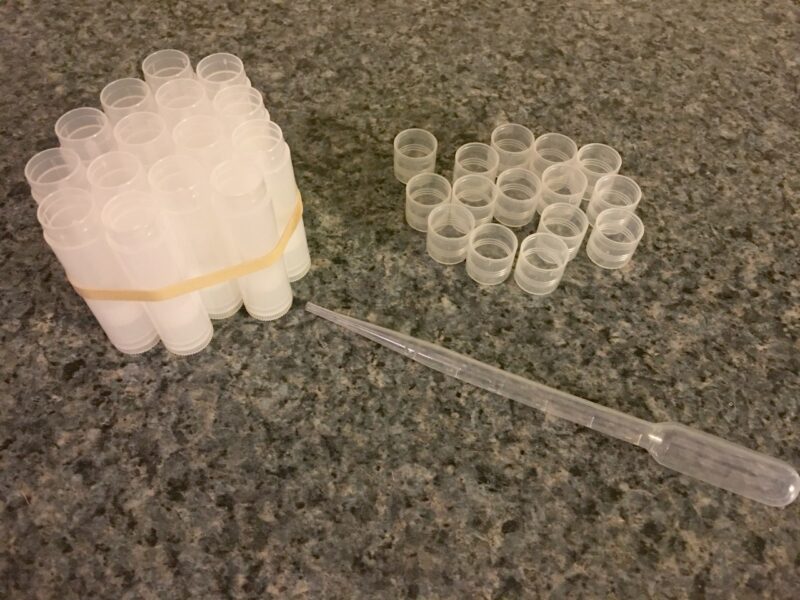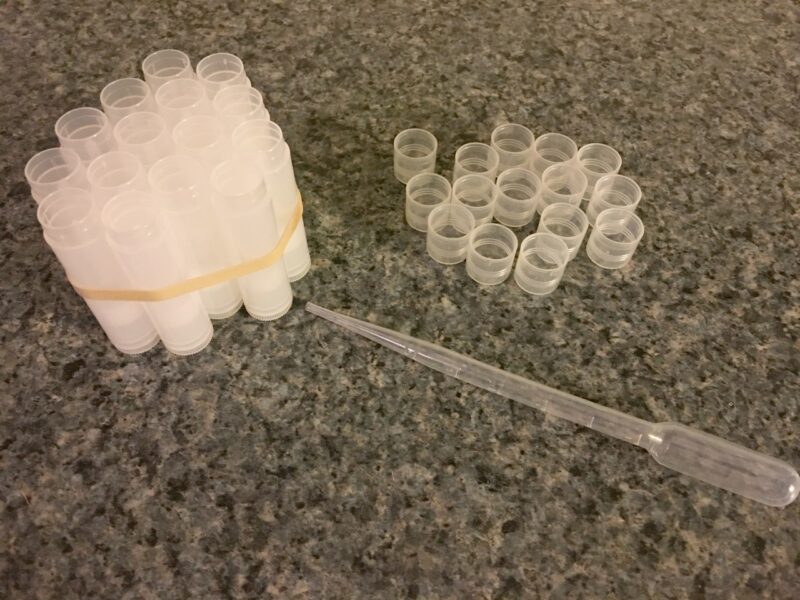 Use the pipette to fill each tube. As the lip balm hardens, it will sink down a bit in the center. To avoid this, try to very carefully, slightly overfill each tube.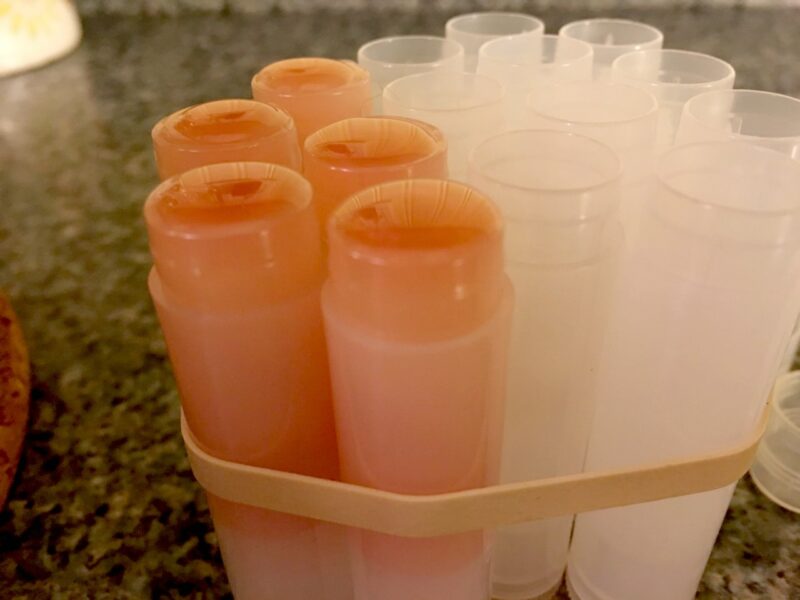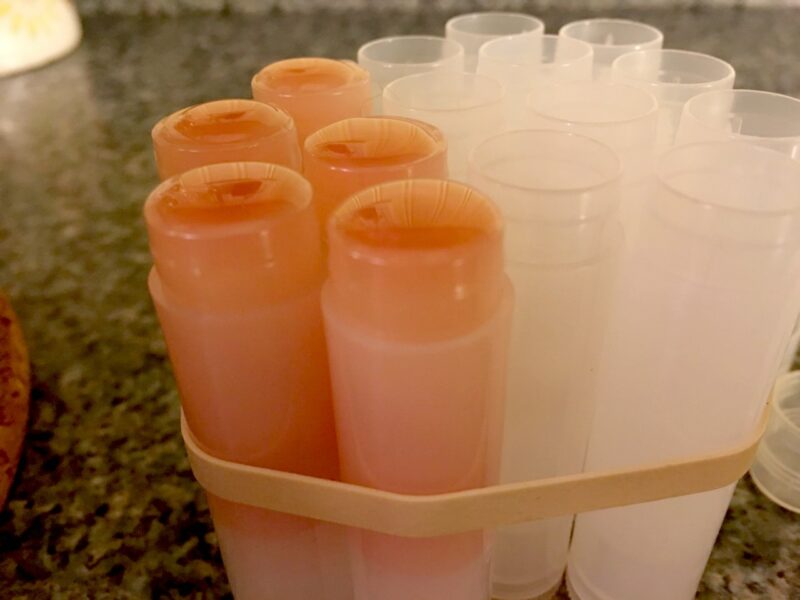 You will want to work quickly, if the lip balm starts to harden in the pan, turn the heat back on to melt. If the lip balm hardens while in the pipette, squeeze it all back into the pan to remelt and grab a fresh pipette.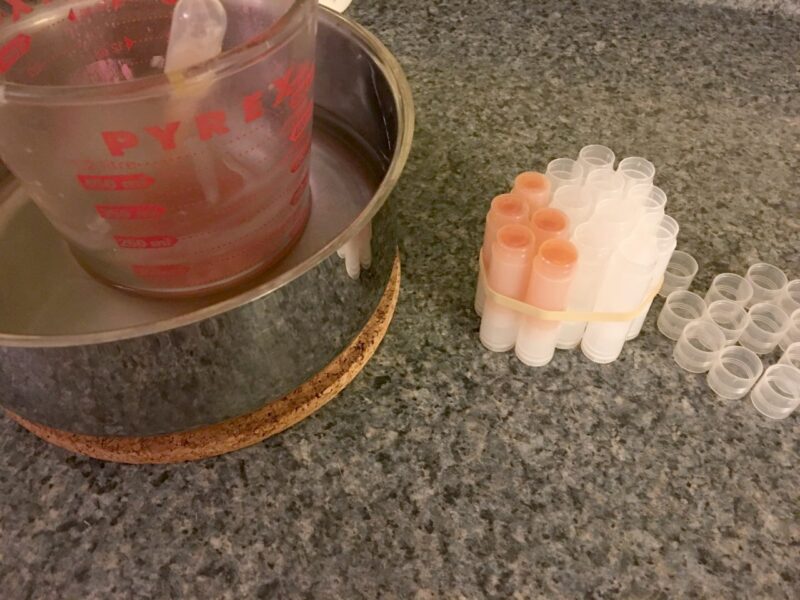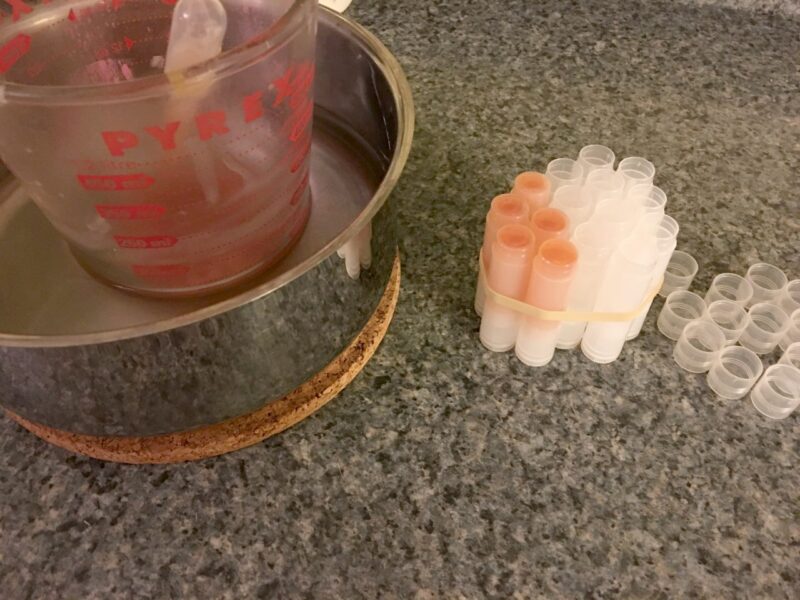 Let them harden in the tubes for about 15 minutes then pop the caps back on. Let them harden completely overnight and enjoy!
All you need now is a label! You can make some up in Microsoft Word or with photo editing software, but in case you are in a rush I made up a simple template for you to use. For just a simple gift giving, you can print it on regular paper and adhere it to the tube with a glue stick. A better option is to print the labels on thick, adhesive-backed label paper.
Click here for the label template: Handmade Lip Balm Labels
Are you in an extra, super rush? Don't want to go through the trouble of assembling all the ingredients and making the lip balm yourself? Check out my soap store for a huge variety of flavors!