*This post may contain affiliate links, which means as an Amazon Associate I may receive a small percentage from qualifying purchases if you make a purchase using the links, at no additional cost*
---------------------------------------------------------
Ducks are pretty hardy birds, but Foamy Eye is a fairly common issue with ducks. Generally, if you see foaming in your duck's eye, it is their body's natural way of trying to clear an infection either from an injury or from a respiratory issue.
Preventing Foamy Eye
One of the most important things you can do to keep your ducks healthy is to provide plenty of fresh, clean water. Duck water bowls need to be at least several inches deep, enough that they can completely submerge their head to keep their mucous membranes moist & clean.
Water bowls should be cleaned & refilled daily to keep them clear of dirt, algae & poop. Dirty water can lead to an infection in the duck's respiratory system. Another possible cause of respiratory issues is ammonia buildup in the duck house from overly soiled bedding. Symptoms of respiratory distress in ducks include a foamy or bubbly eye (white frothy foam forming around the eye), sneezing, coughing and/or labored breathing.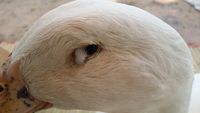 Treatment of respiratory disease
You should begin treatment by separating the infected duck. I always like to try out natural remedies before resorting to antibiotics with my flock. Provide plenty of fresh water; you can mix in a little apple cider vinegar (about 1 tablespoon ACV per gallon of water). Rinse the eyes with saline solution twice a day.
While you have the duck restrained for cleaning the eyes with saline, also put a couple of drops of Vet Rx under each of her wings. Vet Rx is a great natural medicine for treating poultry respiratory issues. It works like a menthol rub on humans- as they tuck their bills under their wings to sleep, they inhale, clearing up congestion. I give the natural treatment of saline and Vet Rx coupled with extra clean water 5-6 days. If symptoms have not cleared (or if at any time they get worse), you may need to consult a veterinarian for a round of antibiotics.
Foamy Eye without respiratory problems
If your duck has a foamy eye but doesn't have any respiratory symptoms, the cause is likely either from an eye injury or over-mating. When ducks mate, the drake grabs the back of the female's neck, which is where her sinuses are located. During mating season especially, a favored female can experience eye & sinus issues.
Separate the affected duck (or separate the drakes to give her a break while she is healing). Treating an eye/sinus injury is going to be pretty similar to a respiratory problem. Provide plenty of clean water for drinking and so she can clear her nostrils. Mix in some apple cider vinegar to the drinking water, and rinse her eyes twice a day with saline solution. The eye should clear up in about a week as the injury heals. If it doesn't an antibiotic eye ointment might be needed.