*This post may contain affiliate links, which means as an Amazon Associate I may receive a small percentage from qualifying purchases if you make a purchase using the links, at no additional cost*
---------------------------------------------------------
When strawberry season is in full swing I have the perfect recipe! Luckily strawberry season & egg season overlap so a recipe using 8 eggs is also great for when you have a surplus of eggs around. But really is there ever a bad time for fresh ice cream?? It is best to use the freshest eggs possible for this recipe, as the eggs do not get thoroughly cooked.
Making ice cream at home does take some time, so if you are planning on making this for a party or summer picnic be sure to give yourself a day or two to get the final product. Different brands of ice cream makers have different timelines for preparation, but when I add up the time for bowl freezing, for the mixture to chill, the churning, and letting the ice cream set it's about 27 hours with my Kitchen Aid Ice Cream Maker – so plan ahead. Good things are worth waiting for though! The taste of this creamy ice cream can't compare to anything you buy in the store.
Very Vanilla Strawberry Ice Cream
2 1/2 cups French Vanilla Coffee Creamer
8 egg yolks
1 cup sugar
2 1/2 cups whipping cream
1/8 tsp salt
2 cups chopped, fresh strawberries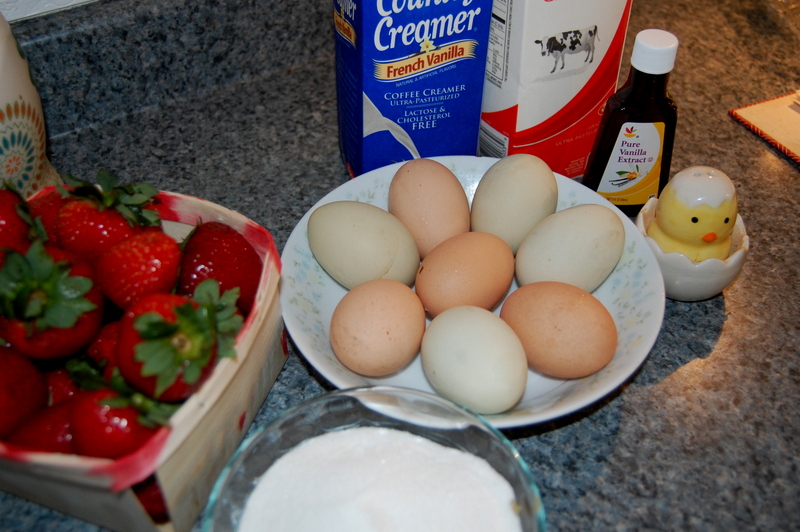 Prep the Ice Cream Maker
Start by preparing your ice cream maker (follow the manufacturer's instructions). I will be using a Kitchen Aid Ice Cream Maker, which requires the bowl to be COMPLETELY frozen before use. I pop it in the freezer the night before I plan on making ice cream. I hate waiting, but I have tried making it before after only freezing the bowl a couple of hours and it just doesn't set right. If you have a spare freezer or chest freezer, you could just leave your bowl in there and cut a lot of time!
Directions for making Very Vanilla Strawberry Ice Cream
In a medium saucepan heat the coffee creamer over medium heat until it is very hot, but not boiling. Stir frequently. Remove from heat and set aside
Crack 8 eggs, separating out the yolks. Place the egg yolks & 1 cup sugar in a mixing bowl. Using a wire whip, mix for about 30 seconds until blended and the mixture starts to thicken.
Gradually add the heated coffee creamer while continuing to whisk until blended.
Pour the coffee creamer/egg yolk/sugar mixture back into the saucepan and heat on medium heat. Cook again until the mixture is very hot, but not boiling. Whisk frequently, the mixture should start to thicken.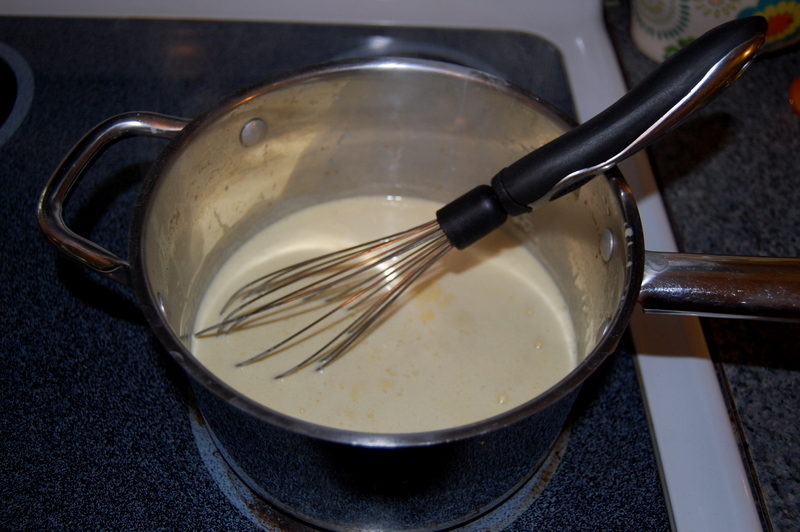 Return the heated mixture to the mixing bowl. Whisk in the whipping cream, vanilla extract & salt. Cover & chill completely – at least 8 hours.
Churning the ice cream
By now, your ice cream maker should be properly prepared and ready to go!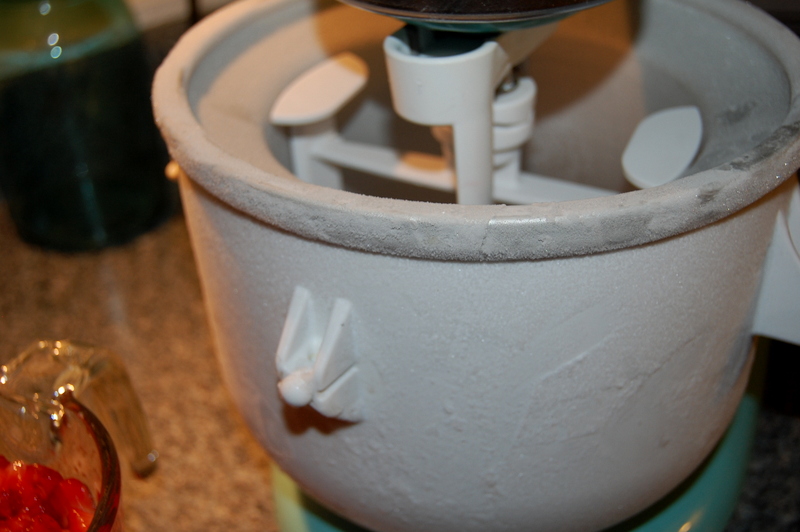 Follow the manufacturer's instructions for churning the mixture. With the KitchenAid attachment, I churned mine for 20 minutes, other machines may vary. The ice cream should be thickened when done (about the consistency of soft serve).
While the ice cream is churning, chop up the strawberries & add 1 tsp sugar. Let them sit. When churning is complete, add the strawberries & churn for 5 additional minutes.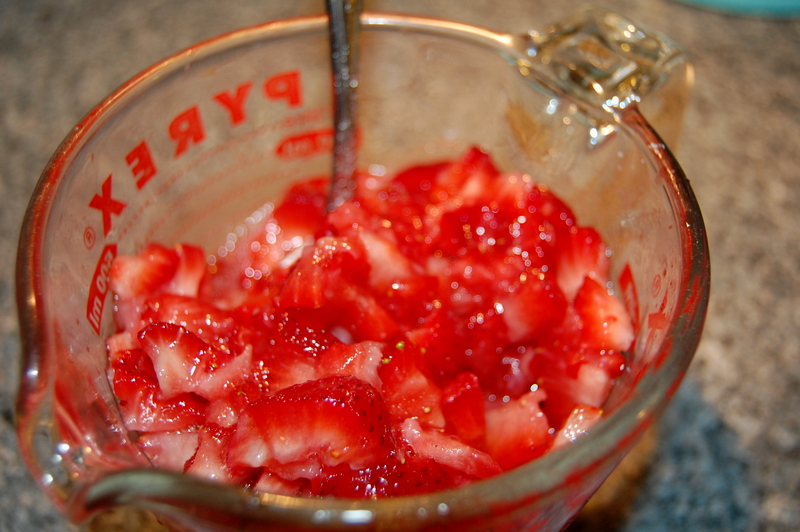 You can serve the ice cream now, it will be soupy, maybe even softer than soft serve if you added a lot of strawberry juice. I prefer to let my ice cream set. Put the ice cream into an airtight plastic container and freeze it for 3-4 hours to set.
Other ingredient additions to try
This vanilla ice cream recipe is also a great "base" recipe. Instead of strawberries, try adding crushed candies, Oreos, caramel chunks, or toffee bits – YUM! I'd love to hear what you added to it!