*This post may contain affiliate links, which means as an Amazon Associate I may receive a small percentage from qualifying purchases if you make a purchase using the links, at no additional cost*
---------------------------------------------------------
With the summer in full swing and the temperatures on the rise, there are a couple of things you can do to help your rabbits beat the heat. Rabbits are pretty hardy animals, but they do much better in the cold than in the heat. This is especially true if you are raising fluffy Angora rabbits. Angora wool is up to 7 times warmer than sheep's wool, that is true whether you are knitting it into a sweater for yourself or if you are a fluffy bunny with your own coat of wool.
When temperatures get up over 85 degrees, rabbits can start to experience heat-related stress. Rabbits can die from heat stroke, so it is important to help your rabbit stay cool in the summer. If your rabbit is in distress from overheating it is important for you to act quickly. Do not try to lower her temperature by dipping her in cold water, it could send her into shock. Immediately bring her into a cool, air-conditioned room. Apply cold compresses to her ears, and possibly to her entire body if needed. Emergency vet care might be needed if you can't lower her temperature quickly.
It is much easier to prevent heat distress than treat it so here are our Top 7 Ways to Keep your Rabbit Cool in Summer!
Provide Shade
Make sure your rabbit's hutch and play area is in the shade. For indoor rabbits, position your rabbit's enclosure away from direct sunlight. Outdoors, try to house your rabbit area under shade trees or where buildings can provide shade. If you don't have natural shade from trees, use awnings, sun umbrellas, or shade sails to help keep your bunnies out of direct sunlight. Be especially aware of strong southern exposure or afternoon sun. If possible, move rabbits to a cool garage or basement, or into your home during the hottest days.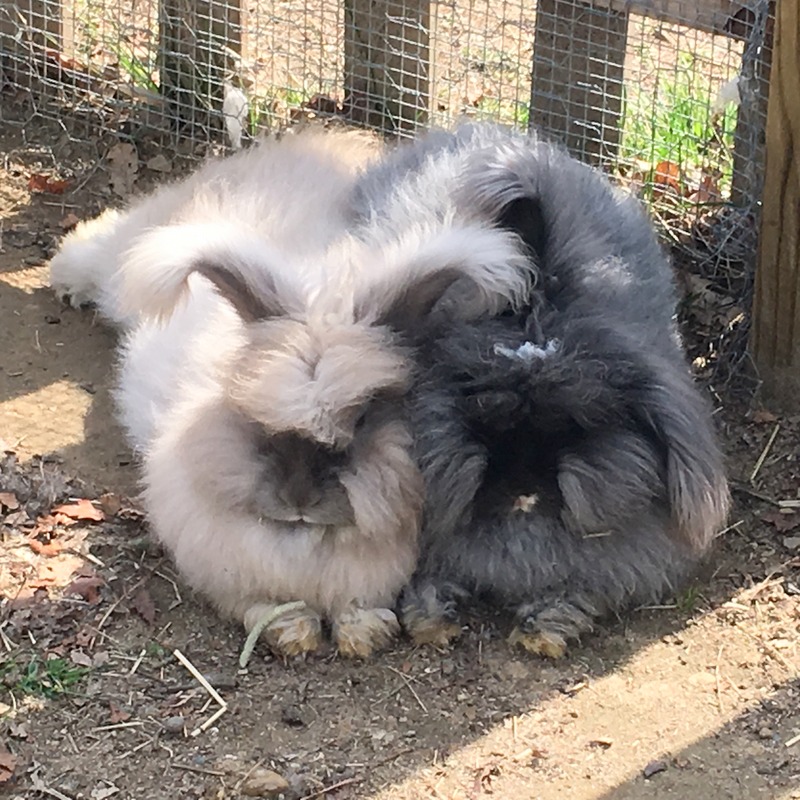 Give your bunnies a trim
Remove as much excess hair as possible to help keep them cool. Step up your grooming schedule to remove loose hair often. Consider giving long-haired bunnies a short summer haircut
Fill large 2-liter soda bottles with water and freeze them
Give the frozen bottles to your rabbits so they can lean against them and keep cool. Have a few bottles on hand so you can rotate them in and out of the freezer.
Give your bunnies ceramic tiles to lay on
The ceramic will stay cool, even in warm weather, and will be a great place for your rabbits to relax on. We covered the entire lower level of our rabbit hutch in ceramic tiles. Not only are they great for keeping cool, but they are easy to keep clean. Click here to read about how we made our rabbit hutch base!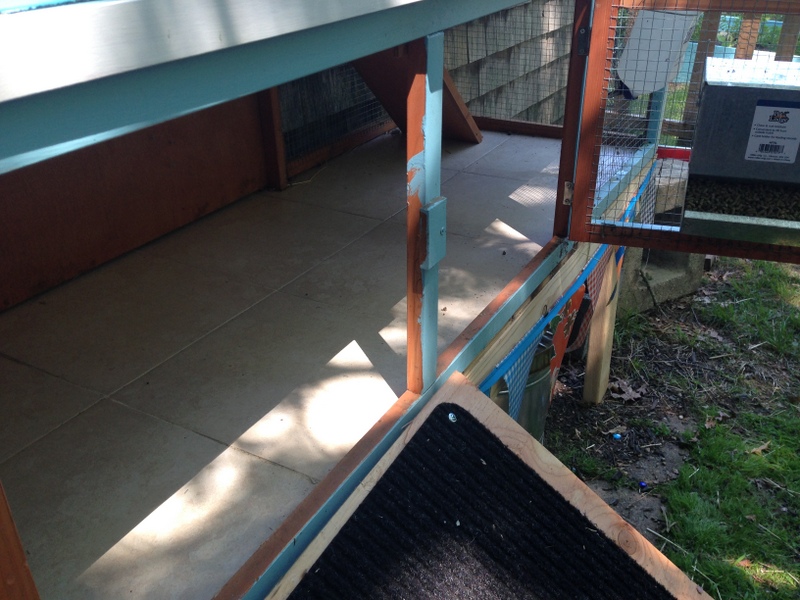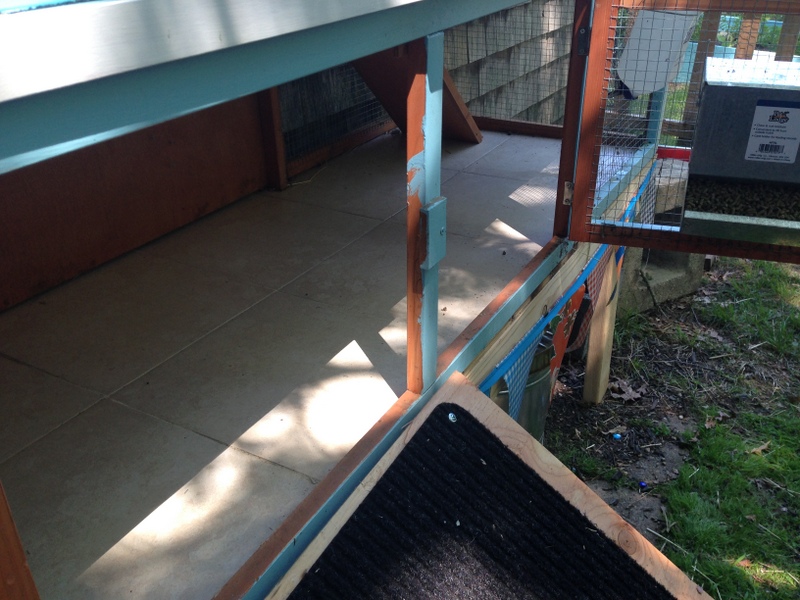 Provide plenty of fresh greens
Wash the greens in cool water to help your rabbits get extra water and make them more appealing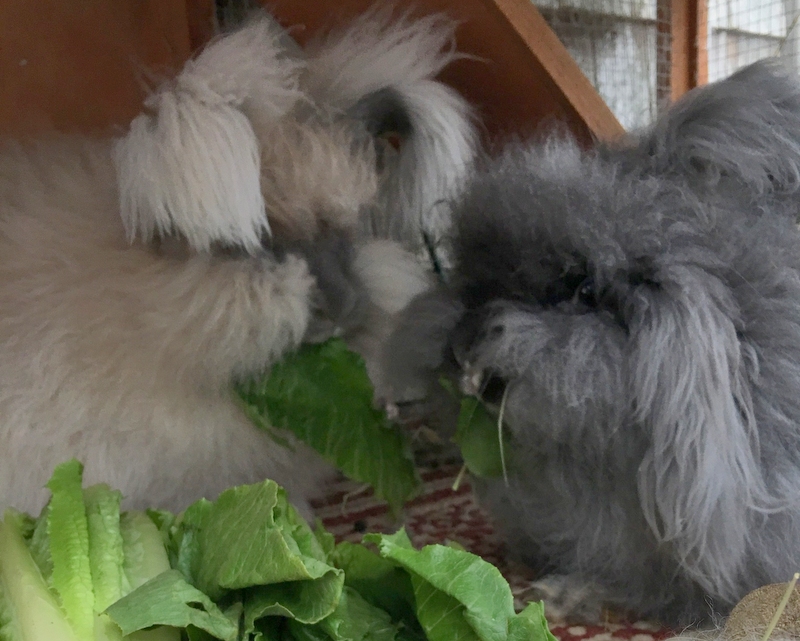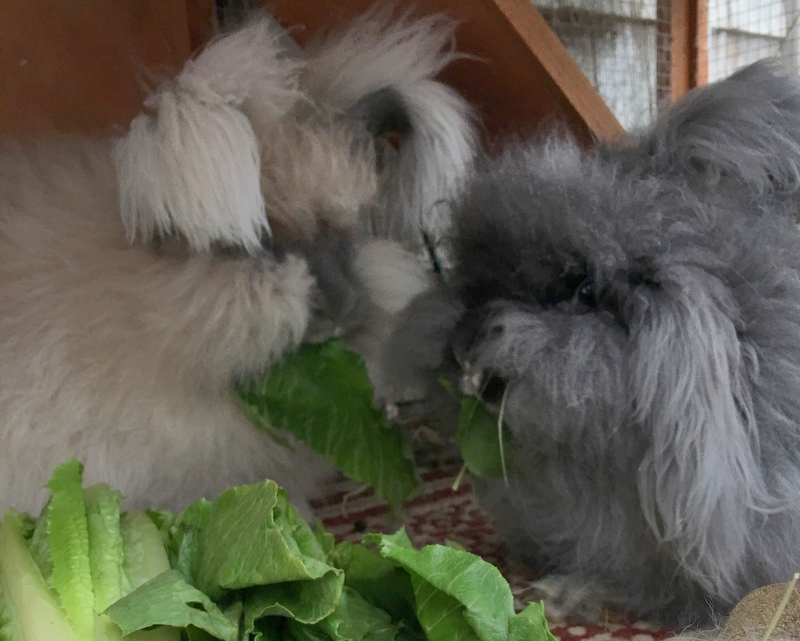 Lots of fresh water
Change their water out a couple of times a day to keep it fresh and cool. You could try adding a few ice cubes to the water. Keep a close eye on their water levels and make sure they have constant access so they don't get dehydrated.
Set up a barn fan or air conditioner for your rabbit
Don't have the fan blowing directly on them, just by the cage to keep the air moving. Having an air conditioner inside is easy, but your outdoor rabbits would also love some cool AC! It's easy to make a homemade "air conditioner" using an inexpensive foam cooler, a small fan, a bit of PVC pipe, and duct tape.
Cut a hole slightly smaller than the fan in the cooler's top, and
secure the fan to the cooler lid so the fan is blowing directly into the cooler. On the other side of the lid, cut a hole for the pipe (this is where the cold air will come out). Fill the cooler with ice or ice packs and turn the fan on. As the air from the fan gets chilled in the cooler, cold air will come out through the pipe. Perfect for your outdoor rabbits (just make sure to hide the cord so they don't chew on it!)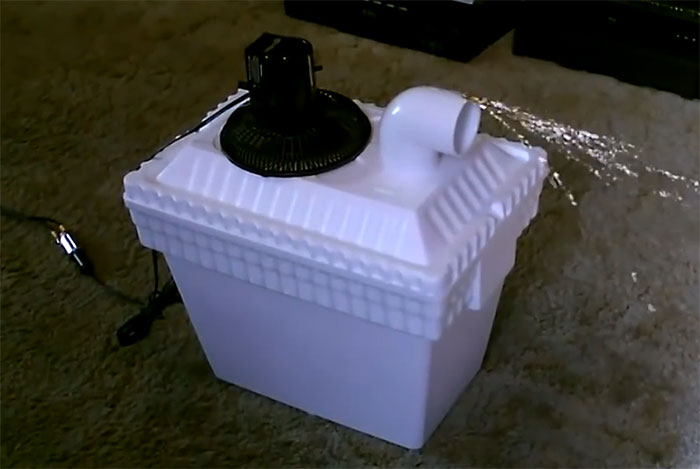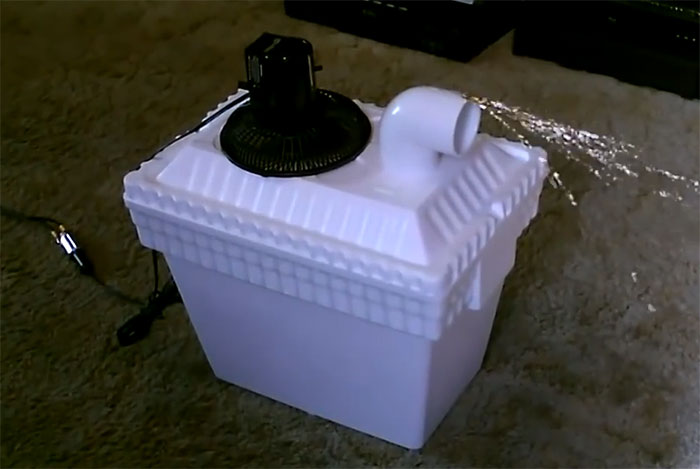 Check out this video to make your own! https://youtu.be/D3YvF4eVQO0
BONUS TIP!
I made a cooling pad with cinder blocks & ceramic tiles and then built a cute little cabana to keep my buns cool in the shade. For directions, click here!