*This post may contain affiliate links, which means as an Amazon Associate I may receive a small percentage from qualifying purchases if you make a purchase using the links, at no additional cost*
---------------------------------------------------------
The days are getting shorter and shorter….winter is right around the corner! Now is the time to make your winter preparations so your rabbits can stay cozy & dry all winter long. Every rabbit setup is different, but this is what we are doing to get ready!
Make their enclosure cozy
Add some hallway runners or small area rugs to their cage. I know what you are thinking…a rug, isn't that just going to get ruined or be hard to clean? Our rabbits are "mostly" litter box trained. Rabbits are naturally clean animals and many rabbit keepers provide litter boxes for their bunnies. Click here to learn about litter training rabbits. Now I say "mostly" litter box trained because they aren't perfect about it, but I'd say 95% of their poop is in the box. Look for a tight weave, inexpensive rug, and their little cocoa puff poops can be easily swept off.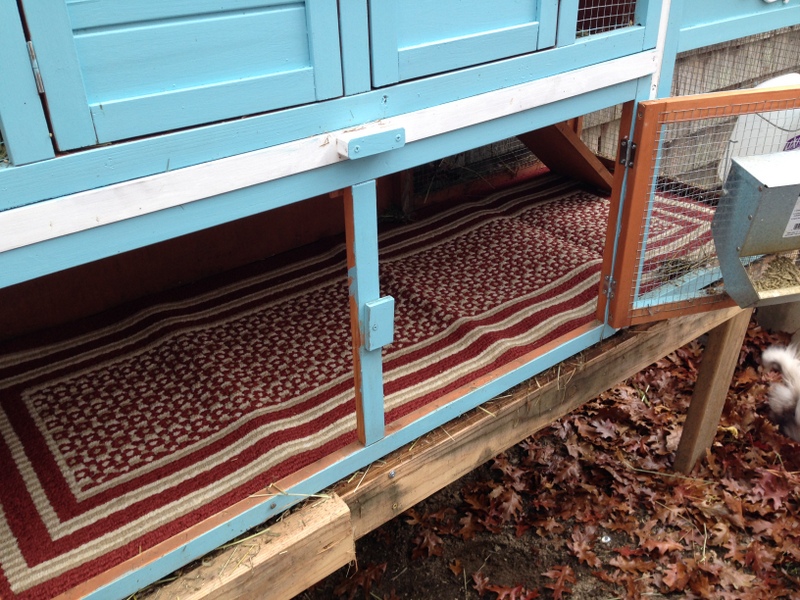 If you have a really large enclosure like a barn stall or shed, get lots of extra straw. You can stack straw bales along the walls for added insulation or you can scatter the straw for the rabbits to build nests with. I find that it is easier to keep things tidy if I don't cover the entire floor in straw. Instead, I will just scatter loose hay in a few places, making it deep for digging. Every couple of weeks I'll add more straw to the piles.
Heated Water Bottles to Prevent Freezing
In winter, we replace their standard water bottle with a heated water bottle. Rabbits have to have constant access to fresh water. If you don't buy a heated water bottle, you need to be committed to going out to change the water several times a day as it freezes. The one we purchased is designed for rabbits with a metal-covered cord to prevent them from chewing through it. They also make heated water dishes if that is how your rabbit is used to drinking.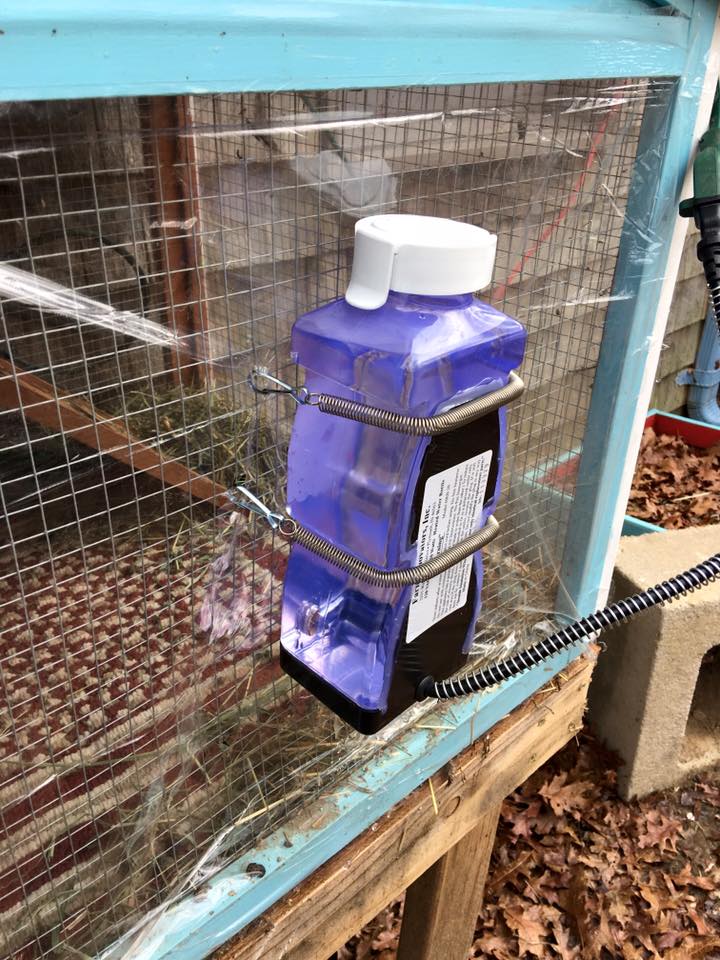 Weather Proof the Exercise Area & Hutch
Even in the winter your rabbits will need access to their exercise area. They will not be happy being confined to a cage all season! If you live where it snows often, you will ideally have a solid roof over your exercise pen. You can put up a temporary tarp "roof" if a solid roof isn't an option. Just be aware that something like that could fill with snow and collapse so if you get lots of heavy snow this might not work for you.
We have covered the exercise yard with a plywood, pitched roof. Then we wrap the walls of the yard with clear plastic (you can find this in the paint section of most hardware stores) to prevent blowing snow and cutting winter winds.
If your hutch is not under cover, you can wrap the hutch in plastic as well. When wrapping the hutch, be sure to leave some space open for ventilation and be sure you can still access the hutch for caring for the bunnies. You can use an OUTDOOR window insulation kit to easily weatherproof the hutch.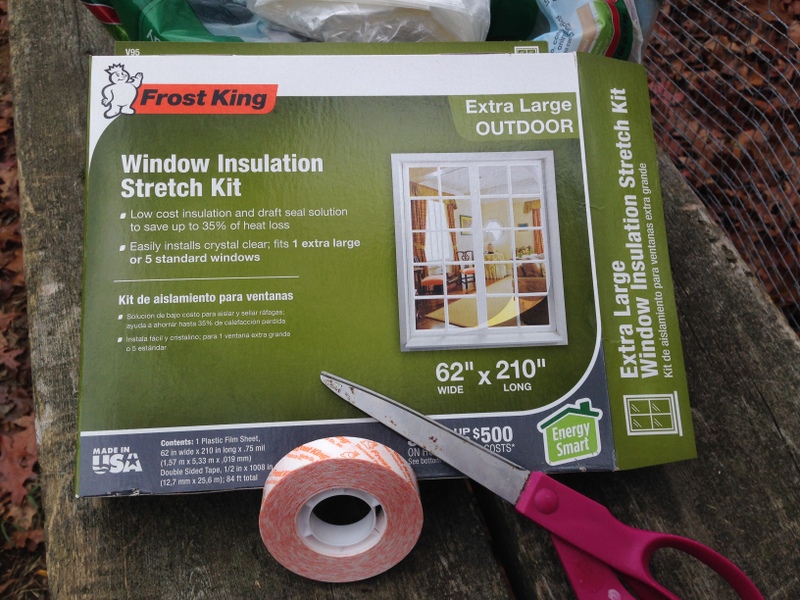 Stick the double sided tape around all open wire parts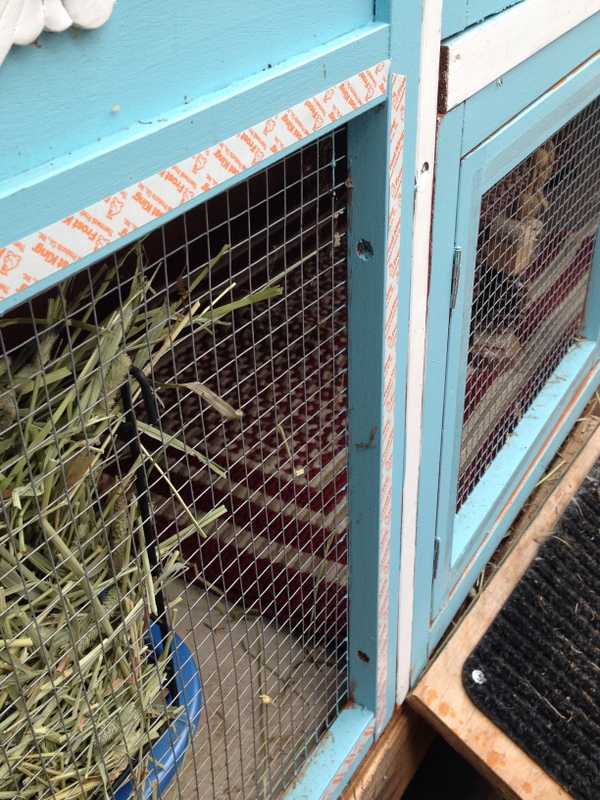 Remove the tape backing, cut plastic sheeting to fit, and press to seal around all edges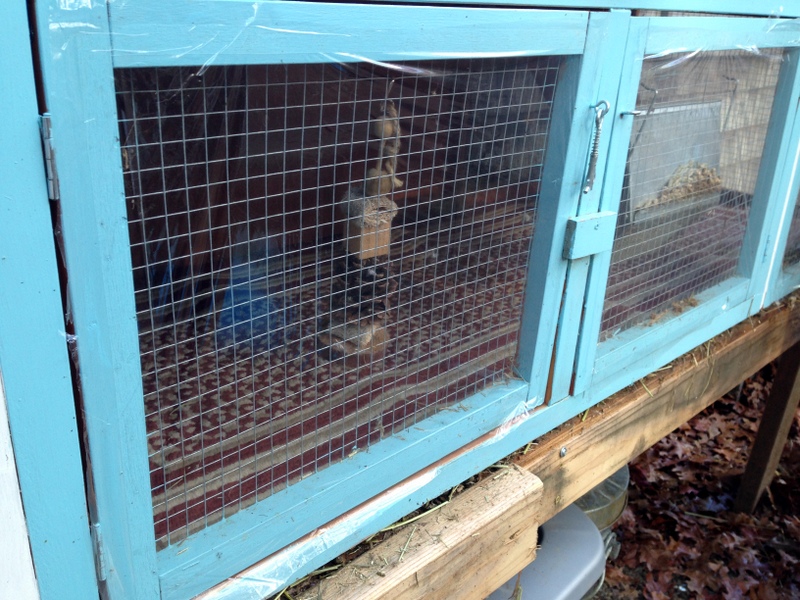 That's it! Easy peasy and super affordable. PLEASE NOTE! Make sure the plastic sheeting is not somewhere the rabbits could access and nibble on.
Don't forget social time!
Your rabbits need fresh pellets & vegetables along with unlimited hay all winter long. Beyond basic care they also still need your companionship so don't leave them alone all winter! If you can't hang outside with your rabbits, bring them inside to hop around and play with you at least once a week (more if you can!)