*This post may contain affiliate links, which means as an Amazon Associate I may receive a small percentage from qualifying purchases if you make a purchase using the links, at no additional cost*
---------------------------------------------------------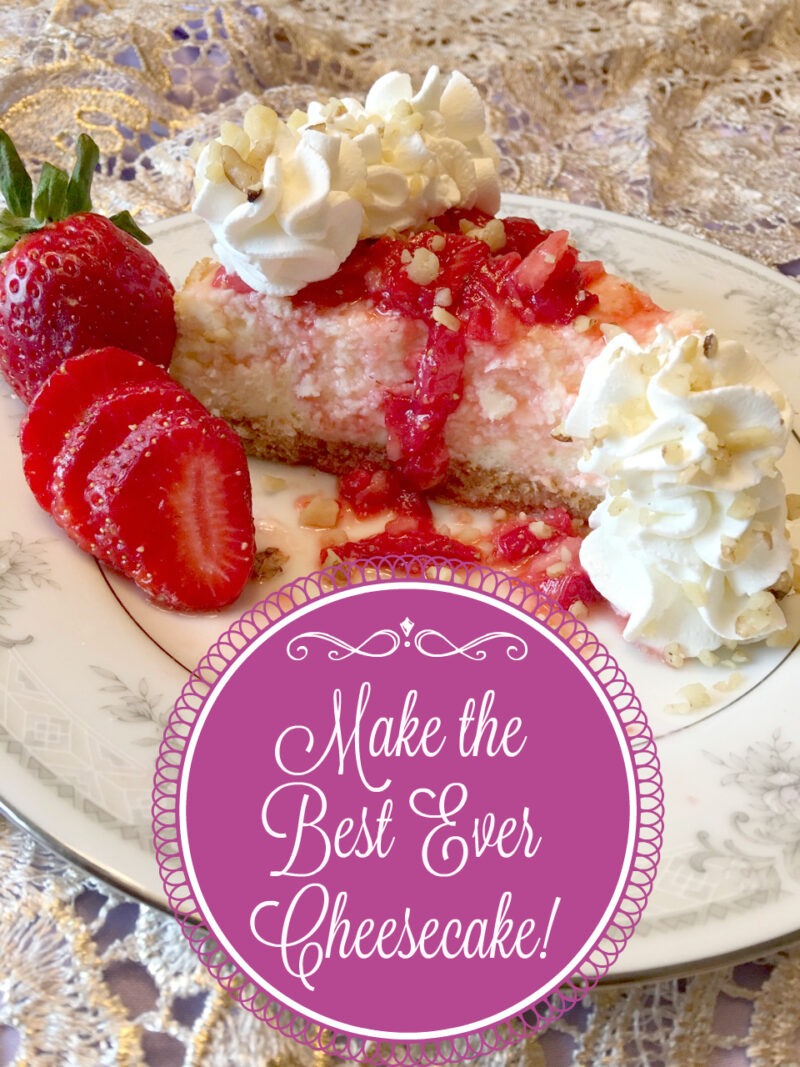 I admit it, I have a major cheesecake weakness.  It's definitely my favorite dessert.  Because of that, I have tried A LOT of cheesecake recipes.  My favorite kind of cheesecake is a nice, creamy NY style cheesecake and this recipe never disappoints.  You can add your favorite topping (I like fresh strawberries) but it is honestly so good it is delicious plain too.  Cheesecake can be a little finicky but I have some tips that will help you get great results every time.
For a pan, I usually use a large 10 inch cake pan, but I have also used a 7 x 11 glass casserole dish to make cheesecake squares.  If you have a 9 inch springform pan, that would be perfect.  Scroll to the bottom to read how I adapted this recipe to make sweet little Cheesecake Cupcakes too!
Ingredients for the Best Cheesecake Ever
Crust:
1 1/2 cups ground graham cracker crumbs
1 Tbsp granulated sugar
4 Tbsp melted butter
Filling:
4 Eight oz packages of cream cheese
1 1/2 cups granulated sugar
1/4 cup cornstarch
1 Tbsp vanilla extract
2 large eggs + 2 large egg whites
1/2 cup heavy cream
Prep Work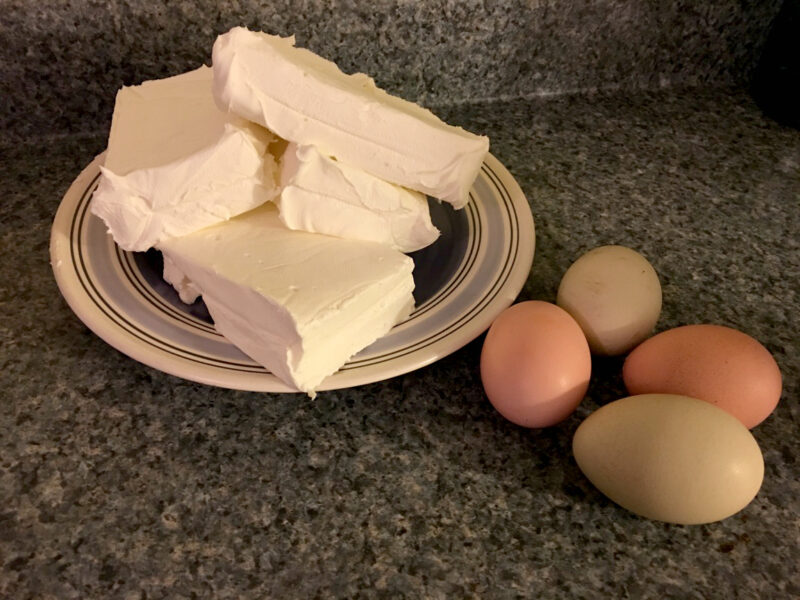 First take the four blocks of cream cheese & the four eggs out of the refrigerator, unwrap the cream cheese and let everything sit on the counter for about 30 minutes bringing them to nearly room temperature.
Fill a small pan with warm water and place it on the bottom rack of your oven.  Preheat the oven to 350 degrees.  Keep the pan of water in the oven while preheating and during the entire cooking period, this will make the oven nice and moist and can help prevent cracks.
Lightly grease your pan.
Instructions
To prepare the crust, mix graham cracker crumbs, sugar & melted butter together.  Pat firmly onto the bottom of your greased pan.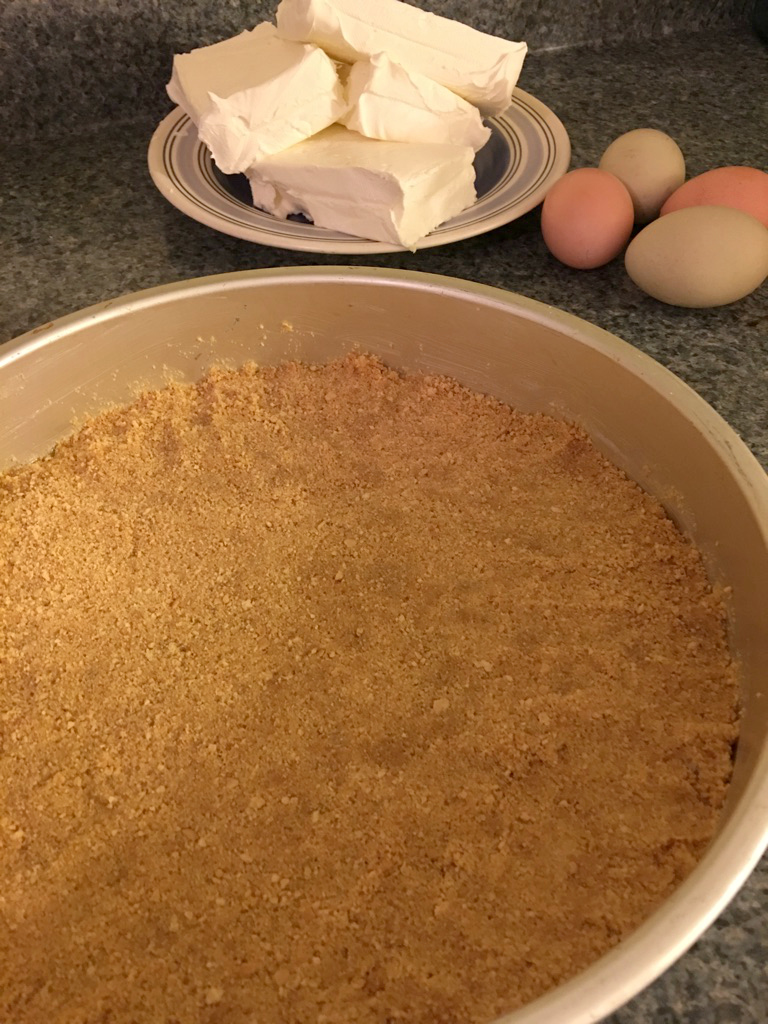 Put the four cream cheese blocks in a large mixing bowl.  Beat the cream cheese on medium speed until smooth, scraping the sides often.  Do not skimp on this step, it is one of the most important steps for getting a creamy, fluffy filling.  You want the cream cheese to be smooth with no lumps.  Beat for about 3 minutes.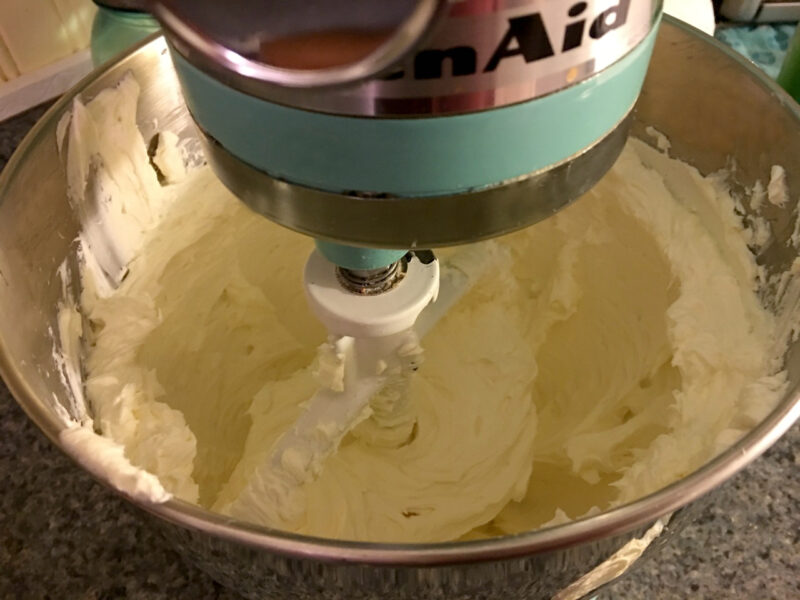 Add granulated sugar & cornstarch and beat filling again, scraping the bowl (for about 1 minute)
Add vanilla extract and 1 of the eggs and 1 of the egg whites.  Beat until combined.
Add second egg and the second egg white. Beat until combined.
Slowly add the heavy cream while beating on medium speed.  Scrap the bottom & sides of the bowl really well.  Beat one final time on high speed for about 30 seconds.  The filling should be creamy & fluffy.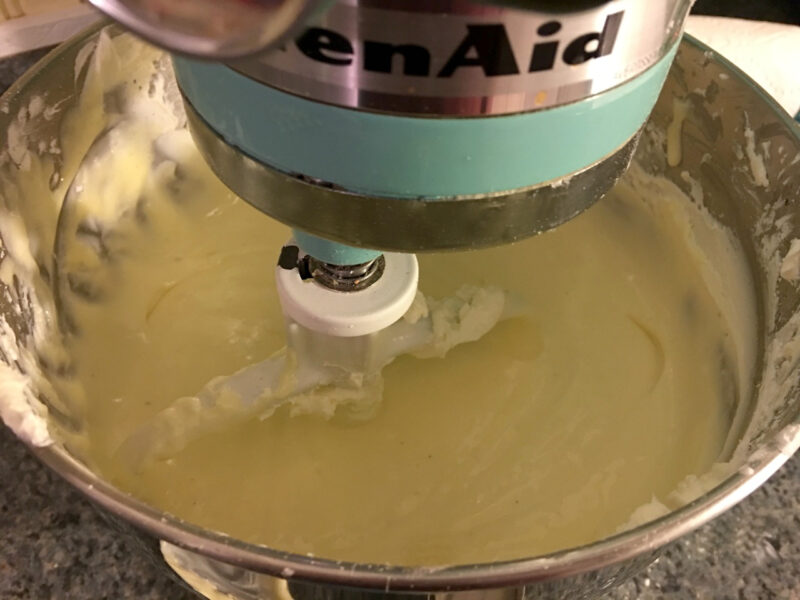 Pour the batter into the prepared pan and put it in the oven with the pan of water, bake for about 60 minutes.
Let the cheesecake cool in the pan on a wire rack, away from drafts, for 2-3 hours.  Then lightly cover the cheesecake (keep it in the pan) and refrigerate overnight (or about 8 hours).  Keep leftovers in the refrigerator.
Tips for making the perfect cheesecake
To help minimize cracking, do not open and close the oven door while cooking.  You want to maintain a steady heat & humidity.  Over baking can also cause cracking.  When it's done, the cheesecake top will be lightly brown.  It will be very puffy (and will have some initial surface cracks, don't worry they will likely smooth out as it settles).  The sides should be mostly solid and the center should be a little wiggly.
As it cools, the puffiness will settle down and the cheesecake will firm up.  Unless you are planning on serving the cheesecake plain, surface cracking really isn't the end of the world.  It doesn't effect the taste, just the appearance.  A coating of berries or whipped cream will cover any imperfections. What you want to avoid are deep cracks that go below the surface layer.
 If you want a clean, white top like you would see in a restaurant, you can use a cake layer slicer and just level & skim off the brown crust on the top after it has chilled overnight.  Again, it doesn't really effect the taste, it's just aesthetic.
Having the upper "crust" cut off does help juices (from berries or toppings) to sink into the cheesecake itself.  This is great if you are putting the berries on and eating it right away.  If you are going to be making this ahead for a party either don't put the berries on until the very end or leave the crust on the top.  If you put juicy berries on top of the crust-less cheesecake and let it sit too long the juice will make the cheesecake very soggy.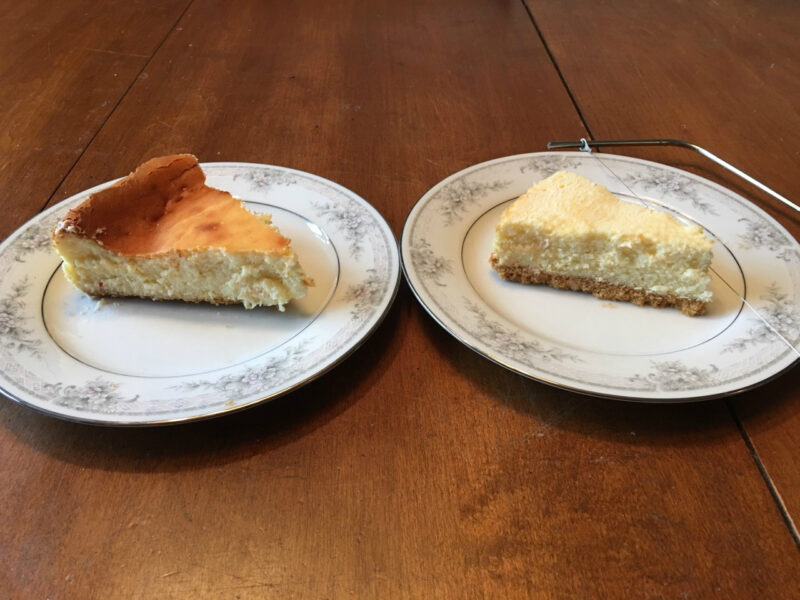 Enjoy the cheesecake plain or top with sliced or pureed strawberries, raspberries or cherries, caramel or chocolate sauce, fresh whipped cream, nuts, mini chocolate chips – whatever makes you happy!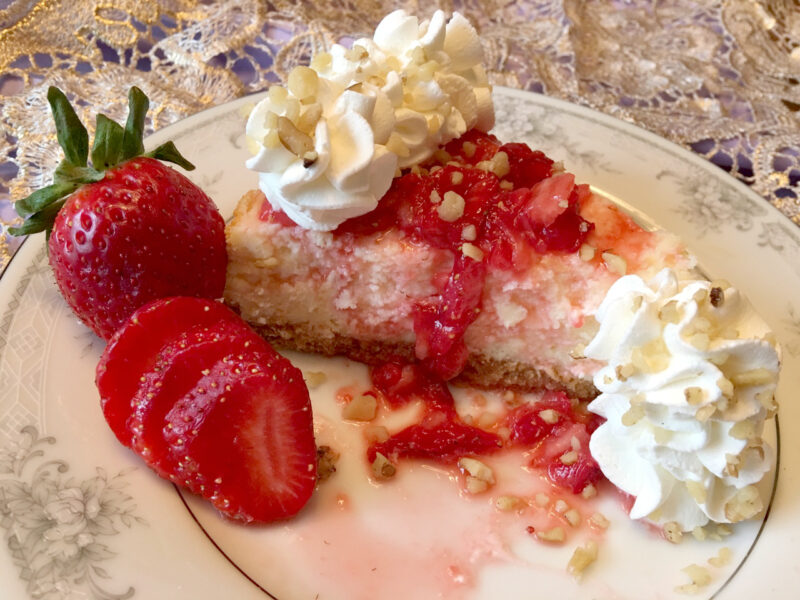 Cheesecake Cupcakes
Cheesecake Cupcakes are perfectly snack sized and great for parties.  You can top them all different for a cupcake buffet!  The recipe will make about 24 cupcakes.
Put cupcake liners in your cupcake pan
Make the crust as above.  Put a thin layer of crust in the bottom of each cupcake liner and pack firm.  Don't make it too thick or it will just make a mess when you eat it.
Make the cheesecake filling as above.  Pour the filling into the cupcake pan right to the very top.
Bake 25-30 minutes at 350 degrees
Cool in the pan on a wire rack for about 30 minutes
Refrigerate at least 3 hours.  Keep leftovers in refrigerator.