*This post may contain affiliate links, which means as an Amazon Associate I may receive a small percentage from qualifying purchases if you make a purchase using the links, at no additional cost*
---------------------------------------------------------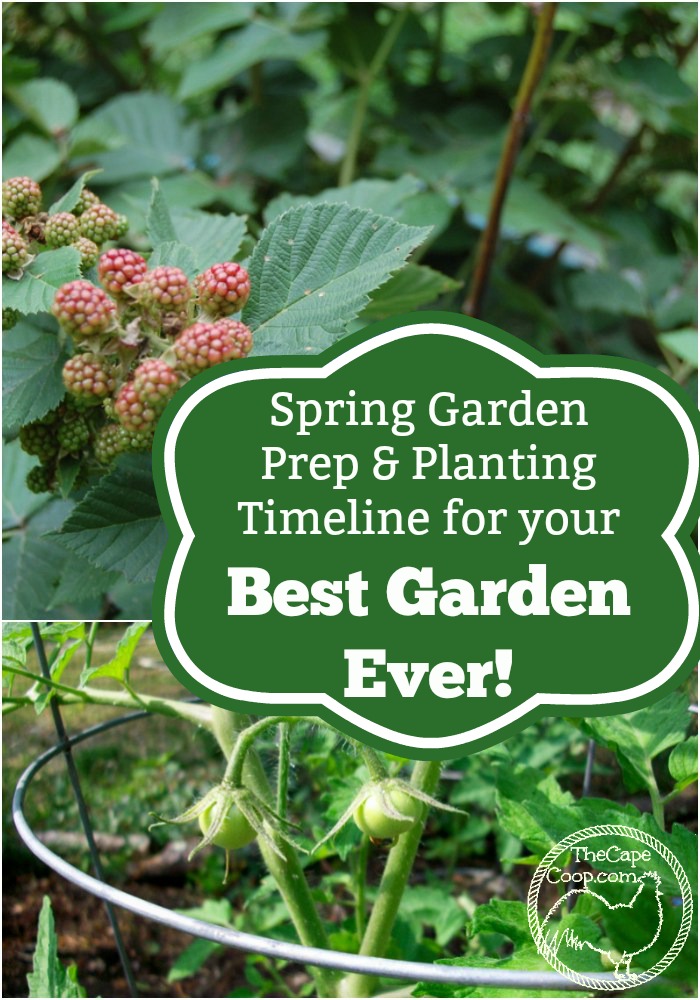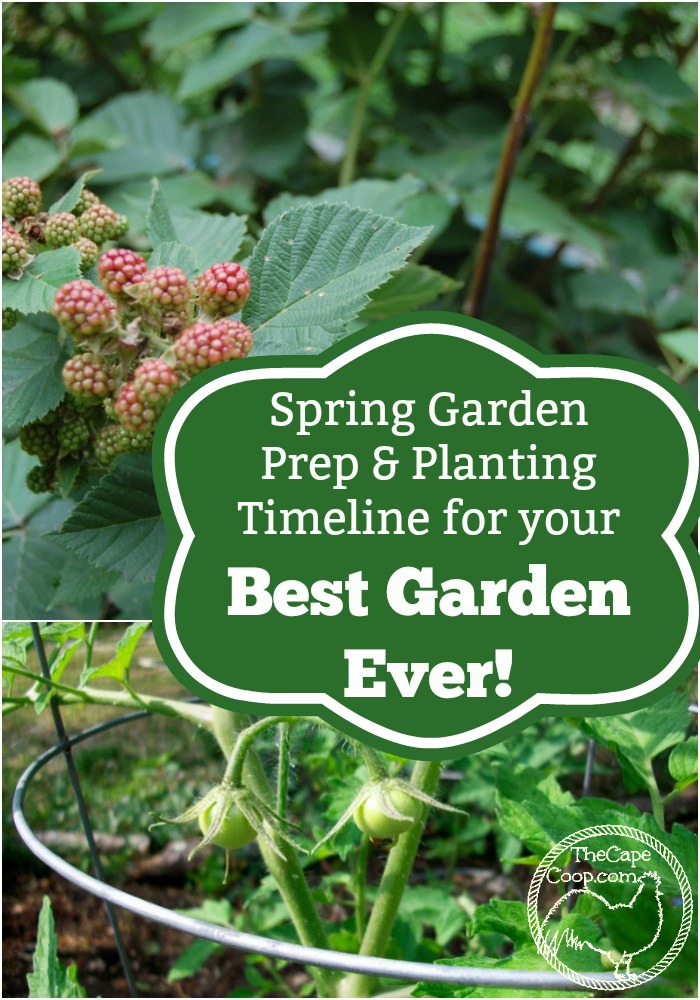 The biggest factor in having a successful gardening season is to plan ahead! Late winter, when your beds are snoozing under a blanket of snow is the perfect time to lay the framework for an amazing gardening season.
Your garden planning is going to look different depending on where you live. Here in New England, we have a pretty short growing season (about 160ish days). You can look up your first and last frost date by zip code at this website. This is the first step in planning your garden. According to this website frost is unlikely in my area May 4-October 17 and virtually guaranteed to be frost free May 23- October 2. I usually split the difference and shoot for mid May as the main transplanting time.


The next step is to determine your growing zone. You can look that up by zip code here. I am in Zone 7A. Now that you know your growing season & growing zone, it's time to decide what you want to grow!
When looking at seeds and plants, use the guidelines on the tag or seed packet to determine how well that variety will do where you live. Where I have a short growing season, I know that growing something like sweet potatoes (which can require up to 170 days to mature) will likely not do well in my garden. But choosing another variety of potato, like Kennebec (which only needs about 90 days to mature) will give me much better results. Start with foods your family eats every week. It's much easier to maintain a garden when you are enjoying the fruits of your labor!
My garden is set up for square foot gardening (click here to read more about this). I start off by drawing a diagram of my garden with graph paper, filling in the beds keeping in mind crop rotation and companion planting (click here to read about companion planting)(click here to read about crop rotation). This is my plan for my 2016 garden: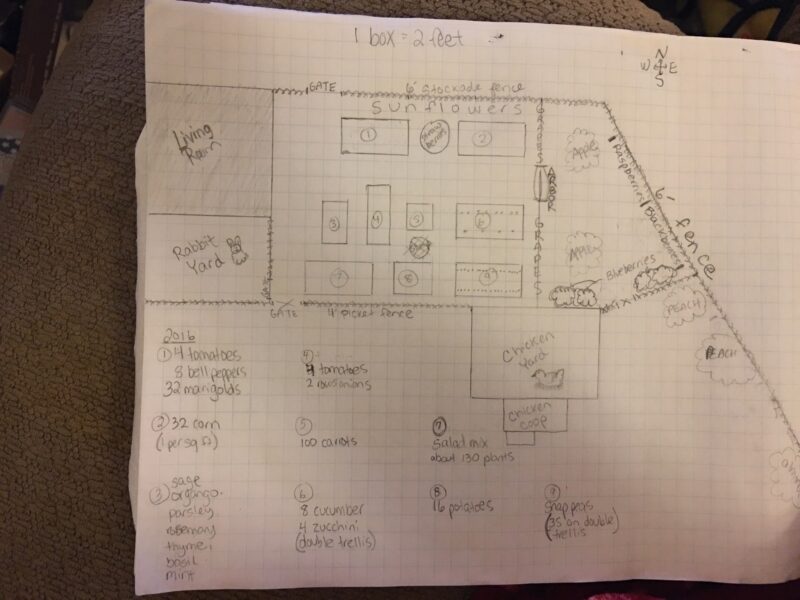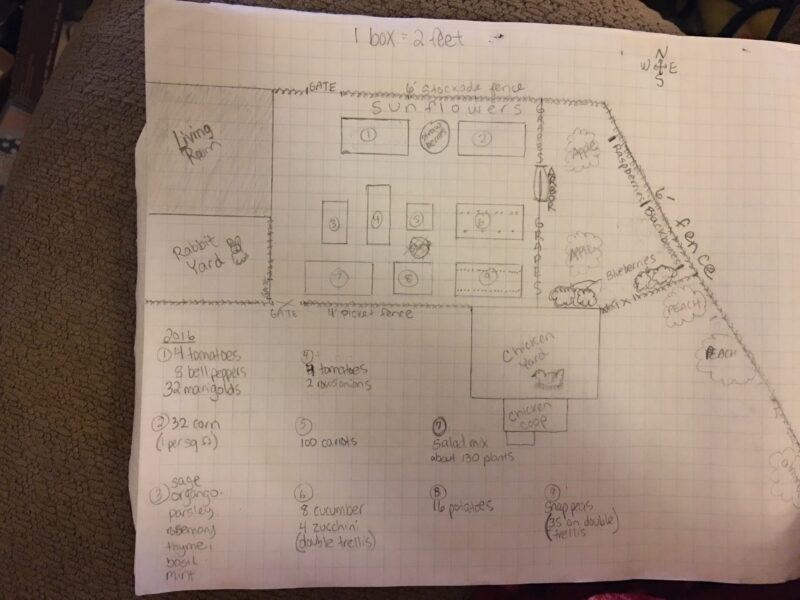 Some of these plants are perennials. I don't need to plant the grapes, fruit trees, raspberries, blackberries, or some of the herbs because (hopefully) they will all come back. Perennial plants I want to add this year include two blueberry bushes and I am also redoing my strawberry patch so I am starting fresh with that this year as well. So my shopping list for 2016 is:
SEEDS: sunflowers, tomatoes (slicing, paste & cherry), bell peppers, corn, carrots, cucumbers (pickling), zucchini, snap peas & several packs of salad mix
OTHER: seed potatoes, onion set, bare root strawberries (50 – mix of everbearing & June bearing), blueberry bushes (2), marigold plants
PROJECTS: Next I make a list of projects that I want to get done around the garden. For 2016, I am adding a new raised bed (bed #2) and the new strawberry bed. I will need to have some compost delivered because what I have in my compost bin won't be enough to fill these two new beds and to top off all the existing beds. I want to get (or build) a new grape arbor to provide easier access to the "orchard" end of the garden. I need to finish my fencing project from last year (just the area to the right of the chicken run where the blueberries will go). I have the fencing, I just need to get up the motivation to get it done!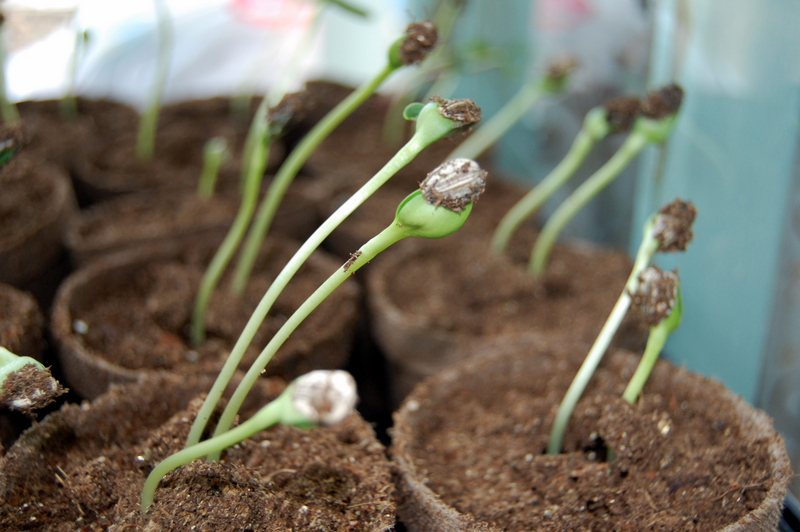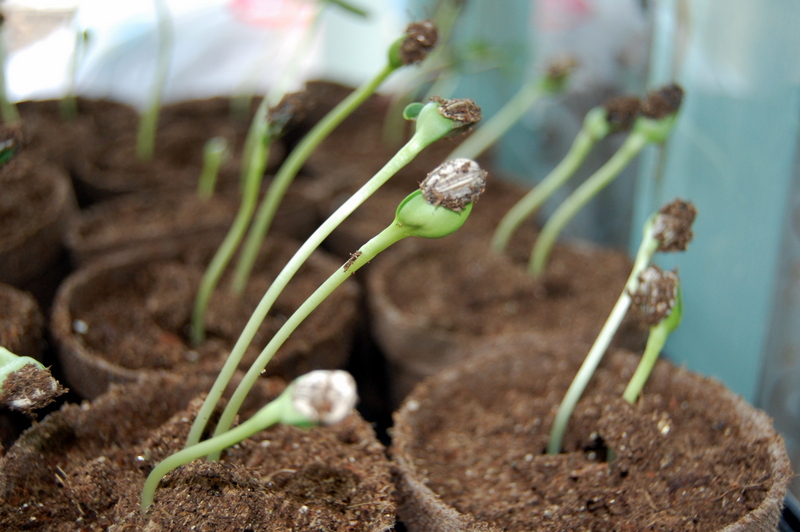 Alright, now it's time to schedule all the tasks!
Gardening prep season starts in January for me. I spend the month of January sketching out my garden, narrowing down the varieties I want to grow and deciding which projects I want to tackle this year.
Starting in February through the end of May, I plan out the chores by week so I don't get overwhelmed and everything gets done when it needs to get done. I like to put them in my calendar app so a reminder will pop up to keep me on task.
Every plant has their own growing requirements. Some thing like peppers & tomatoes need a bigger head start and will need to be started inside extra early. Snap peas can handle (and like) the chilly weather so can be started outdoors well before the last frost date. Peppers on the other hand need nice, warm soil and will be the last ones out. Carrots don't like to be transplanted so will be direct sowed. Squash & carrots will be planted in stages to get two harvests. Take the time to research the varieties of plants you are growing to help you make your plan, working with your last frost date. If you need some tips on growing plants from seeds, click here! Below is my 2016 garden season prep timeline (hopefully the weather will cooperate!):
WEEK OF:
February 7: Order seeds & assemble growing supplies (peat pots, seed starting medium, heat lamp)
February 14: make my garden to do schedule, clean up indoor greenhouse Click here to see how I made my indoor greenhouse by recycling old picture frames!
February 21: prune grape vine, apple trees, raspberry bush. Install new grape arbor & adjust grape growing wires
February 28: start 8 peppers & 8 tomatoes (3 slicing, 3 paste, 2 cherry) indoors
March 6: build new raised bed & new strawberry bed (click here to see how I make them!)
March 13: order compost & fill new beds, top off old beds, till in winter cover crops, general garden clean up
March 20: make chicken manure tea fertilizer (click here to see how!)
March 27: start 12 sunflowers indoors, start a few pots of lettuce indoors, prune blackberry bushes
April 3: fertilize peppers & tomatoes with manure tea, start 8 cucumbers inside, start 4 zucchini inside
April 10: sow snap peas outside, sow onion sets outside, start a few pots of lettuce indoors, prune peach trees
April 17: fertilize all seedlings with true leaves with manure tea, start 8 corn inside, take seed potatoes out of refrigeration & put in warm room,
April 24: start a few pots of lettuce inside, sow approx 35 carrot seeds outside, finish garden fencing
May 1: fertilize all seedlings with true leaves with manure tea, start 8 corn inside, plant seed potatoes outside, plant bare root strawberries outside, plant blueberry bushes outside, fertilize apple & peach trees. Start daily hardening off of seedlings
May 8: start 8 corn inside, start a few pots of lettuce indoors, sow approx 35 carrot seeds outside. Continue hardening off of seedlings daily
May 15 Last Frost Date!: fertilize all seedlings with true leaves that have not flowered with manure tea, transplant tomatoes, sunflowers, corn, lettuce, zucchini, cucumbers outdoors, sow remaining seeds outside
May 22: transplant peppers outdoors, sow approx 35 carrot seeds outside, buy marigold plants
May 29: fertilize all seedlings with true leaves with manure tea, start more lettuce outside
From here out it's just fertilizing until the seedlings put out flowers, keeping the weeds down, watering & harvesting!