*This post may contain affiliate links, which means as an Amazon Associate I may receive a small percentage from qualifying purchases if you make a purchase using the links, at no additional cost*
---------------------------------------------------------
Look at this face – who wouldn't want a duck??? They might be super cute, but are ducks right for you? Let's take a look at the Duck Pros & Cons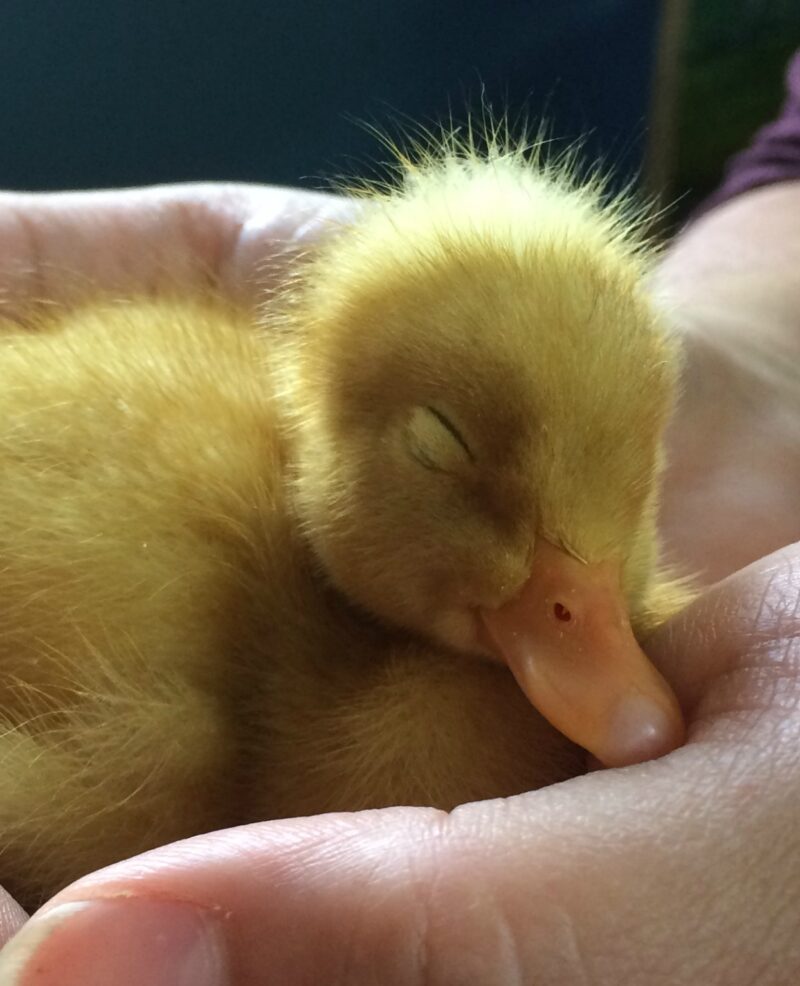 Duck Pro: Duckling Cuteness!
All baby animals are irresistibly adorable, but honestly, ducklings have to be right up there in the top five of Cutest Baby Animals Ever! The sweet way they always look like they are smiling, their too big for their face bills and too big for their body flappy feet. The way they snuggle perfectly into your hand and imprint on their caretakers. They are pretty darn adorable!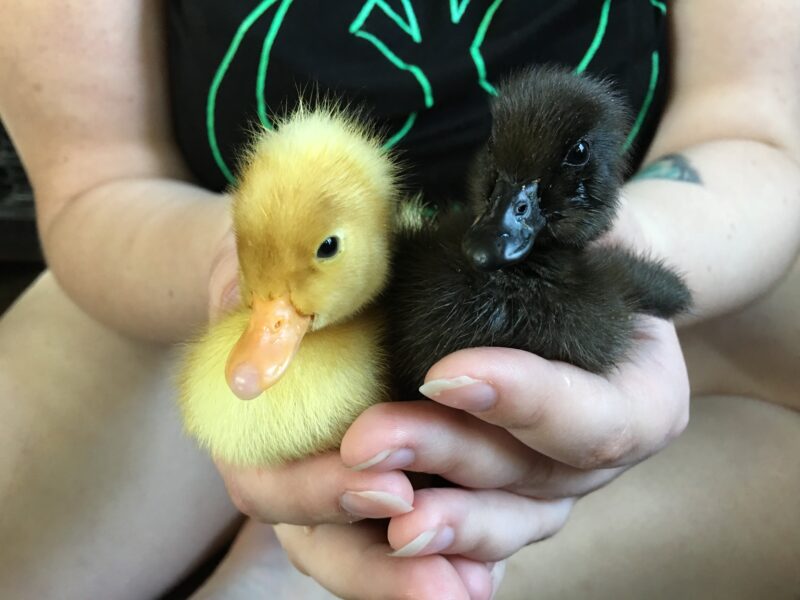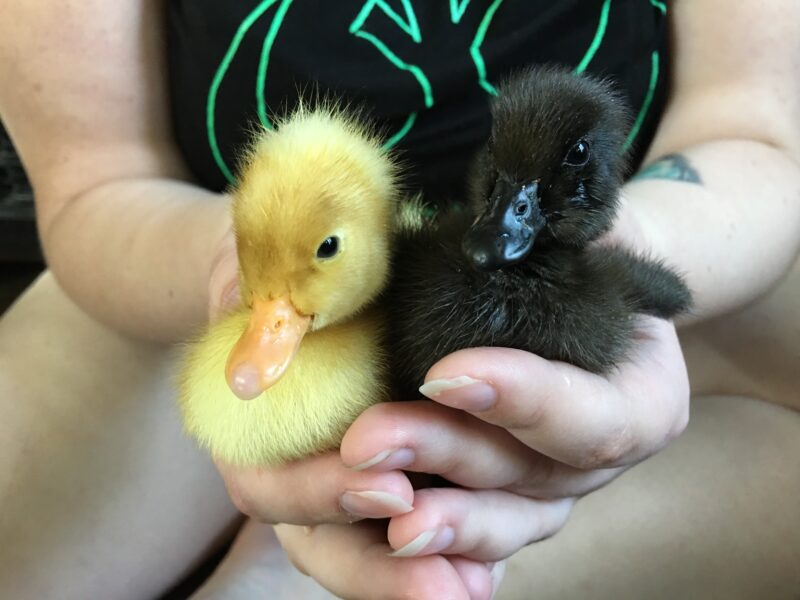 Cons: Ducklings grow
Really fast. Within two weeks that sweet tiny duckling is over SEVEN times its original size. Still cute of course, but leaning more towards awkward, gangly pre-teen years than an adorable infant. All that growth means they are tiny eating machines – and what goes in is going to come out. Ducklings are a special kind of messy. They are on a whole other level of messy from any other baby animals (including humans!) that I have cared for. They are lucky they are so cute. Ducks can live for 8-10 years or more, so be ready for the commitment long after those super cute 2 weeks of duckling time is up. Click here to read more about duckling care
Pro: Adding ducks to an existing flock is easy
Not counting hormonal, territorial drakes; female ducks are pretty chill about welcoming newbies to the group. If you have a group of all ladies and want to get more, most ducks think the more the merrier. If you have experience with chickens, you know it can take weeks or even months for a flock to get used to a new addition. Click here to read more about adding ducks to your flock
Con: Ducks are loud
If you don't have close neighbors this isn't a problem, but if you are backyard farming in a suburban neighborhood it could be a problem. I have more chickens than ducks, but the duck noise in my yard is definitely more than the chicken noise (even with a couple roosters). Especially in the morning, they like to splash around their pool, quacking loudly. When they are out free ranging, they like to talk to each other, often from across the yard. One will quack, another will quack several times back, another one will join in. Most of the time, it's happy, excited quacking, but they quack for tons of reasons whereas the chickens generally just make noise when they are laying eggs. I don't mind the duck noise, but it could be a problem with neighbors.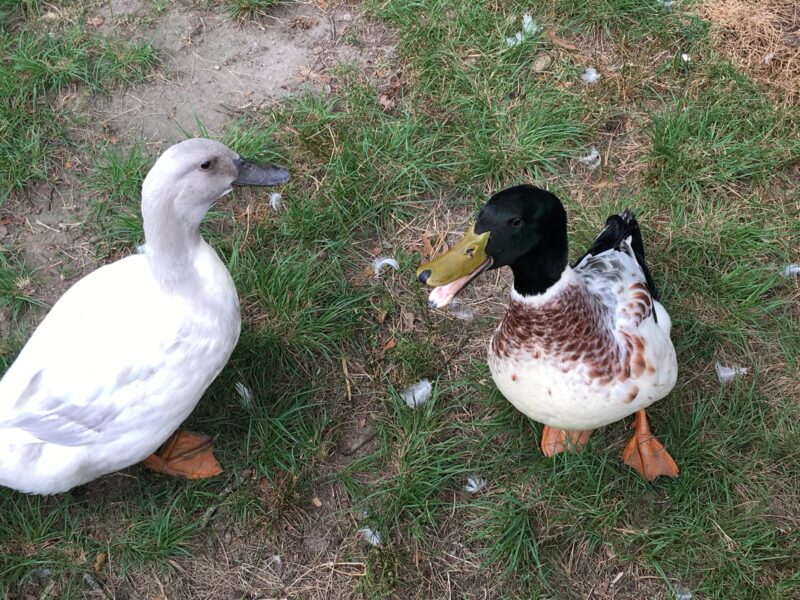 Pro: Drakes aren't as aggressive as roosters
If you want to be able to hatch out ducklings, or just have a drake around because they are cool looking they are not as aggressive as roosters. They are not great protectors like roosters, but that is a bonus in my book because that means they are not charging after and attacking me, my kids, or my guests. Not only are they nicer to humans, but they are also quieter. Unlike chickens, male ducks are quieter than female ducks. Drakes have a quiet, raspy quack that will not send the neighbors knocking on your door at dawn like a rooster's crow could! Drakes can be notorious maters, however, so be prepared and make sure you have at least 4-5 females for each male! Click here to read more about keeping drakes
Con: Cleaning & Maintenance
Compared with other backyard birds, ducks are a bit more work. You have the standard feeding & cleaning up poop chores, but with ducks, there is the additional chore of emptying & filling their pools. Keeping ducks in clean water can feel like a never-ending battle. Not only will they dirty their pool, but they will try to swim in any available water including their water bowls. All that splishing and splashing also leads to a lot of mud and muck in the pen area.
Pro: They are SO fun to watch!
Chickens are nice and relaxing to watch as they peck around the yard or flap in their dirt baths, but ducks are downright amusing! Watching them swim and dive around a small kiddie pool is hilarious. There is something just so endearing and pure about how happy they get when you fill the pool with fresh water. Watching them interact with each other is also fun, they are very expressive with their body language and love to "talk" to each other. Turn on your garden sprinkler or show them a puddle and you'd think they won the lottery.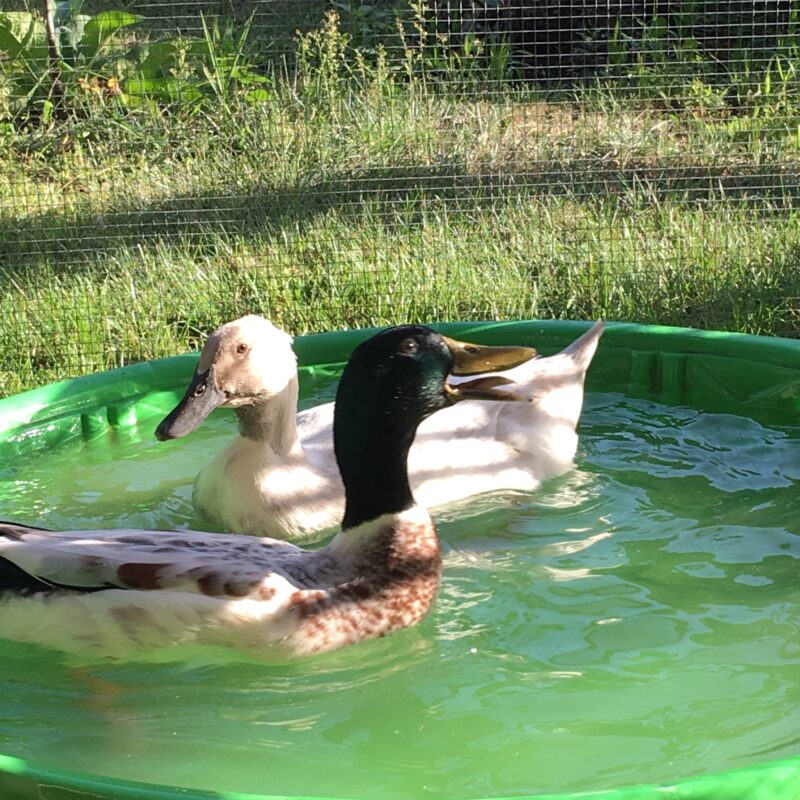 for live action duck fun – check out this really short clip of my ducks on a recent unseasonably warm January day when they got some much missed pool time!
Pro: Tons of eggs!
The average duck will out lay the average hen over the course of her life. Most breeds of ducks raised for eggs average 200-250 eggs per year. That is pretty similar to a laying chicken. But chickens will only lay at those levels for two, maybe three years before their productivity takes a sharp decline. Ducks remain productive even into old age; 6, 7, even 8 or 9 years old. Ducks are also more productive layers during the short winter days, while many chickens take the winter off. Plus duck eggs are awesome for making baked goods light & fluffy! Click here to read my post on duck eggs
Con: Not everyone likes duck eggs
They do have a slightly stronger "egg" flavor. Not noticeable when used in baking or cooking, but you might notice if you scramble them up or make an omelette. Before getting ducks, try to find some duck eggs to see if you like them. If you decide you want ducks even though you don't like their eggs (totally reasonable!) you can always cook the eggs up for animal feed, sell them, or barter them with someone who enjoys them.
Pro: They won't tear up your garden
Chickens are constantly scratching and digging. They don't care if it's your lawn, your prized roses, or your tomato seedlings….if they are awake they are scratching stuff up. Ducks are not nearly as destructive. They might nibble on your lettuce, but for the most part, they don't destroy things or make a mess of the garden. And they are every bit as good at catching bugs and pests! Now all bets are off if there is a puddle in the garden – a muddy mess is pretty much guaranteed to happen in that case.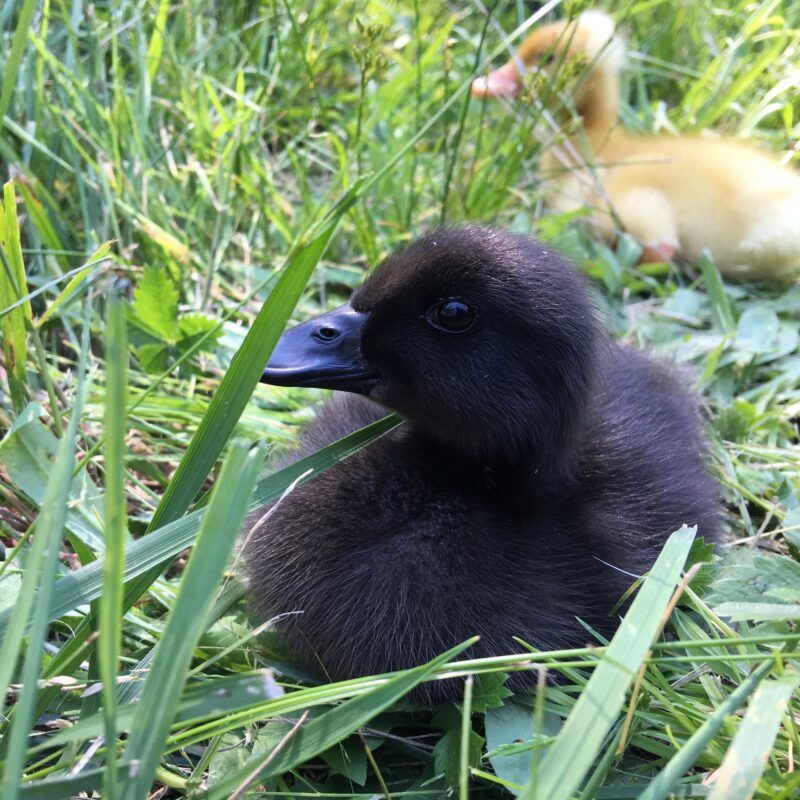 I really love my ducks. They are a lot of work and can make a mess of things, but they are an awesome addition to my little farm! Shhhhhh, don't tell my chickens, but I think the ducks are more fun to keep around 🙂