*This post may contain affiliate links, which means as an Amazon Associate I may receive a small percentage from qualifying purchases if you make a purchase using the links, at no additional cost*
---------------------------------------------------------
I get a lot of questions every day about raising ducks. One of the most frequent duck topics I hear about has to do with dealing with drakes and their behavior. Many of those questions concern mating issues – so I'll try to keep this post as PG as possible, but fair warning – ducks are just not PG animals.
Drakes are male ducks, and like most male animals much of their life is about mating and protecting. This can make them difficult to live with as pets sometimes. I really think that once you have a basic understanding of what your drake is up to and where he is coming from they can still make a great addition to your flock.
My drake is mating…..All. The. Time.
This is possibly the most difficult aspect of keeping drakes. Male ducks have very high sex drives, they also have a reputation for being very rough on females. If you keep multiple drakes, it can be extra difficult because often when one male notices another male mating the others will run/swim over to join in while the female is restrained. This can result in the female getting injured. Leg injuries, missing feathers from the neck, head, and back, large or small cuts from the drake's claws or bill, eye injuries, or even death can all happen when a female is over-mated.
It may seem brutal, but this sort of behavior is very common and normal among ducks. A male might pick out their favorite female, but in most breeds, the males are not monogamous. Lots of people get upset by the mating, especially when there are multiple males ganging up on one female. It is hard, but try not to put human relationship expectations onto an animal. The drakes aren't being bad, this is simply what their instincts are telling them to do.
But why is duck mating so rough?
In short, it is to keep the duck population going. In the wild, only 20-50% of ducklings will make it to adulthood. Weather conditions, lack of food or shelter, and predators everywhere – fish, amphibians, reptiles, mammals, birds of prey – all add up to rough odds for ducklings.
Studies have shown of the ducklings that make it to adulthood, about 53% are male, 47% female. Adult females are more vulnerable. Females can die during gang mating, and are more vulnerable to predators while incubating eggs & raising young. With so many more males than females, it means the females can afford to be a little pickier.
So only the males with the brightest plumage and the best mating call & dance, will be selected by females for voluntary mating. The rest have evolved some unsavory mating practices. The females have a complicated oviduct system full of twists & chambers, she can actually eject the sperm of a male that she doesn't want to fertilize her eggs. The males are just trying to hedge their bets by mating a recently mated female, trying to do their part in ensuring the survival of the species.
Can you neuter a duck?
I have had lots of desperate duck owners ask me about neutering drakes. I am not a veterinarian but from the research I have done you CAN neuter a drake but it does not affect his behavior, only the ability to fertilize eggs. Castration will affect his behavior but is a very invasive surgery and can be very dangerous so most vets will not perform this on a duck simply to curb a natural behavior.
There are hormone shots that are available, but they need to be administered frequently and are costly (and in the long run may not be great for the drake's health). In short, it is not really practical to medically alter a natural behavior in your drake, so the focus should instead be on working with his behavior and making the environment safer for the female ducks.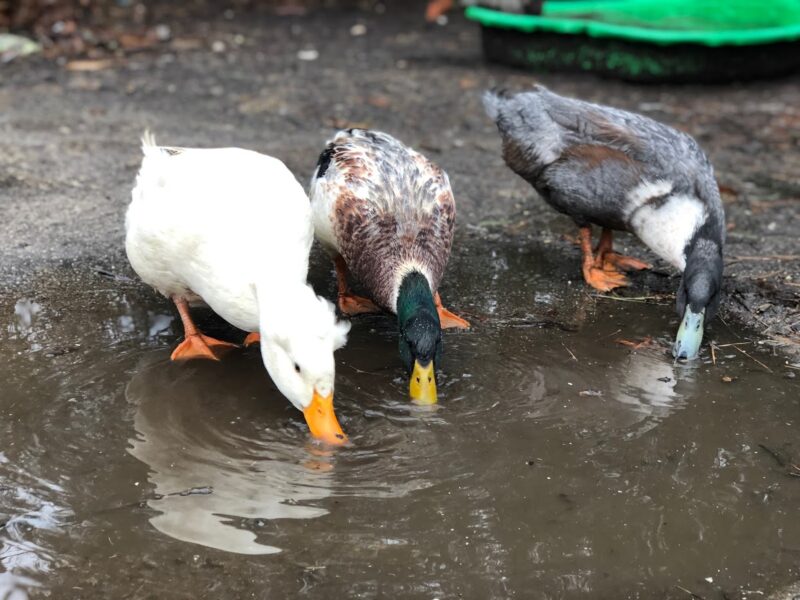 What can I do to protect my female ducks?
Get more females. At minimum, 3 females per every male in the flock, but 4-5 females provide him plenty of options and eases the strain on each female in the flock
Have a pool or pond for them. Ducks naturally want to mate in the water, it is easier on the female's legs. They will still mate on land, but given the option, water is better.
Be prepared to separate them. If you notice your female is wounded or missing a lot of feathers, your drake might need a time-out so the female can heal. You can separate the wounded female if you have plenty of other females for the male. If you only have two females and you remove one to recover, the remaining female will be the only mating option. In that case, it is better to separate out the male. This can be as easy as dividing the coop with some chicken wire and giving him a small chicken wire pen outdoors.
Have first aid supplies ready. Vetricyn is an antiseptic spray for light wounds. If she has deeper injuries you will need some antibiotic cream, gauze pads, and Vetrap. Click here to read about assembling a duck first aid kit. I don't recommend using chicken saddles on ducks unless they don't have access to swimming water. If the saddle gets wet then you just have wet, dirty fabric laying on top of an open wound. A perfect invitation for infection.
If things get really bad, consider keeping two separate duck flocks – a male flock and a female flock
Will my drake always be like this?
The good news is no, he won't always be like this. Ducks in captivity can live for 10 years or more. The older they get, the less testosterone they will have, and their drive will get less. The worst time will be his first mating season as a fully mature drake. Mating season for domestic ducks in the northern hemisphere usually begins around mid-February and ends around mid-July. His first season he will be full of youthful energy and the drive to reproduce.
Each season after that should get a little better. During mating season is when you are most likely to see disturbing over-mating, rough mating, and gang mating. You will still see it during the other half of the year but it will be less often.
Other drake concerns – aggression
While mating questions are the ones I get most, drakes can also sometimes be aggressive. In the poultry keeping world, drakes tend to be more tame than some of the other males. Roosters, ganders, and turkey toms are usually the more aggressive poultry. But that doesn't mean drakes don't get aggressive. Especially during mating season when their hormones are raging, they can get protective of their food, their space, and their females. Sometimes they take that aggression out on their human caretakers, other animals, or even on the female ducks.
If he is getting aggressive with the female ducks outside of a mating context, it's time to separate him. Give him his own space until he calms down.
Just like people, all ducks are different. Some handle the hormones and stresses of duck life with ease, and others get stressed out, scared, and defensive. Nearly all aggression towards human caretakers can be traced to dominance. He is trying to assert his dominance and show everyone that he is in charge, to show off how big and strong he is.
Your drake is likely to be the natural head of your duck flock – if you have multiple males there may be some squabbles over which male is the head honcho. The females, for the most part, aren't going to be challenging the male for the role of leader. Having conquered the duck flock, your drake is going to turn his attention to the other living being they interact with daily – you. If your drake is attacking and acting aggressively towards you it's likely because he wants you to know he is in charge. That is not ok, he needs to know that you are the leader or the aggressive behavior is going to continue.
How to stop an aggressive drake
First, you need to act like a leader. Leaders don't run away. They don't act timidly around their challenger. If you have an aggressive drake, it can be helpful to have a long handled net near the entrance of your duck enclosure. This can be used as a deterrent to push him away from you or can be used to easily & safely catch him for the next steps.
Pecking or biting is a common way that ducks establish dominance, so anytime your duck is doing this to you, it's something to discourage. When they are young, ducklings will naturally "mouth" everything, like most young animals, they explore their world with their mouth. I am not talking about that, I am talking about obviously aggressive, non-curious pecking or biting. If he pecks you, you "peck" him back with your finger. Don't go overboard, you aren't trying to hurt him. You are just letting him know that you are actually the one in charge.
Another thing to try is picking him up and carrying him around under your arm. This is a submissive position for him. If he is trying to peck you while you carry him, use your free hand to gently hold his bill.
In the wild, male (and female) ducks establish pecking order by pinning the other to the ground. You can gently pin him down, holding his head to the ground. Hold him like that until he stops struggling – it may take a few minutes but it's important that you not release him until he submits otherwise in his mind he has won. Again, be gentle. You are much bigger & stronger than he is! You don't want to hurt him, you don't want him scared of you, you just need him to respect you.
For some drakes this might be a one-time thing, he will accept you as alpha and never challenge you again. Some ducks will need reminders. Be ready to give him reminders as often as he needs them. Consistency is key when dealing with an aggressive drake.
Why keep a drake if they are this much trouble?
Unless you are intending on breeding ducks, most people only end up with a drake by accident. Ducklings can be hard to sex when they are young so they are often sold as straight run (unsexed). Another way to get overrun with drakes is if you hatch your own duck eggs – you have no control over what sex you get.
Once you have a drake your choices are to rehome him (which can be difficult), eat him, or keep him and learn to live with his behaviors. I have multiple drakes (all from either straight run or hatching). My go-to hatchery for getting pre-sexed ducks is Metzer Farms. They have a great selection of breeds and can ship as few as 2 ducklings all over the US. Click here to visit their website
Drakes can still be very lovely and wonderful pets. Once you understand the reasoning behind the behavior and start thinking like a duck, it's much easier to live in harmony with your drake.
in summary:
Why is my male duck being mean?
Your drake is just following his instincts! Drakes have a very high sex drive and mating can be rough on the females. If you have multiple males it can be even worse. Many new duck owners confuse normal mating for "bullying" or "being mean". Just because it is normal doesn't mean there is nothing you can do. Adding more females (ideally 3-5 females for every 1 male), providing a water source (like a pool) for safer mating, and separating the females occasionally can all make for a more harmonious flock.
Beyond mating, some drakes can also get possessive of food, water, or space. If your drake is being aggressive towards humans you should act fast to reassert your dominance. You can do this by gently pinning him to the ground until he stops struggling, or by carrying him around under your arm. Consistency is key for dealing with an aggressive duck.