*This post may contain affiliate links, which means as an Amazon Associate I may receive a small percentage from qualifying purchases if you make a purchase using the links, at no additional cost*
---------------------------------------------------------
I like having plants around the house but I only really have two south-facing windows and they are shaded much of the afternoon by a large tree. Luckily, we have a sunroom off the south side of the house with three full walls of ceiling to knee-level windows. It would be a great place to grow plants if it weren't for the cats.
With all the sun to lounge in, they spend a lot of time in there and they love to nibble on houseplants, dig up potted plants and destroy fairy garden villages like Godzilla on a rampage. I wanted a protected place to keep houseplants, but when my greenhouse really shines is in spring. I start a ton of plants from seed every spring (click here to read about starting seeds) and needed shelving to grow them on and a place to keep them safe from cats. I didn't want to spend a ton of money, and I wanted something that would look nicer than wire shelving.
While cleaning under my bed, I noticed I had a few unused 11 x 14 picture frames. I started to come up with a way to re-purpose the glass to make an indoor greenhouse. Enter my plan for a DIY Picture Frame Indoor Greenhouse.
I knew I would need more than a couple of frames under my bed (after I made up the sketch I realized I would need 36!). So I put up an ad on Craigslist and Virtual Yard Sales sites looking to see if anyone was looking to get rid of any 11 x 14 picture frames. The frames themselves don't matter, remember I just needed the glass, so old ugly frames that no one wants were perfect. I was able to round up 25 frames this way for free. For the rest, I waited until picture frames went on sale at Michael's. Armed with my 20% off coupon, I just bought some of those "frameless" picture frames (basically a sheet of glass with clips to hold a photo). You could also use replacement glass, but those weren't on sale and would've been more expensive. They ended up being a little over $1 each.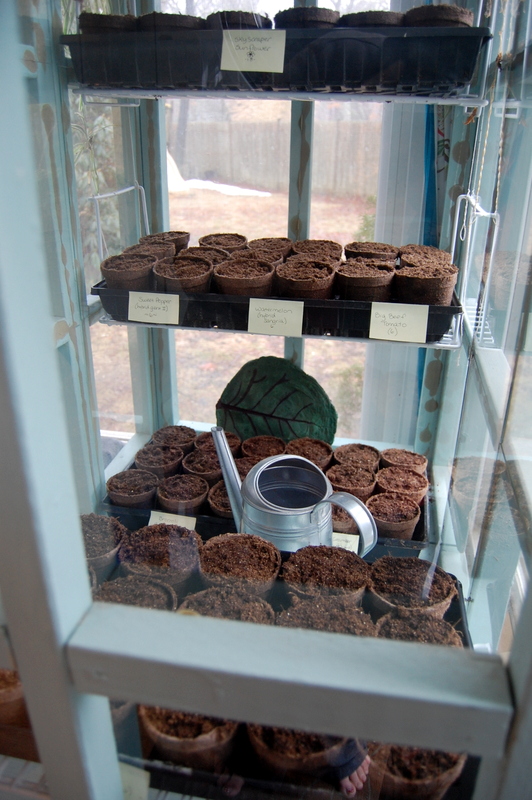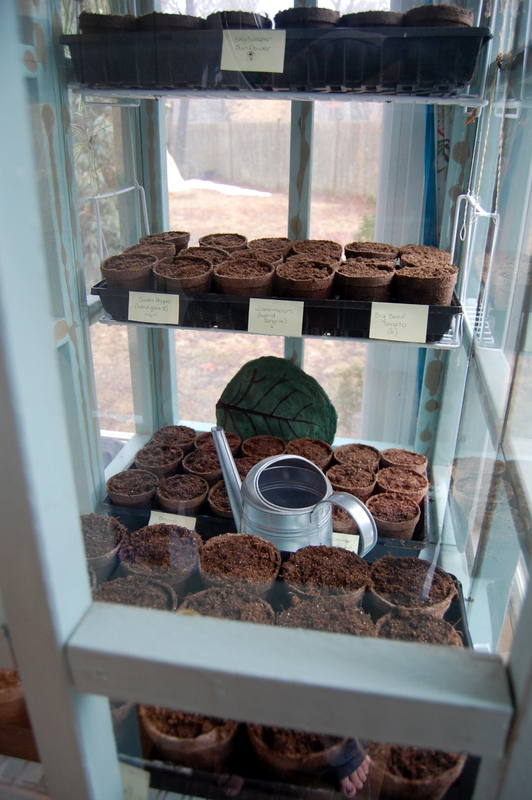 I needed to raise up the greenhouse to at least the bottom of the windowsill and I wanted it to have an open area on the bottom so I could store supplies & keep the cat's litter box underneath it. I ended up building a "table" that is 24 inches tall as a base for the greenhouse. The final dimensions for the entire greenhouse is 26 inches deep x 37 inches wide x 68 inches tall.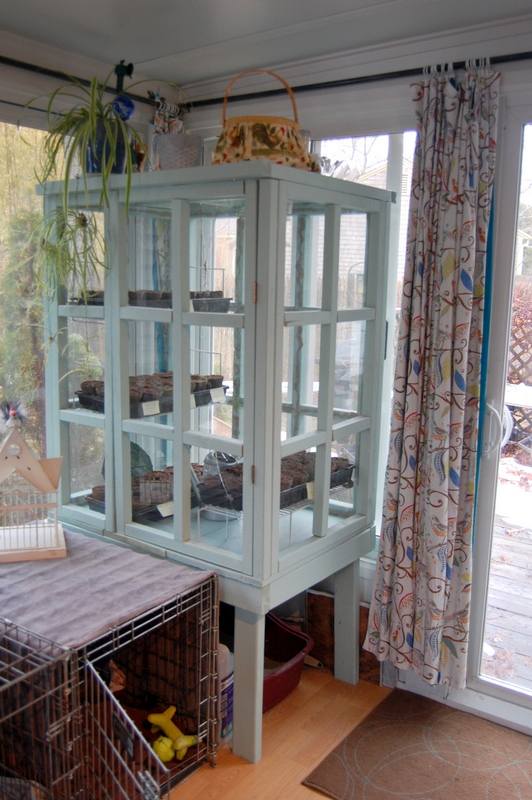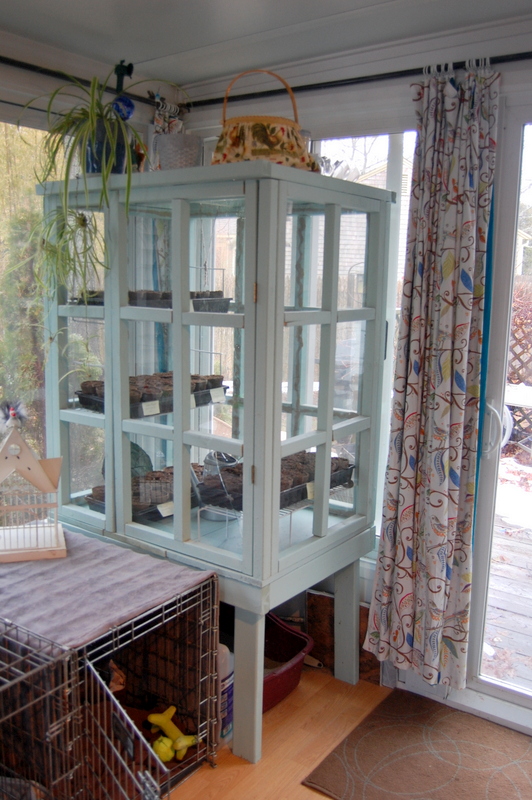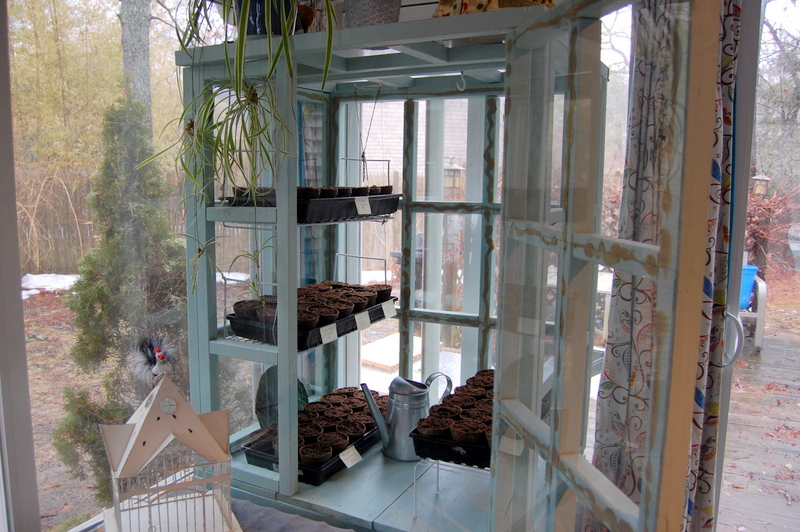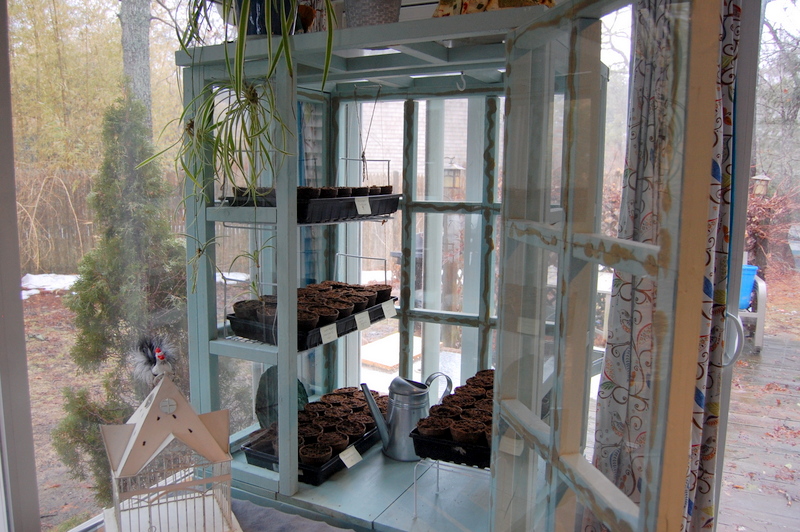 Materials:
3 – 2 x 4 (8 ft length) – for building the table base
1 – 1 x 15 (8 ft length) – for the "floor" of the greenhouse
17 – 2 x 2 (8 ft length) – to form all the panes
3 inch screws
1.5 inch screws
the glass from 36 11 x 14 picture frames
clear glass/wood adhesive
paint & primer
two hinges
Instructions:
I built the greenhouse in 7 pieces.
Piece 1 is the table base. I cut the 2x4s so that I had two pieces that were 37 inches and two pieces that were 23 inches. I then used these boards to build a simple box with the final dimensions of 37 inches x 26 inches. Cut the 1×15 into three pieces that are 26 inches long. Screw onto the box to form the floor (you will have to rip one lengthwise to about 8 inches). Add some basic legs made from 2x4s, securing everything with the long 3-inch screws.
Building the body of the greenhouse – For the actual body of the greenhouse, I used 2×2 lumber (actual dimensions are 1.5 in x 1.5 in) and 1.5 inch wood screws (screwed in at an angle) to make the grids. The grids should be 11 x 14 inches on center.
Piece 2 is the back, overall measuring 33.75 x 42.5 inches with 9 panes for glass.
Pieces 3 & 4 are the right & left sides. Each overall measuring 22.75 x 42.5 inches with 6 panes for glass. On each of the 42.5 sides, I screwed on the four corner posts. For the corner posts I used a 2×2 that we'll use to screw the sides with the back & front.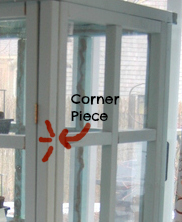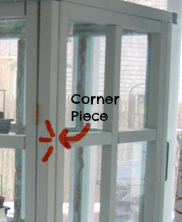 Piece 5 is the stationary "side light" part of the front. This is the piece next to the door. Overall measuring 11.75 x 42.5 inches with 3 panes for glass
Piece 6 is the door, overall measuring 22 x 42.5 inches with 6 panes for glass
Piece 7 is the top, overall measuring 26 x 37 inches with 4 full panes and 2 smaller panes (if you don't have access to a glass cutter, I would suggest just leaving these open as extra ventilation). The top grid is a little different than all the others. There is a 4 inch x 37 inch opening the entire length of the top to allow for ventilation, leaving four 11 x 14 grids and two 11 x 9 grids that will be covered with glass: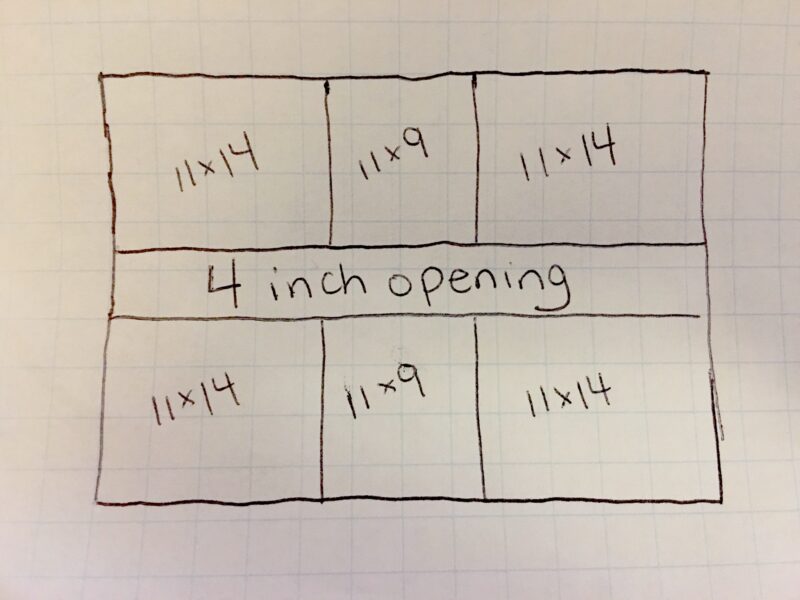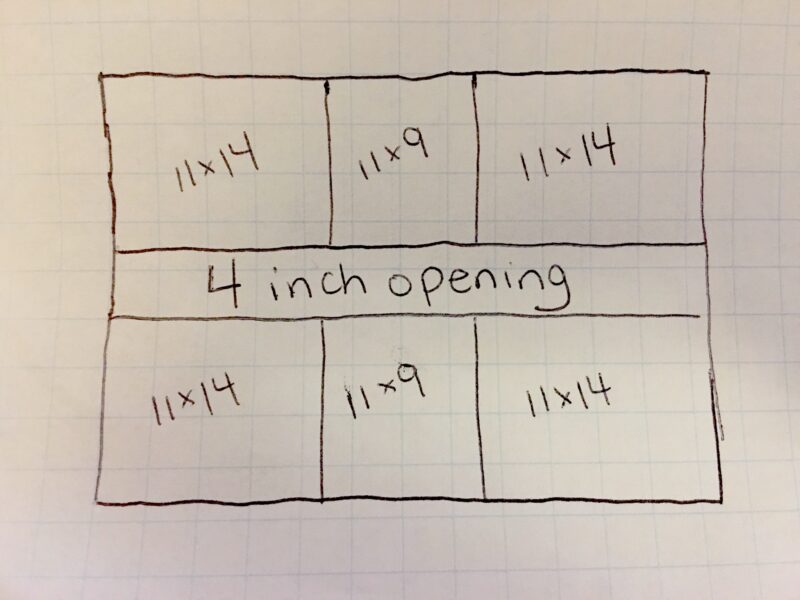 At this point, I primed & painted all the pieces – do this before you attach the glass!
I used construction adhesive to attach the picture frame glass. I did make a tactical error here though. I should have bought clear adhesive, and for some reason I bought beige, so of course now I can see all the adhesive lines! They make clear adhesive – make sure you get clear!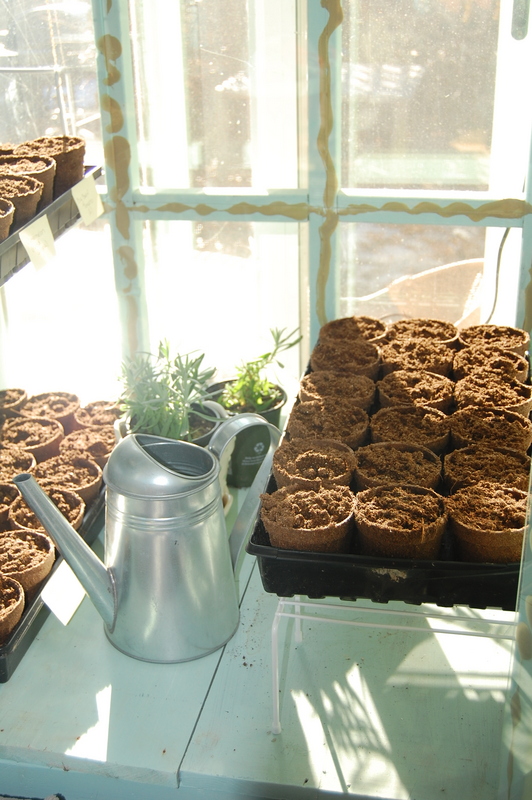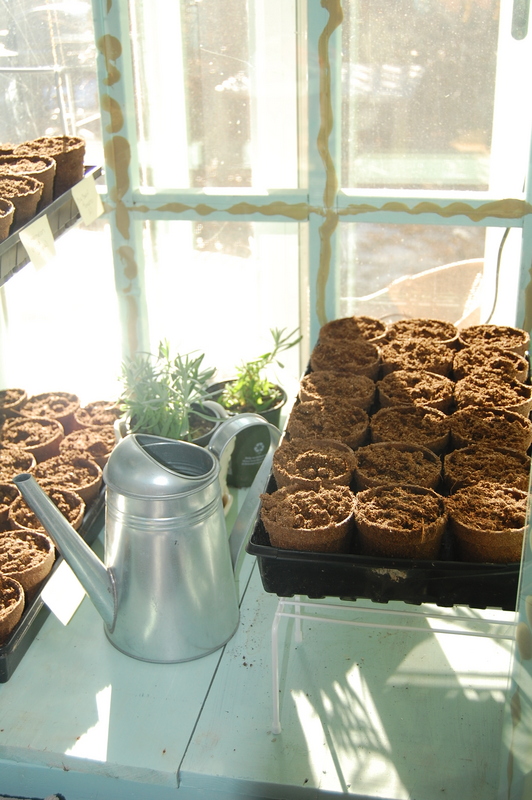 I let the pieces dry flat to allow the adhesive to cure for a full week. Then I just had to screw all the pieces together, add the hinges for the door – and be very careful not to crack the glass.
For shelving in the greenhouse, I got some plastic-coated wire shelving (the kind you would use to organize kitchen cabinets). I hung two upside-down from cup hooks screwed into the top of the greenhouse using twine.
I used another cup hook screwed into the top to hold a heat lamp. I use this in the spring when it's still chilly to keep seedlings warm because my sunroom is mostly unheated.
It's not perfect, but I love my greenhouse, and it ended up coming in under $100 all together. I can fit 5 flats of seedlings in here right now, and I have plenty of room to add more shelves if I need more. When it's not seed-growing time, I have a place to keep houseplants safe from the cats. I have used it for Fairy Gardens and growing plants that could be poisonous to pets if they ate them (I can have poinsettias at Christmas for the first time in decades!).