*This post may contain affiliate links, which means as an Amazon Associate I may receive a small percentage from qualifying purchases if you make a purchase using the links, at no additional cost*
---------------------------------------------------------
We built our chicken coop from scratch but decided to go the easy, pre-built route for our rabbit hutch. You can find rabbit hutches at many pet stores, but online will give you the best selection. We were able to find ours online.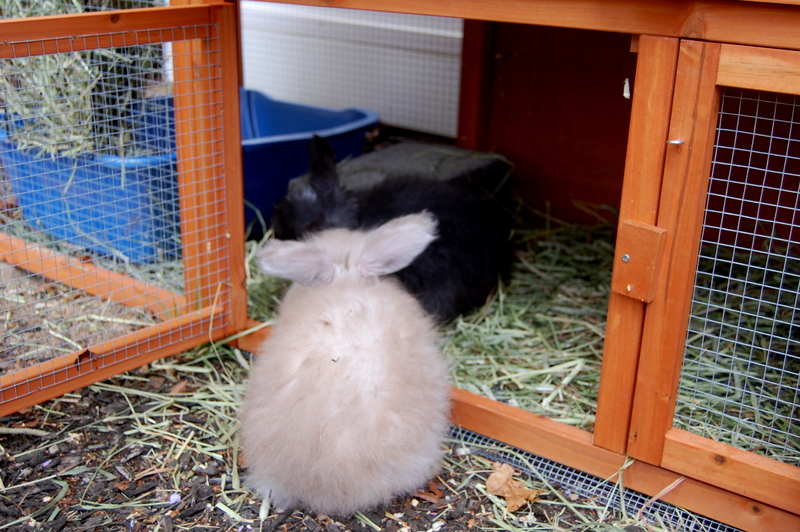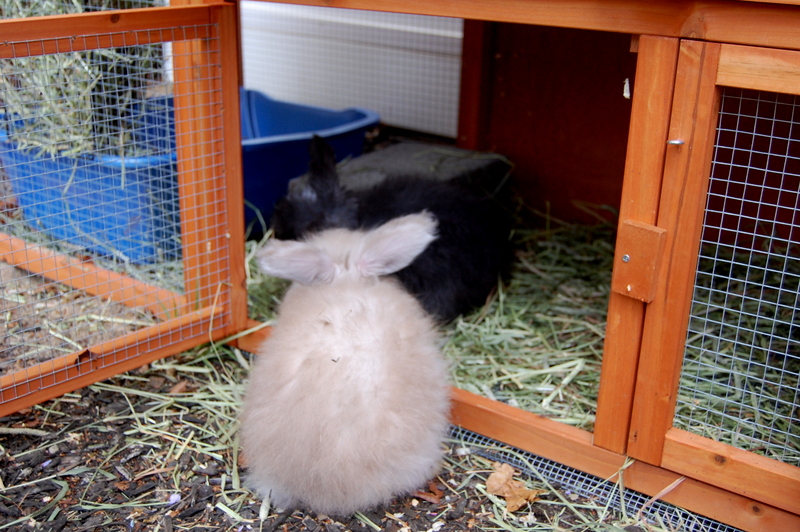 There has been a successful movement by animal welfare activists to end the practice of keeping rabbits in tiny cages with no room to exercise. Generally, they agree a minimum hutch size of 6 ft x 2 ft x 2 ft is a good place to begin, but having an attached, secure exercise run of at least 35 square feet (and at least 2 feet tall) per rabbit is also needed. This will allow the rabbits room to stretch out, hop about, and engage in natural rabbit behaviors. The hutch acts as a secure "home base" area, enclosed in a much larger exercise yard.
The model we ordered is over 7.5 feet long, 3.5 feet high, and features two levels. Enough space to give two rabbits a roomy, secure home when they are not out in their play yard. Our chicken coop and garden beds are all painted in fun, bright colors – so I knew this hutch was going to have to make some changes to fit in with our little farm!
This is where we started: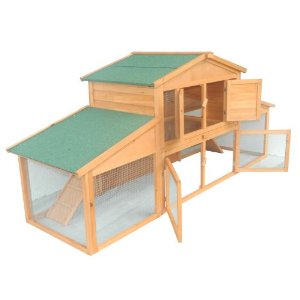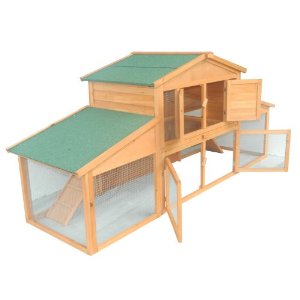 It's not all about looks
Yes, I wanted to change the way our hutch looked, but there were a couple of safety/practical changes we had to make first.
First, and most important, because this hutch is going to be used outdoors, the bottom floor needs to be covered. This hutch's lower floor has an open bottom, which is fine if it is being kept indoors. Outdoors, however, you need to keep the rabbits safe from predators who might dig in and you need to stop the rabbits from digging out. At first, we covered the bottom with hardware cloth wire. We securely screwed it into the frame and then scattered hay to make it easier on the rabbit's feet.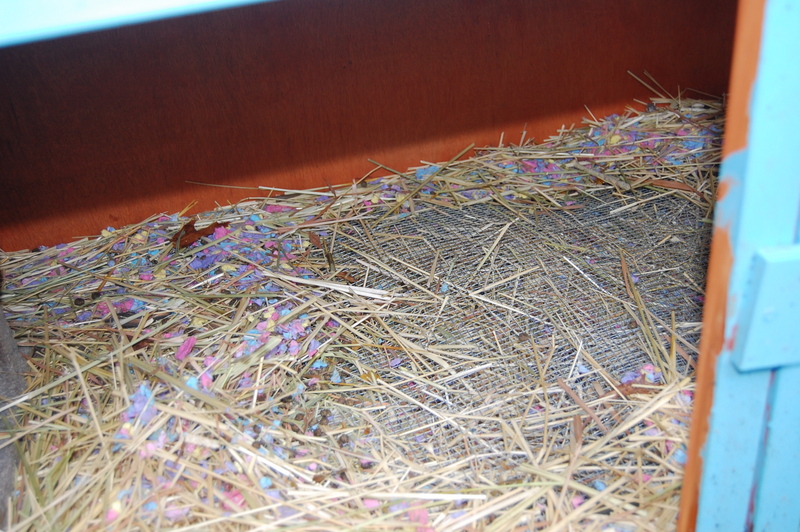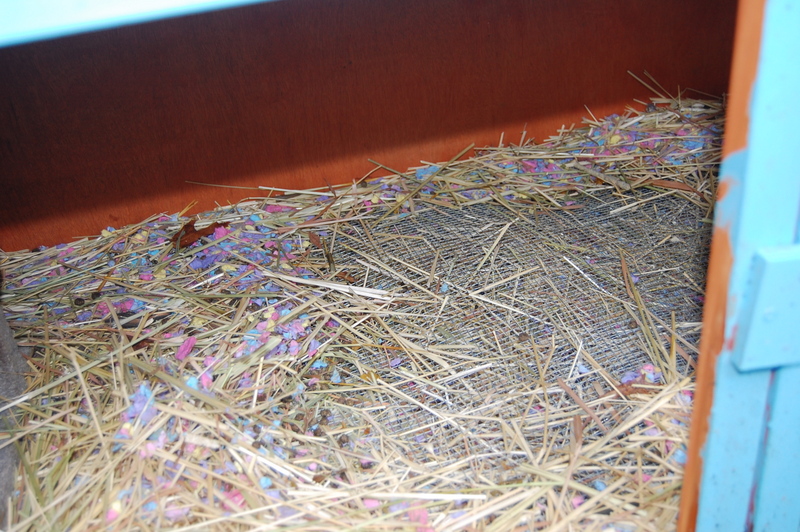 If you live in a warm climate, the ground-level wire floor might work fine (although it was difficult to keep clean). We live in an area that gets snow and has very rainy seasons. We knew we would want to raise the hutch off the ground so it wouldn't fill with snow or mud. You should never have a rabbit living in a hutch with a raised floor made of wire. The weight of the bunny walking on the unsupported wire is very bad for their feet. The stand we built has solid ceramic tile flooring. click here to read about the raised base we built.
Improved security
Another hutch improvement we made was to the latches. Again, if this were an indoor hutch, the latches would be fine, but I was worried these latches could be manipulated by a resourceful raccoon. So in addition to the wood latch that came with the hutch, we added some secure, spring-loaded eye hooks. The rabbits are out in their yard during the day and locked in the hutch at night when the predator risk is higher. The extra piece of mind is totally worth a couple dollars for better latches!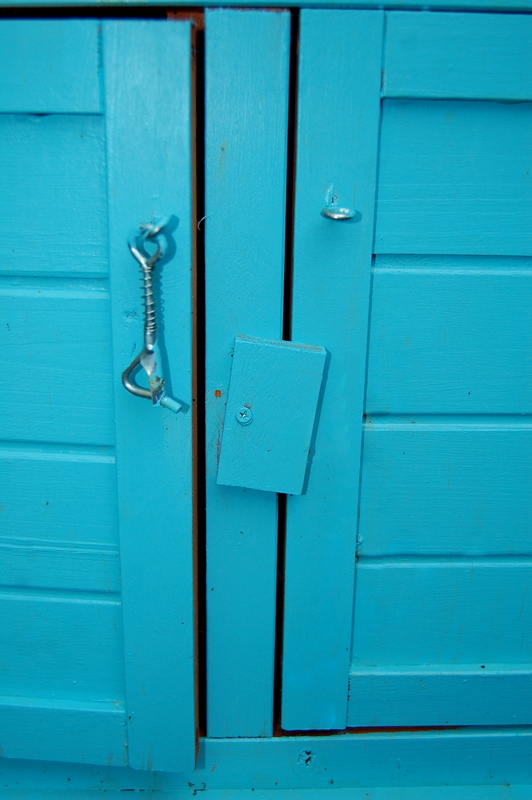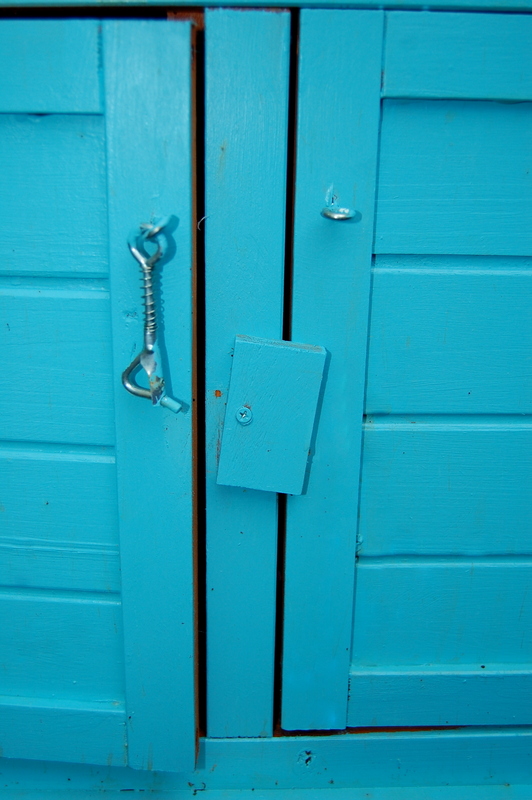 Giving them more floor space
This model rabbit hutch came with two ramps to get in and out of the upper room. We decided it was more important to give them more space downstairs without an extra ramp getting in the way. So we removed one of the ramps and covered the opening with hardware cloth to keep the rabbits from falling out the hole while still allowing extra ventilation.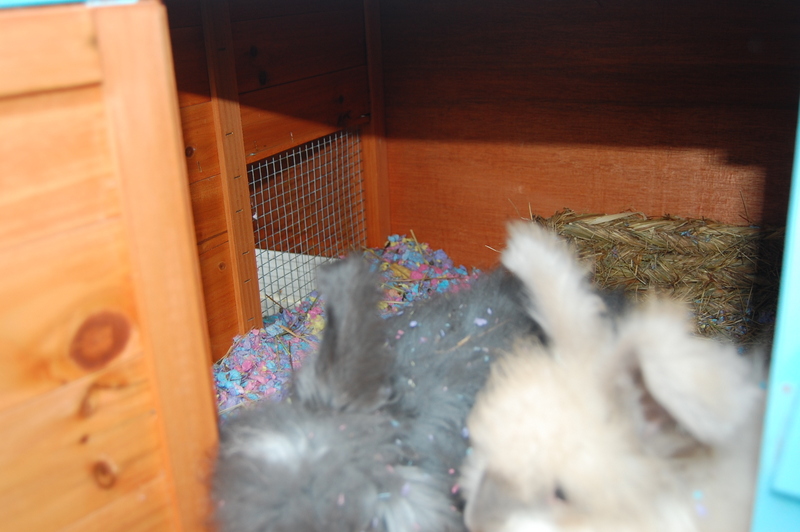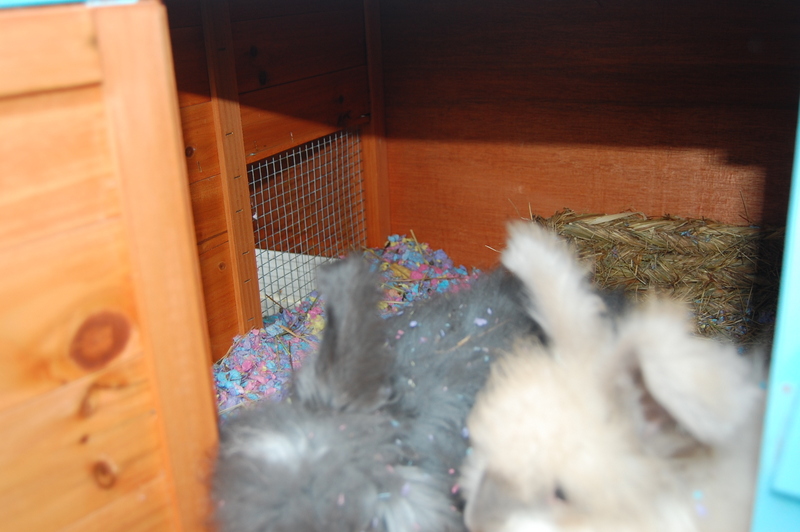 OK now the pretty stuff!
In addition to making my hutch more fun; quality, exterior paint is a great way to protect the wood….and boring paint colors cost the same as fun colors, so why not? I only painted the outside surfaces of the hutch to limit the rabbit's exposure to the paint in case a curious rabbit nibbled on the wood. The paint color is "Shallow Sea" from Behr. I decided to compliment the blue with some white trim. As a finishing detail, I picked up some decorative trim details and used wood glue to adhere them to the front.
I'm really happy with it – what do you think?