*This post may contain affiliate links, which means as an Amazon Associate I may receive a small percentage from qualifying purchases if you make a purchase using the links, at no additional cost*
---------------------------------------------------------
Getting baby chicks can be such an exciting time! You want to believe your older girls will accept the babies and be good "mother hens", but this is not the case. Your older flock is likely to not share your excitement about these new little pests eating their food and stealing their treats. You need to ease the flock into accepting the chicks by giving them plenty of time to get used to the idea. It's important to keep the chicks safe because an adult chicken can easily kill a baby.
You should NOT try to introduce a single chick to your flock of older chickens. You need to at least provide the new chick with one friendly face to run to. If you only have one chick, she will become a target for bullies and the more she is bullied, the more others are likely to join in. If you have just a single chick, I would recommend you wait to start to introduce her until she is nearly full grown (around 14-15 weeks). You can read more about introducing a single adult hen here
Wait until chicks are at a minimum 4 weeks old to begin introductions, but 6 weeks would be better. The younger the chicks, the longer you are going to want to draw out the introduction period. Ideally, by the time you mix the flocks permanently, the chicks will be bigger and fully feathered out (around 10-12 weeks).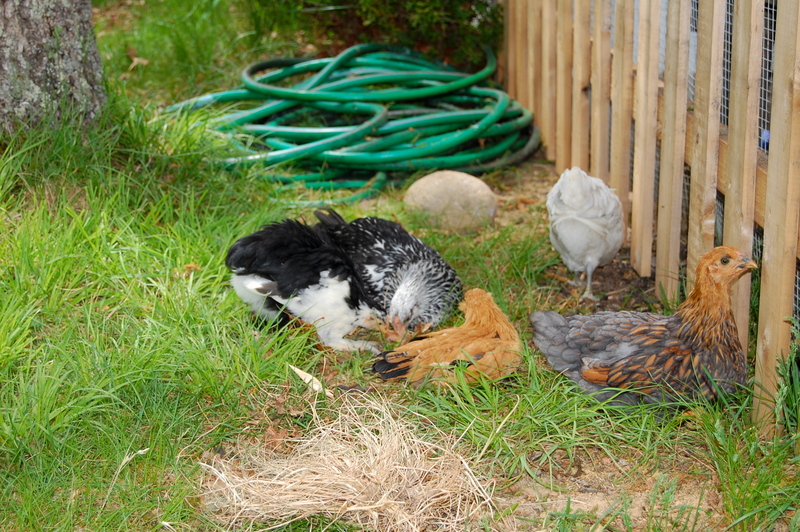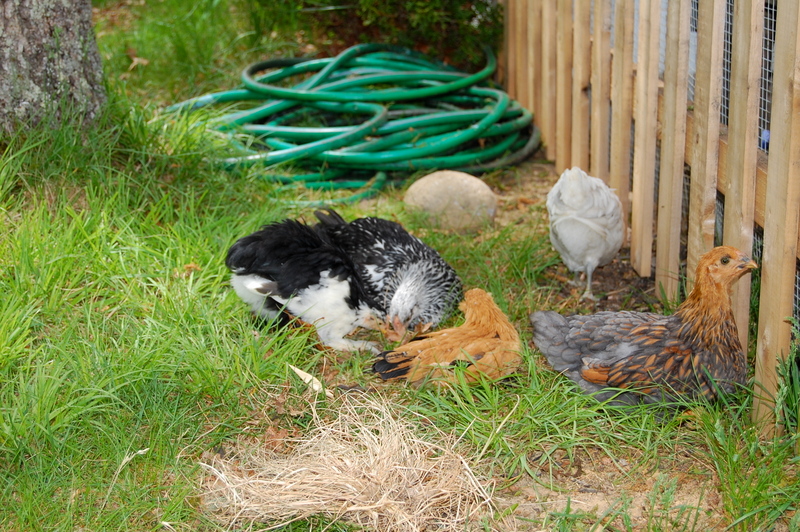 Introductions Step 1
The chicks will need an outdoor space next to the older flock, but separated by wire. The idea is to let everyone see & smell each other, but they can not touch each other. You can do this by dividing off part of your chicken area with wire. If you set up the chick space in your run, remember they will need a secure place to sleep. Click here to see how I built a spare coop for $2 that we could easily bring into the run when needed.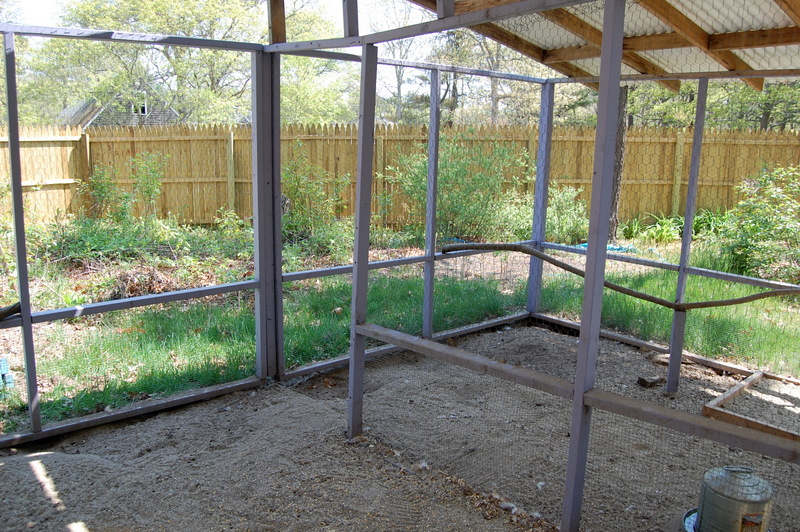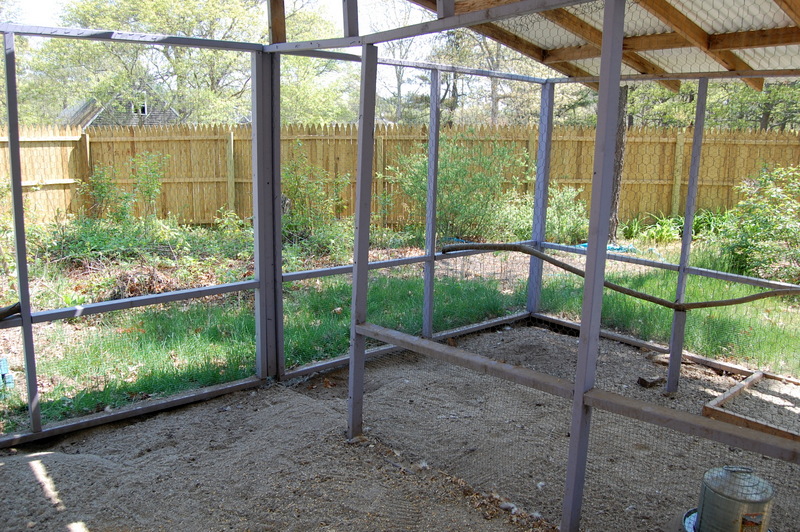 Instead of a second temporary coop, you can also section off part of your main coop for the babies. Now that we have a very large chicken barn, we just set up a wire rabbit exercise run inside of the chicken barn. The wire run is 87 inches by 41 inches. It has plenty of space for growing chickens and has a wire roof to prevent the older girls from jumping in. The grow out chicks can live here until they are ready to join the flock. Don't forget the food & water for the babies, they will still need chick starter food until they are about 16 weeks old.
Let them live side by side but separated like this for at least two weeks, or until the younger chicks are at least 10 weeks old. If you moved the chicks to the transition space at 4 weeks, they will have to live there for 6 weeks.
Introductions Step 2
When the chicks are 10 weeks old, it's time to join the main flock! Start by letting everyone out to free range together. Free ranging gives the little ones room to run away from a bully and it is also more neutral ground so the older chickens might not feel so defensive about sharing it.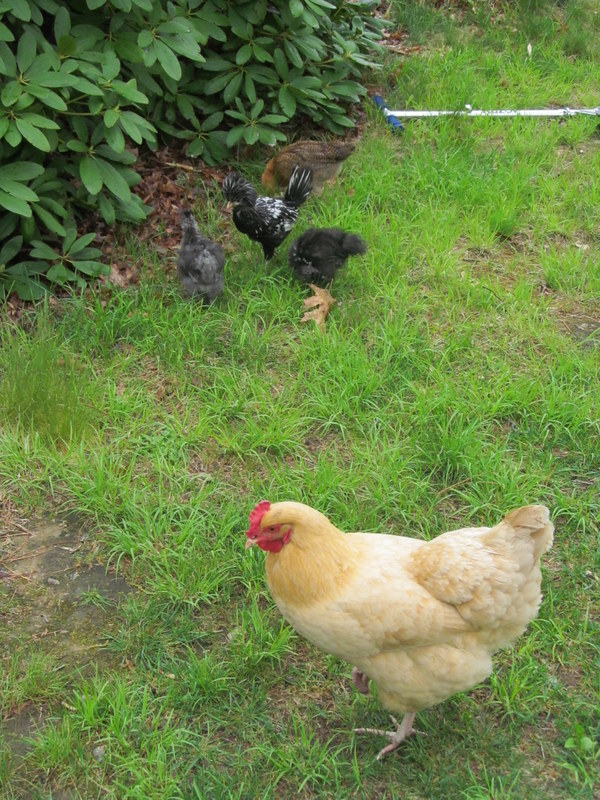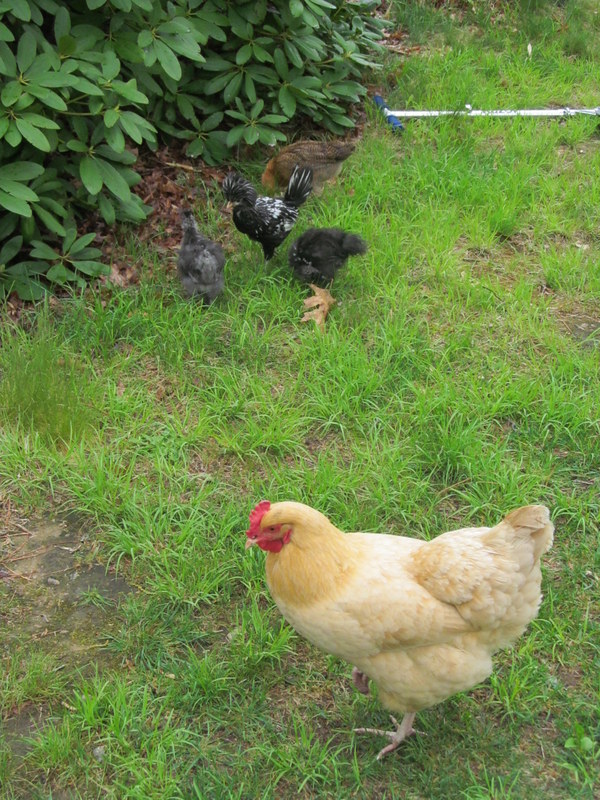 Introductions Step 3
If free ranging goes alright for a couple days, take down the partition during the day. Continue to keep the chicks separated at night. At this point, you are going to need to switch the entire flock over to the chick's grower feed. See the bag for manufacturer's age instructions, but generally a young chicken needs to be on starter/grower feed until about 16 weeks in age (when they get ready to lay their first egg). Feeding chicks layer feed is not good because their kidneys can't process all the calcium. So until the chicks are at laying age, everyone needs to be eating chick feed. It won't hurt your big girls to be on chick feed, but they will need extra calcium for egg production. Providing a bowl of crushed oyster shells near the feed dish is a great supplement.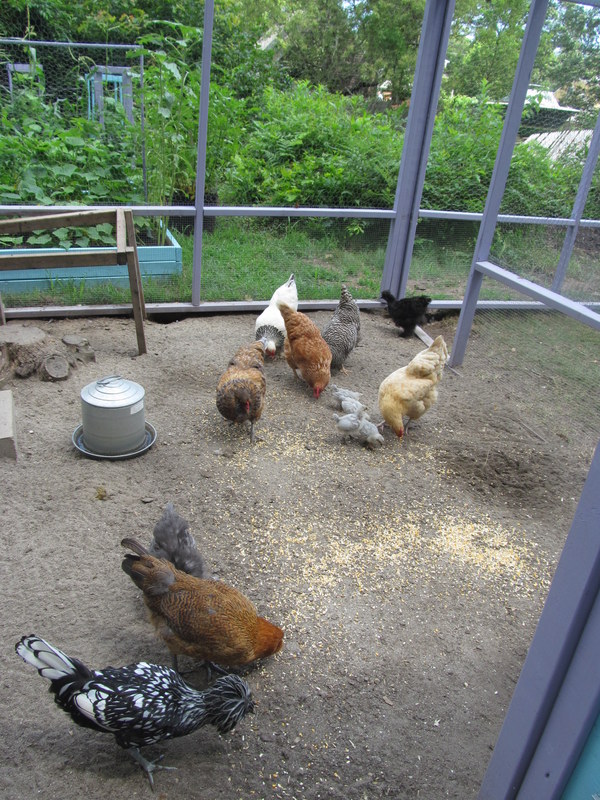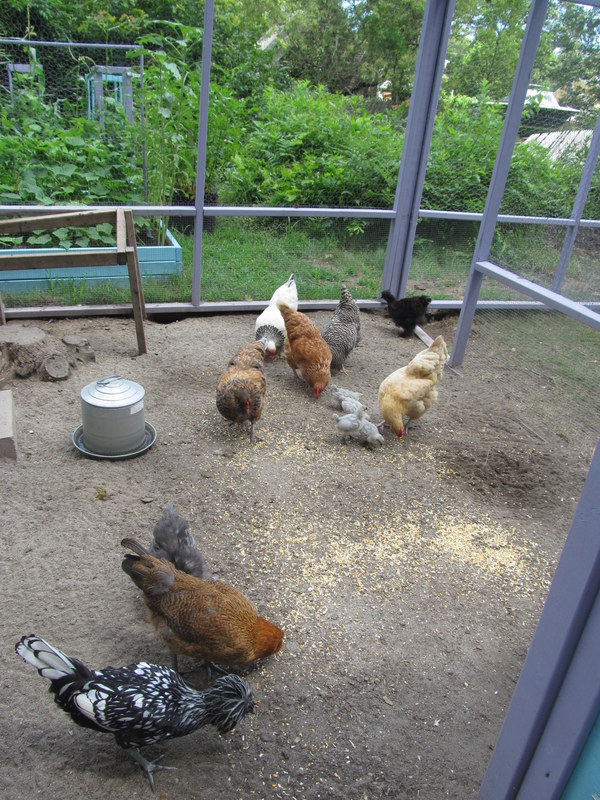 Introductions Step 4
After a week or so of daytime interacting it is time to fully mix the flocks! Remove the chick's coop or take down the coop partition and keep your fingers crossed. You will need to be on hand the first couple nights to make sure all the chicks find their way into the main coop & roosts at night, but hopefully they will just follow the older chickens in.
Keep an eye on things for the next week and try to let them out as early as possible in the morning. If any of the chickens are injured or bleeding remove them immediately. Keep the injured bird in isolation until she is healed.