*This post may contain affiliate links, which means as an Amazon Associate I may receive a small percentage from qualifying purchases if you make a purchase using the links, at no additional cost*
---------------------------------------------------------
In my quest to eliminate the chemicals from my home & trim my budget, I have tried some great homemade bathroom cleaners (click here to read about that) and now I'm moving on to the kitchen! I have been searching the internet and asking my blogging friends for their best natural cleaning advice and now I am setting out to try these recipes compared to what I am currently buying.
DIY Dishwasher Detergent Tablets
The first recipe I tried was Dishwasher Detergent Tablets by Faithful Farmwife . I love the simple ingredients in it, I had everything on hand (Arm & Hammer Super Washing Soda, Baking Soda, Vinegar, Coarse Salt, & essential oil). I substituted coarse sea salt for the Kosher salt because I had that in my kitchen, I'm not sure if that affected the final product, but my guess is it does the same thing. I also doubled the essential oil drops because I LOVE lemon essential oil, it just smells clean to me.
My test subject is something that I sometimes don't even get clean with conventional dishwasher detergent – a hot chocolate mug. Maybe it's because my dishwasher is on the edge of needing replacing, maybe it's because my kids love to drink the hot chocolate down to within an inch or so of the bottom, then leave the chocolately sludge on the counter for hours, leaving a nice brown ring (seriously the sink IS RIGHT THERE people). I gave the mug my customary rinse and put it in the corner of the top rack.
I tried it first to compare what my normal dishwasher detergent did. Then the next night I tried again with the homemade dishwasher detergent tablet.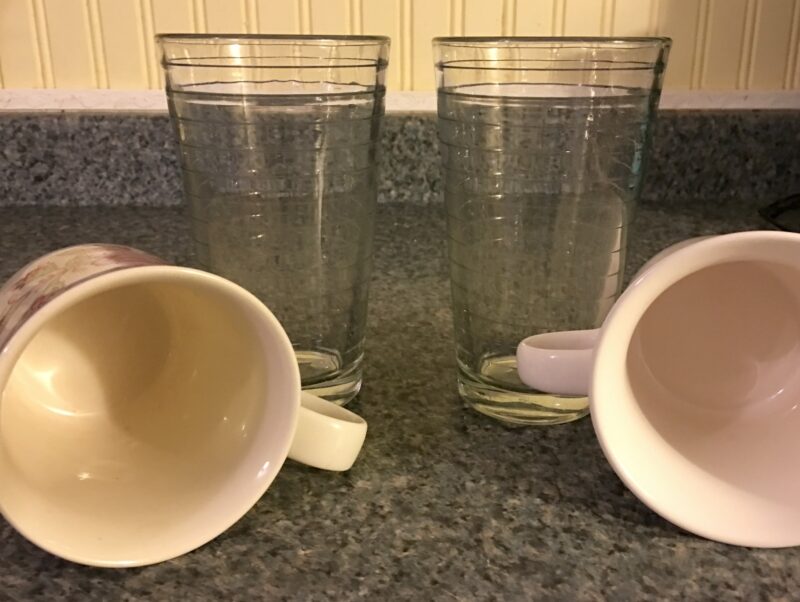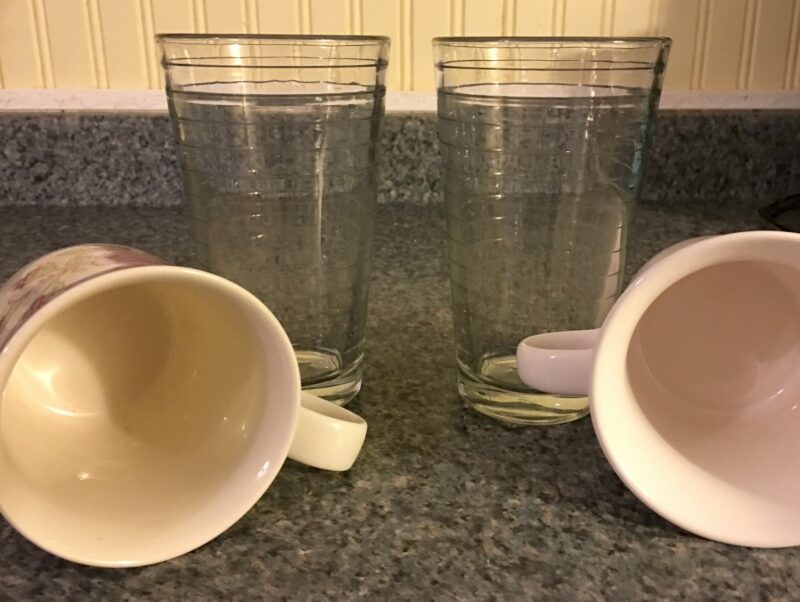 The results? Squeaky clean – along with the rest of the load! Both detergents got the hot chocolate out of the mug, both left my glasses clean & spot free, and both got dinner gunk off the plates. This recipe works out to about 0.04 cents per load, compared to about 0.20 cents per load for the Cascade I normally buy. That is a savings of about $58 per year!
Various varieties of Cascade have been given grades of F or D by EWG's Guide to Healthy Cleaning, mostly for environmental concerns, with the potential for causing acute aquatic toxicity, but some versions like Cascade Dishwasher Detergent with Dawn have ingredients that also have been deemed to cause reproductive & developmental harm.
In comparison, the ingredients in these homemade dishwasher tablets all have a grade of A! So saving almost $60 a year AND saving your health & the environment – sounds like a win to me! I found that filling up the ice cube tray about 3/4 of the way full is the perfect amount. I store the cubes in an old Rubbermaid container with a lid. To use them, I found that just tossing one in the bottom of the dishwasher is easier than trying to smoosh it into my detergent tray.
DIY Pine Cleaner
My mom always used Lestoil to clean the kitchen, and so have I – floors, cabinets, greasy stove hoods – it worked for it all, and it has a clean pine smell. Lestoil has been given a grade of D for cancer concerns and for concerns of developmental toxicity, respiratory issues, and skin irritation. Not exactly something you want all over your kitchen!
Luckily, I found this great DIY Pine Floor Cleaner by Summers Acres. The main ingredient, liquid castile soap, not only has a grade of A but is an awesome grease fighter and disinfectant. But what about that great, clean, pine scent? They even thought of that with a wonderful blend of essential oils!
I think their blend would smell amazing, but I was trying to work with what I had on hand, so I used 5 drops of cedarwood, 10 drops of pine, and 10 drops of lemon. You can buy liquid castile soap already scented, but if you keep the unscented kind on hand, you can add your own scents based on your mood that day.
So how did it work? It was great! I first used it to clean my counters, cabinet, and appliance fronts. It de-greased and de-fingerprinted as well as any commercial product I've used. We had bacon with dinner the night before and there were grease splatters all over the microwave door over my stovetop. It came right off. As a soapmaker, I was curious if it would also work with castile bar soap. And it does! I shredded some bar castile soap and dissolved that in the warm water. Both the liquid and shredded bar soap worked great!
Then I used the mixture on my ceramic tile kitchen floor and wood laminate dining room floor. Everything is shiny & clean and smelled aaaaamazing! The best part is the smell is true & clean, with the essential oils providing aromatherapy, compared to the "chemical" clean smell which only damages your body. I rinsed the countertops with clean water afterward, but no rinsing is needed for the cabinets & floors. I didn't have time to clean out the fridge, but I wouldn't hesitate to use this recipe in there as well. This is another winning recipe!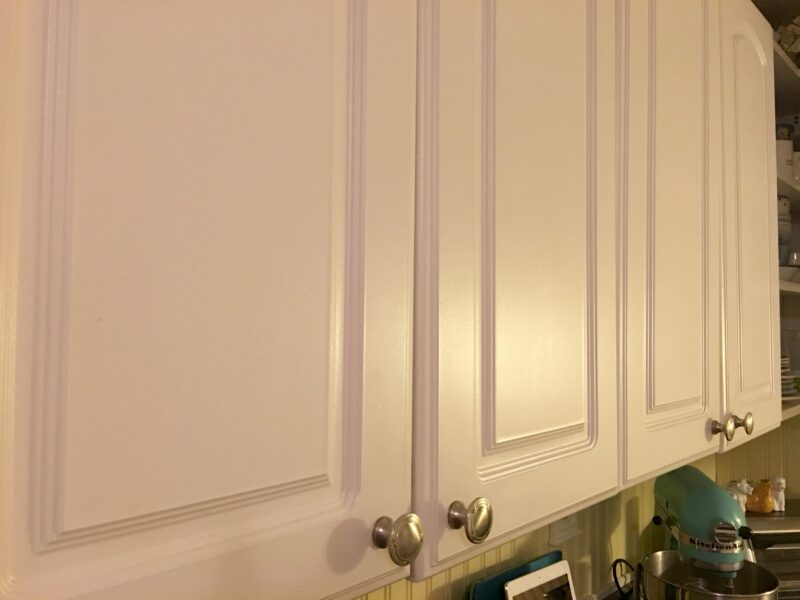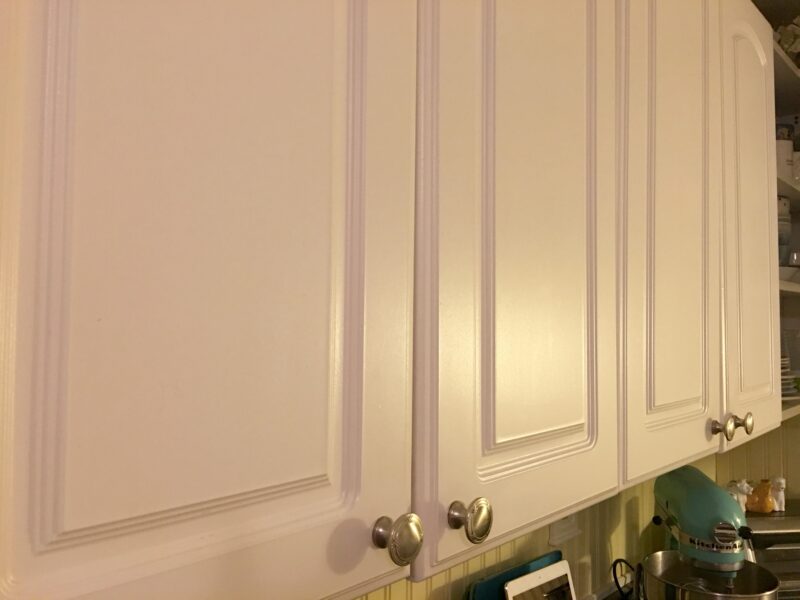 DIY Natural Wood Polish
I don't have real wood cabinets or floors in the kitchen, but I bet this would work great on those if you had them. I decided to try this one out on my dining table & chairs. I usually use Pledge, which has been given a grade of C with a higher concern of cancer-causing ingredients. I tried this great recipe for Homemade Natural Wood Polish by Simple Life Mom.
One of the things I loved about this recipe is all the options she gives you. The recipe is just vinegar, oil, & essential oil for scent. I chose jojoba oil, which I have on hand because I make soap with it, but it's an oil most people wouldn't have at the ready. No problem! How about sweet almond oil? No? How about olive oil? She also gives some great blending ideas for essential oils. Other than the health, environmental, and budget issues, one of the reasons I like making my own cleaning products is I can control everything that goes into it. But the real question is how does it work? Check it out: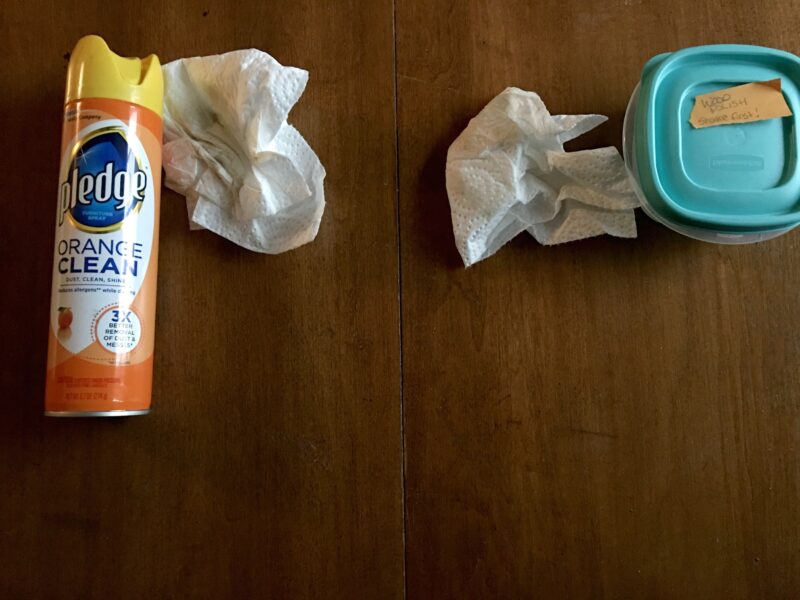 It's hard to capture in the photo but honestly, I think the side with the homemade cleaner looks BETTER. It doesn't feel greasy like I feared it might, the wood just looks nourished.
Cleaning the Microwave
This is something I have actually been doing for a long time, it works and it's SO easy! Pour some vinegar into a small bowl (about 1/2 cup), and add a few drops of lemon juice. Microwave for about 5 minutes. The steam loosens all the gunk in there. CAREFULLY remove the bowl, it will be hot. Then just wipe off all the gunk. Super easy!
Cleaning the Oven & Glass Stovetop
I am lucky enough to have an oven that is self-cleaning. If you have the means to do this, I 100% recommend this route. It takes a few hours, but the oven will heat up to temperatures nearing 900 degrees Fahrenheit, melting the food particles and dissolving them into ash. Then you just wipe the ash out – no chemicals needed.
For the glass top, that is another story. I thought the glass top would be so easy to keep clean – wrong! Every drip of sauce, overflow of gravy, even water that gets burnt on – they all leave marks. Because it is glass, you have to be careful not to scratch it with abrasive cleaners. I had been using a specially made glass stovetop cleaner, but I came across this recipe for How to Clean a Glass Stovetop on DIY Network so I thought it was worth a try. This method uses the cleaning superheroes vinegar & baking soda – and a small amount of elbow grease. It has my stovetop looking new again! I would say the scrubbing was the same as when I used commercial cleaners, and I love the shine the vinegar rinse gave it at the end.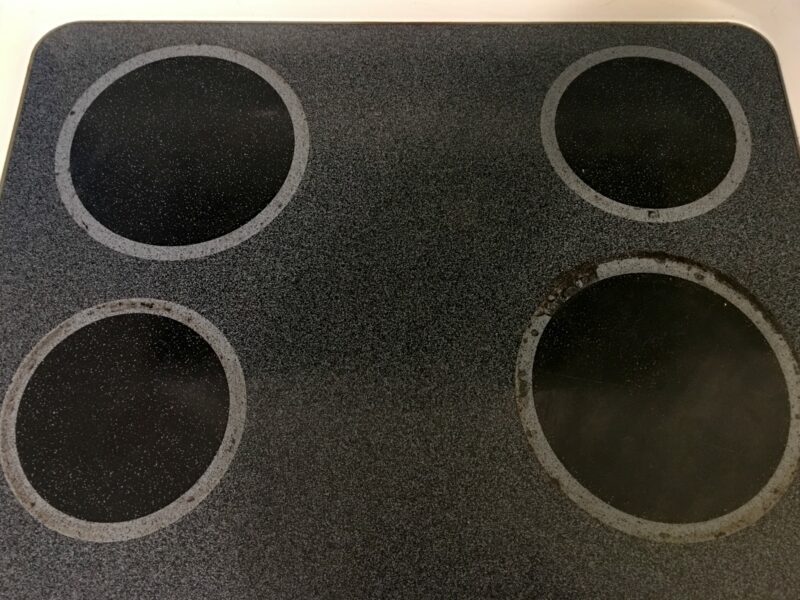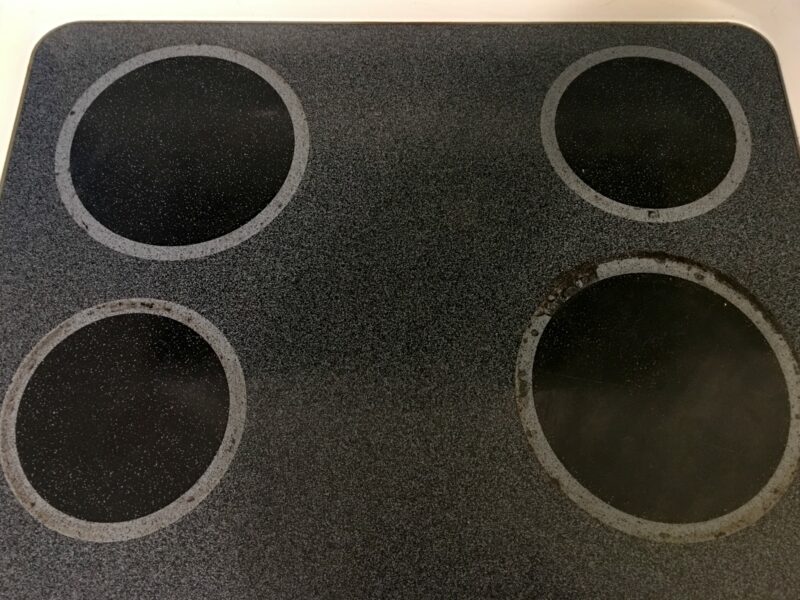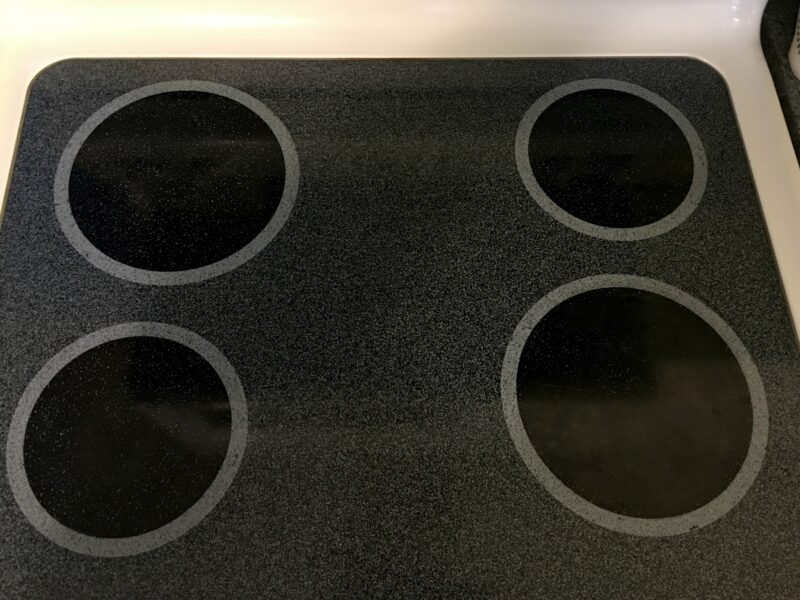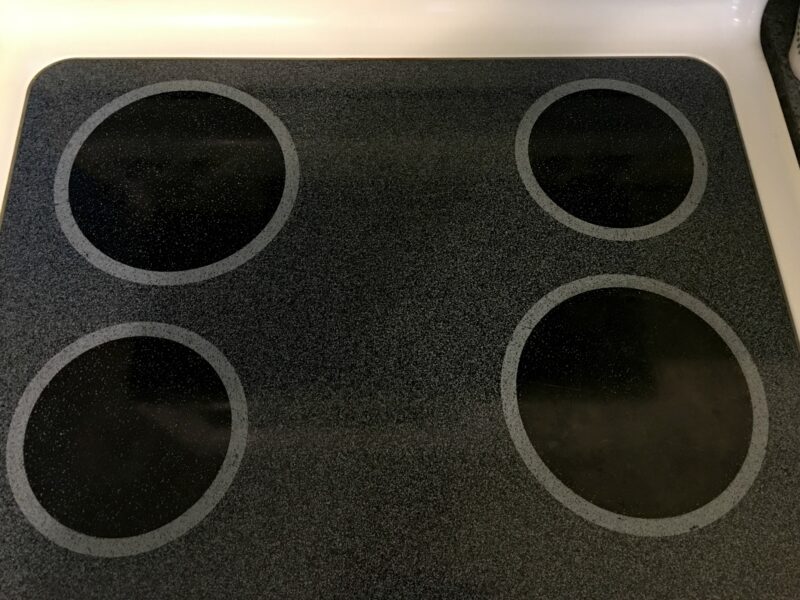 In Summary
……..get blog post done…….clean kitchen……..try out homemade cleaning recipes………NICE! Checking all kinds of things off my list today! I think I have some winners here that will not only save me money and reduce the chemicals in my house but work really well! If you'd like to tackle your bathroom next, check out my post on homemade bathroom cleaners!