*This post may contain affiliate links, which means as an Amazon Associate I may receive a small percentage from qualifying purchases if you make a purchase using the links, at no additional cost*
---------------------------------------------------------
I love using the deep litter method for coop maintenance! Not only does it save you time but when properly implemented it gives you rich garden compost material, can help keep your flock healthy, and can even help keep them warm in winter.
What is Deep Litter Method?
Essentially, it is when you allow manure & bedding to accumulate and decompose, with proper management, inside your coop. It is like having your compost pile inside your chicken coop.
Isn't it smelly?
Not at all. If you are doing it right, there should be no smell other than an earthy-compost smell. If you can smell ammonia you are not doing it right.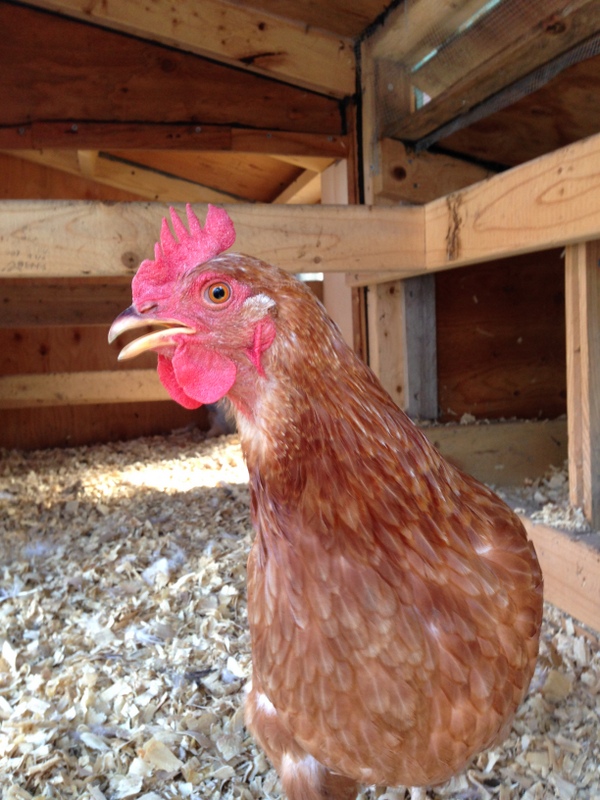 Isn't it unhealthy to leave all that poop in there?
No! Actually the opposite is true. There are beneficial microbes that are eating and breaking down the manure. They will also eat and destroy some bad bacteria that can make your flock sick. It can help prevent (prevent, NOT treat) infestation of lice and mites. There is also evidence deep litter can help protect your flock from coccidiosis. Coccidiosis is a potentially deadly intestinal parasite, the good microbes in the deep litter will destroy the coccidia bacteria. Common treatment for coccidia includes spraying the coop with a 10% ammonia spray. The higher ammonia levels present in a deep litter coop would be unfavorable for growth in the first place. It is also thought that exposing brooding chicks to deep litter will help provide them some immunity from coccidiosis.
How can it help keep the flock warm?
Chicken manure is high in nitrogen, pine shaving are high in carbon. As the two mix and decompose they release heat. Your will find your deep litter coop will be about 10 degrees warmer than the outside air. That makes this method popular in northern climates especially n the winter.
Sold yet? Here's how to properly maintain Deep Litter
Deep Litter is an easy way to maintain your chicken coop, but there are some important steps you have to take to make sure the balance of bacteria doesn't go from good to bad. If you were to just toss a thick layer of shavings in the coop and let the manure accumulate, eventually the manure would outnumber the shavings. The composition will be off, everything will be damp & humid, high ammonia levels could threaten the health or lives of your flock and bad bacteria will infect your chickens.
To start, spread a layer about 3-4 inches deep of pine shavings. You want to use pine shavings to get started because they will decompose quickly and won't harbor mold or fungus that could be present in hay or straw. After this initial layer you can switch to hay or straw for the top layers if you want, but I personally think pine shavings work the best because they decompose the most thoroughly.
Twice a week, take a hoe and thoroughly stir all the shaving up. You can also employ your chickens to help with the stirring process. If you toss some scratch or food scraps in the coop it will encourage them to scratch and dig. I wouldn't rely entirely on the chickens to stir everything. It is an important step, stirring introduces oxygen to the composting bedding which will aid decomposition and prevent the build up of ammonia fumes. Ammonia fumes can cause eye & lung irritation in your flock, and in extreme cases can lead to death. Also, chicken manure is about 85% water. Too many droppings sitting on top of the bedding without being stirred in is going to raise the humidity of your coop, which can lead to frostbite in the winter. It's too important a step to leave to the chickens and it only takes a few minutes to stir up the coop.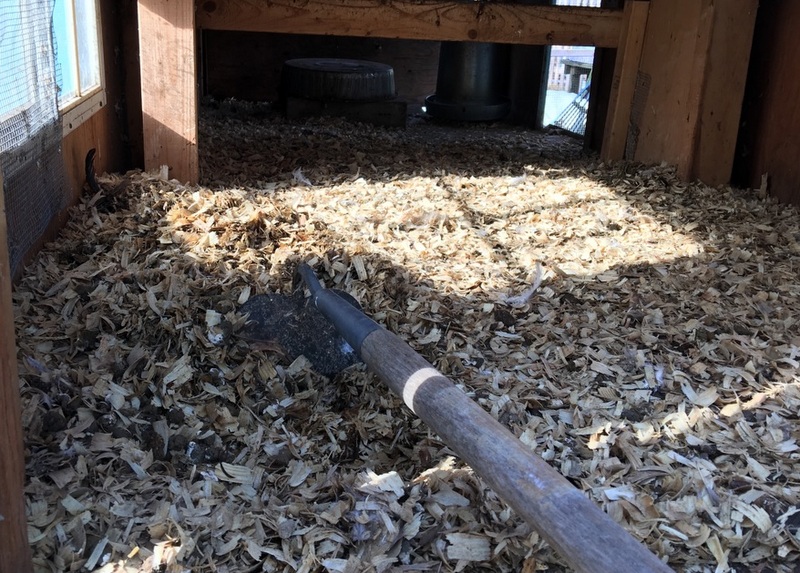 Once a week, add more bedding to keep the manure/bedding levels balanced. It doesn't have to be a thick layer, I just toss in enough for a thin cover and then stir it up. I also sprinkle in some Coop & Compost or Sweet Pdz Stall Refresher at this time. Made with naturally occurring zeolites, it helps hasten composting and neutralizes excessive ammonia build ups.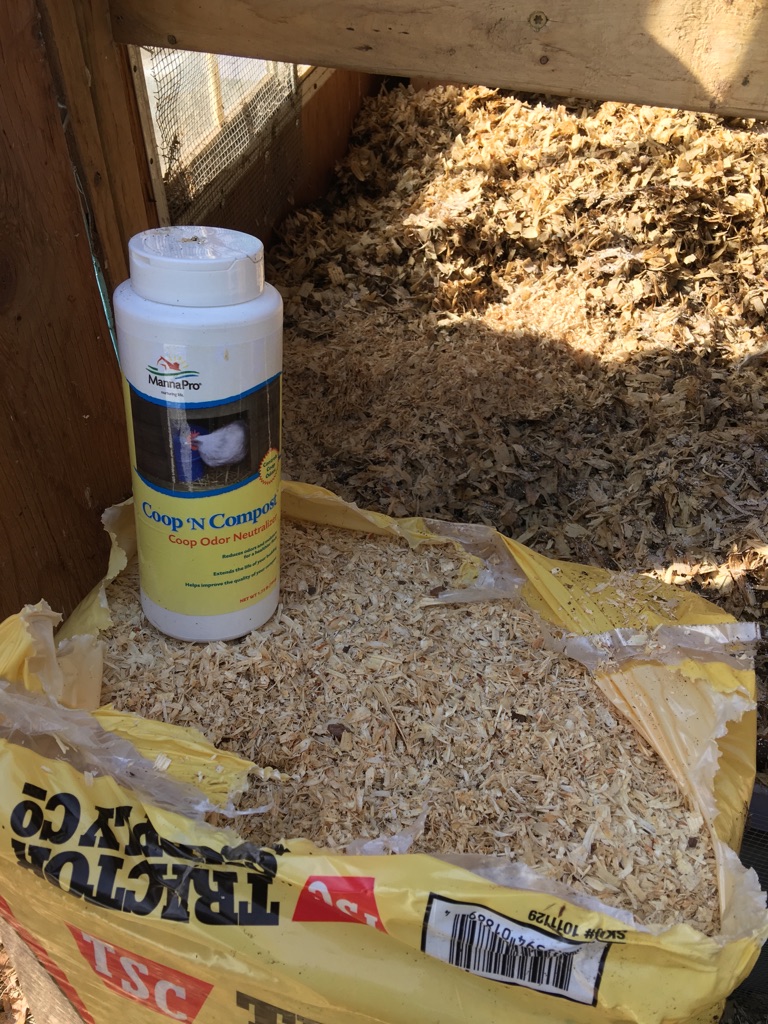 If you end up with more than 8-12 inches of bedding on the floor, scoop some off the top and toss it in your compost pile.
Twice a year (spring & fall) I completely empty my coop (Click here for my tips on deep cleaning the coop) toss the bedding in the compost pile, clean the coop and start over. Many people using Deep Litter only clean out once a year in the spring. Some will never completely empty it, leaving that bottom "hot" layer of compost on the floor at all times as a "starter culture" to jump start the new layers. Do what works for you.
Helpful tips to keep in mind
I add the Coop & Compost once a week, but that is totally optional. The one thing you don't want to add is DE (diatomaceous earth) or any other insecticide. These products are made to kill insects & bacteria, but they will kill off the good bacteria & other microbes that you want in there to aid composting.
Good ventilation is SUPER IMPORTANT. Make sure your coop is well ventilated, all that composting manure is going to produce ammonia fumes & humidity, both of which are not good for your flock. If there is condensation forming on the windows of your coop, you have a ventilation problem. A great way to test your ventilation levels is to monitor the humidity levels in your coop. You want to keep it between 40% – 70%.
Pay attention to the litter conditions on the floor. You want it to be dry & look absorbent. If it looks muddy, pasty, or caked on, the balance if off. Add some more shavings and stir the litter up.
Remember that chicken manure is "hot" compost, which means it needs to age at least 6 months before adding it to your garden. When you empty your coop, some of that manure will be 6 months old, but some of it will be brand new, so it still needs to go into the compost bin before being added to your garden.