*This post may contain affiliate links, which means as an Amazon Associate I may receive a small percentage from qualifying purchases if you make a purchase using the links, at no additional cost*
---------------------------------------------------------
If you have visited my Soap Shop page, you know I'm a little crazy about soap making. I love trying new recipes and ingredients so when my Homestead Blog Hop friend, Kelly Cable, from Simple Life Mom, announced she was getting ready to release her new book "The Natural Soap Making Book for Beginners: Do-It-Yourself Soaps Using All-Natural Herbs, Spices, and Essential Oils" I was really excited to check it out!
I have always loved Kelly's blog, she shares tons of wisdom & recipes for making all kinds of natural beauty care products so I knew her soap-making book would be fabulous. In addition to tons of helpful tips for new soap makers, her new book features over 55 awesome recipes with everything from natural shampoo bars to gentle castile soap (all olive oil soap), to creamy goat's milk soap. If you are looking to cut chemicals from your family's life, Kelly's book can show you how to use essential oils for lovely scents and natural, plant-based colorants to make swirls and patterns.
To celebrate her book release, Kelly has allowed me to share one of the great recipes in the book with you! I have been wanting to try a soap using fragrant cocoa butter so I was excited to choose her recipe for Cocoa Mint soap.
I was so pleased with the rich, natural chocolate scent the cocoa butter gives the soap – it smelled AMAZING while I was making it! The peppermint essential oil blends in perfectly, leaving the soap smelling like delicious chocolate mint fudge. I love that this soap features no unnatural colors or fragrance oils AND it's super easy for beginners with just a few ingredients. I have never used cocoa powder as a colorant for soap, but the gorgeous, deep, chocolate brown is so lovely, I will definitely be using it again.
If you have never made soap before, check out my Soap Making Basics post before trying this recipe. Always use caution when working with lye, make sure kids & pets are clear of the area, and use proper safety equipment. And be sure to check out Kelly's new book "The Natural Soap Making Book for Beginners" for dozens more soap recipes!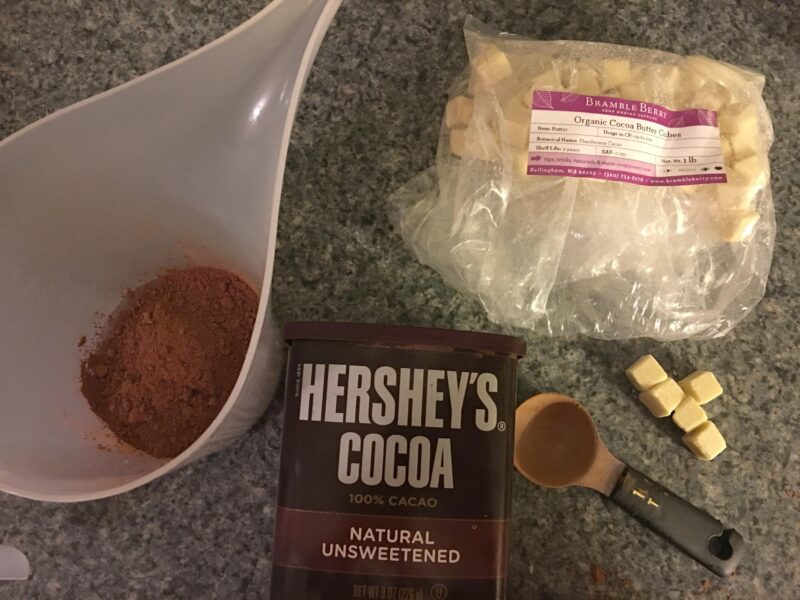 Cocoa Mint Cold Process Soap
from "The Natural Soap Making Book for Beginners"
Equipment needed:
Large stainless steel pot & bowl
small bowls for measuring ingredients
small stainless steel or plastic bowl for lye water
large spoon, rubber spatula, whisk
kitchen scale
measuring spoons
stick blender
Ingredients:
13 ounces olive oil
10 ounces cocoa butter
9 ounces babassu oil
4.2 ounces lye
12.2 ounces distilled water
1 ounce peppermint essential oil
2 tablespoons cocoa powder
Step 1 – heat the fats & oils
I like to use a makeshift double boiler, but you can also use a microwave to melt the oils in short 30 second bursts if you are using a plastic bowl. Put the olive oil, cocoa butter, & babassu oil in the large stainless steel bowl. Put it over a pot with gently boiling water. Cocoa butter is a very hard fat, so it will take about 15 minutes over medium heat for it to all melt completely. Once it has totally melted, remove the bowl from the heat and allow it to cool until between 90-100 degrees F.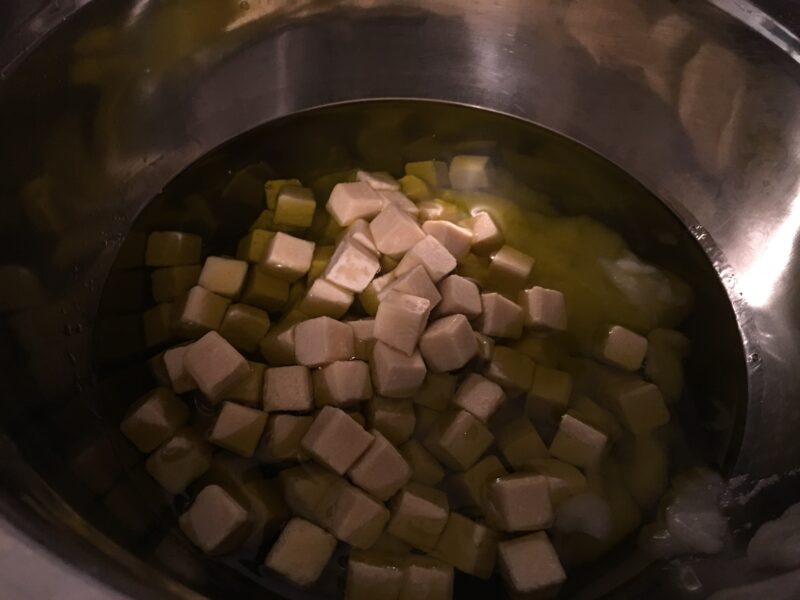 Step 2 – mix the lye water
While the oils are cooking, don your safety gear (chemical-rated mask, gloves, and safety goggles). Measure the water and pour it into a small stainless steel or heavy plastic bowl. Measure the lye. Slowly pour the lye into the water. Stir until dissolved. Set aside and allow to cool until between 90-100 degrees F.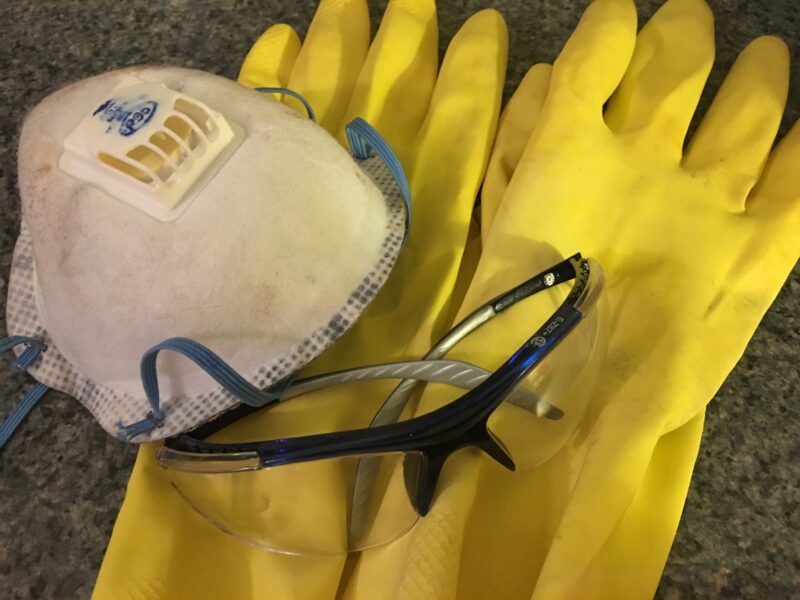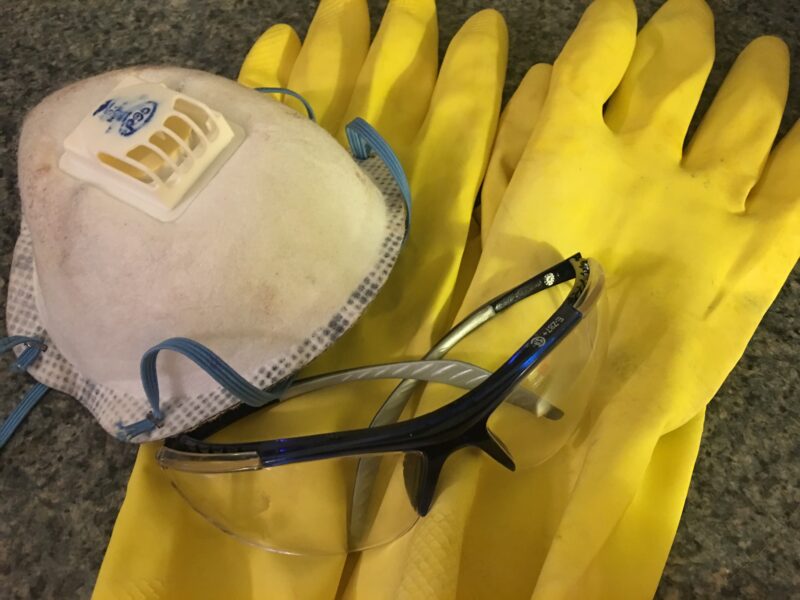 Step 3 – prepare your mold
While the oils & lye are cooling, get your mold ready. If your mold is wood, line it with parchment paper. My mold came with a reusable silicone liner, so I just have to pop that in the wooden mold.
Step 4 – mix the lye & oils
When the oils & lye water have reached the proper temperature, put your safety gear back on. Slowly pour the lye water into the bowl of oils. Use a stick blender to mix for about 2 minutes. Let the mixture sit for 4-5 minutes and check the consistency. You are looking for a light-medium trace (thickness of the mixture). It should look like a runny pudding. Alternate the mixing & sitting until you reach the proper texture.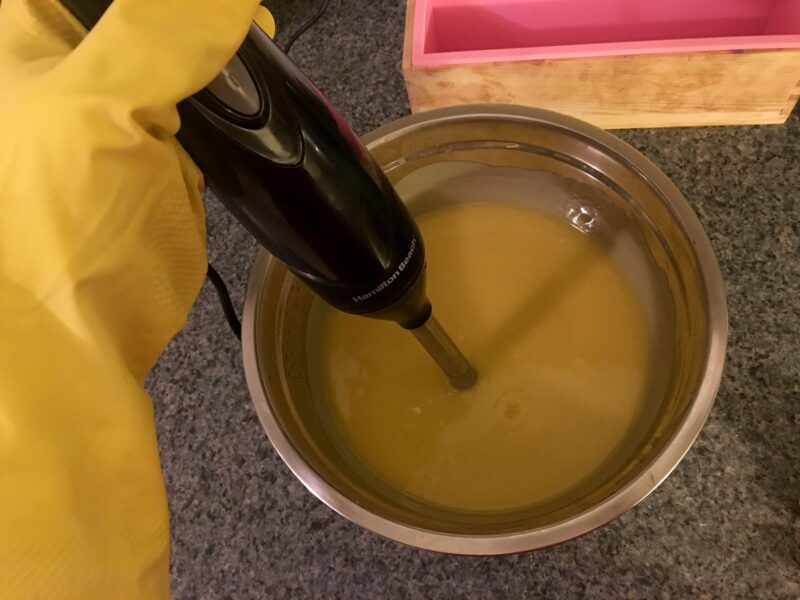 Step 5 – add essential oil
Stir by hand until combined.
Step 6 – add natural colorant
Remove approximately 3/4 cup of the mixture and set aside. Add the cocoa powder to the main batter. Use the whisk to blend, getting rid of any clumps.
Step 7 – mold the soap & swirl
This is the fun part! There are dozens of methods of swirling soap batter, each with different results. The easiest way to do it is to pour the uncolored soap into the mold, then holding the bowl with the cocoa powder high above the mold, pour in the chocolate-colored soap. Pouring it from a height helps it reach the bottom of the mold. Use a chopstick or swirl tool inserted into the bottom of the mold to swirl the colored & uncolored batter together. I used a swirl tool to make this soap. There is no right or wrong way to do it, have fun! You can also make some decorative swirls on the top using a chopstick or toothpick. Don't over-swirl or the batter will just look muddy. Carefully wrap the filled soap mold with a towel and allow it to sit wrapped for about 24 hours.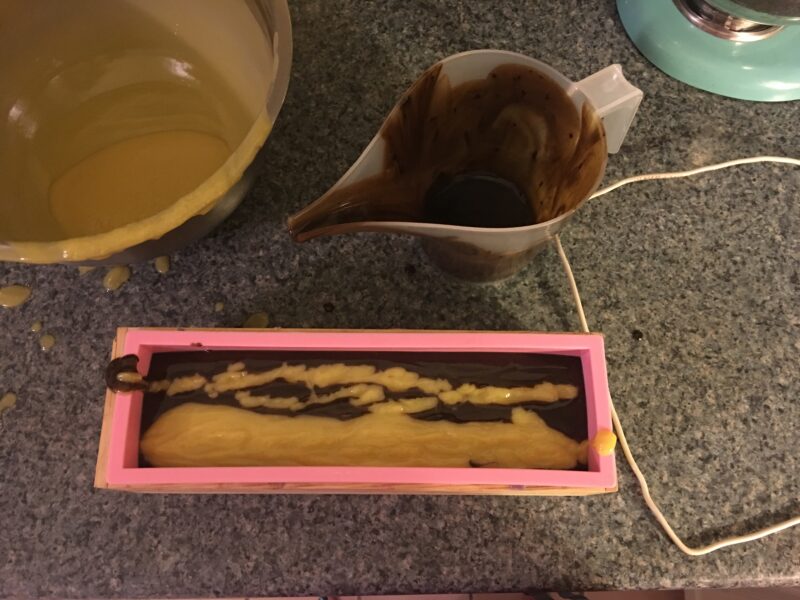 Step 8 – Cut soap
Remove the soap from the mold and cut it into bars. Allow the bars to cure for 4-6 weeks in a well-ventilated and cool, dry area.