*This post may contain affiliate links, which means as an Amazon Associate I may receive a small percentage from qualifying purchases if you make a purchase using the links, at no additional cost*
---------------------------------------------------------
This simple question has dozens of answers. When a mother chicken hatches out her brood, she will usually take her chicks out for their first adventure in the new world by day 2. Clearly, chicks can handle being outside right from the beginning. But that mother hen is a portable source of heat & security and leads her babies to food & water as needed. As a human raising chicks, we need to rely on heat lamps, secure coops & brooders, and feed & water located where the babies can easily find them on their own.
Generally speaking, your chicks should be mostly feathered, and outgrowing their brooder box around 4-6 weeks (and you are probably ready for them to get out of your house!). But the exact time you can move your chicks outside is going to depend on your set up & your local weather more than an arbitrary age.
Temperature
If you started your chick's brooder temperature around 95 degrees and have been decreasing it by 5 degrees per week, by the 5th week you should be around 70 degrees. If you are brooding your chicks in your house, you might be able to take the heat lamp away around now as you are probably close to the ambient air temperature. To take those chicks and suddenly put them outdoors in 30 degree weather would send them into shock and could have dire consequences.
The first couple of weeks chicks are only covered by fluffy down. Until chicks have feathers, they can't properly keep body heat in so having an external heat source is necessary. By 4-6 weeks they should be feathered enough where they can handle chillier temperatures – but these baby feathers have their limits. In southeast Massachusetts I usually have to wait until mid/late May before evening temperatures are warm enough for chicks to live outdoors full time without heat. My general guidelines are over 4 weeks AND nighttime temps in the mid 50s.
If you live in warm climate, or are brooding chicks during the summer, you might be able to move them straight outdoors after a month as long as the nighttime lows cooperate.
What do you do if you don't live in a warm climate but you need to get the chicks out of your kitchen because they need more space (or because of the smell)? You could look to your basement, garage, or 3 season porch, as a good "bridge" between indoor living and outdoor living. You can also start bringing them to their outdoor coop during the day, but still bring them inside to warmer temperatures at night.
If you are thinking of moving your girls outside along with their heat lamp, I would suggest you think again. Heat lamps can cause fires so putting your chicks out in their new coop with a heat lamp where you can't monitor it could be a dangerous idea. Ideally by the time you move your chicks outdoors, they won't need additional heating.
If you have a radiant chick heater (like Brinsea's EcoGlow) they are much safer than traditional heat lamps. Keep in mind most radiant heaters are not designed to work when the air temperature is below 50 degrees, but I have found if temps are in the 40s and your chicks are at least a month old and feathered it can be enough to keep them comfortable. You will know if your chicks are too cold, you will see them all huddled together and chirping loudly at you.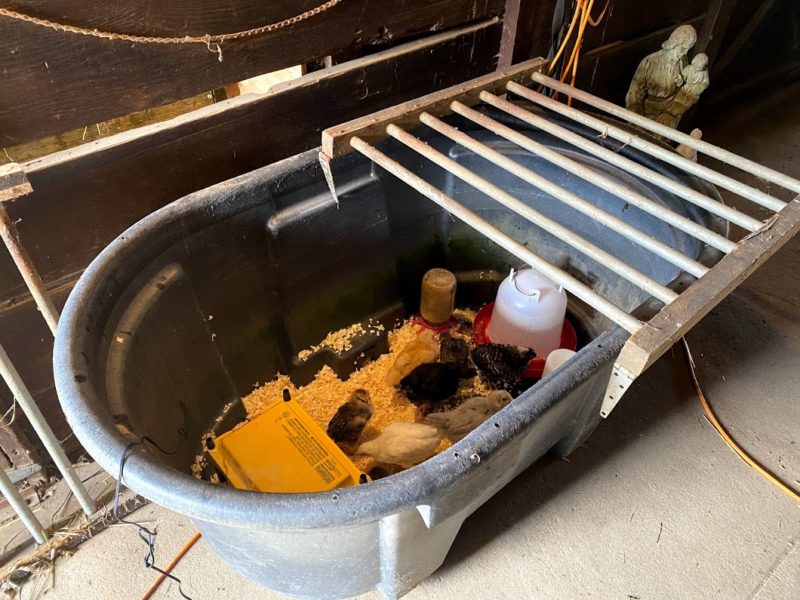 Security
Another big factor in bringing your chicks outside is security. They will love having more room to run and stretch their wings but they are utterly defenseless so you can't just toss them out into the world.
Ensure the place you are putting them is totally secure. If it is an outdoor run it should be totally covered on all sides (including the top). If you are moving them to a coop but not giving them outside access yet, make sure there are no small crevices where they could get stuck or could sneak outside.
I would not suggest giving them a huge area to roam. 2 square feet per bird for 5 week chicks is plenty. The bigger the area, the harder to secure it. You also want to make sure they can easily find their way to food & water.
Other Birds
If you have other chickens the chicks will be joining, special considerations will have to be made. The chicks will still be outgrowing their original brooder and still be ready to move outside around 4-6 weeks, but they will definitely not be ready to meet their grown up chicken friends.
Ideally, you should hold off until 10-12 weeks before you let your young chicks mix with your adult hens. When you mix them together, there will be bullying. They need to establish the pecking order and your older girls will not hesitate to let the babies know their place is at the bottom.
Some hens might just take a swipe with their beak, others will mercilessly chase the new birds down and peck at them. Unfortunately you won't know how your girls will react until you add the new birds. Sometimes even the sweetest hen suddenly is the biggest bully. An adult hen could easily kill a young chick. By 10-12 weeks your chicks will by fully feathered and getting close to their full grown size. They will be better able to handle the older hens.
I like to start the initial introductions much earlier than 10-12 weeks. Usually around 6 weeks of age I will set up an area in my chicken coop for the chicks to live for about a month. During that month, the old flock and the chicks will be separated by a wire partition. This way the older girls can see the babies. They get used to seeing & smelling them in their space. But the babies are safe behind the wire where they can't be hurt.
A month later (when they are 10 weeks), the chicks are released during the day only. Then 2 weeks later (when they are 12 weeks) the wire partition comes down all together and the flocks are fully integrated. Click here to read more about introducing chicks to your flock