*This post may contain affiliate links, which means as an Amazon Associate I may receive a small percentage from qualifying purchases if you make a purchase using the links, at no additional cost*
---------------------------------------------------------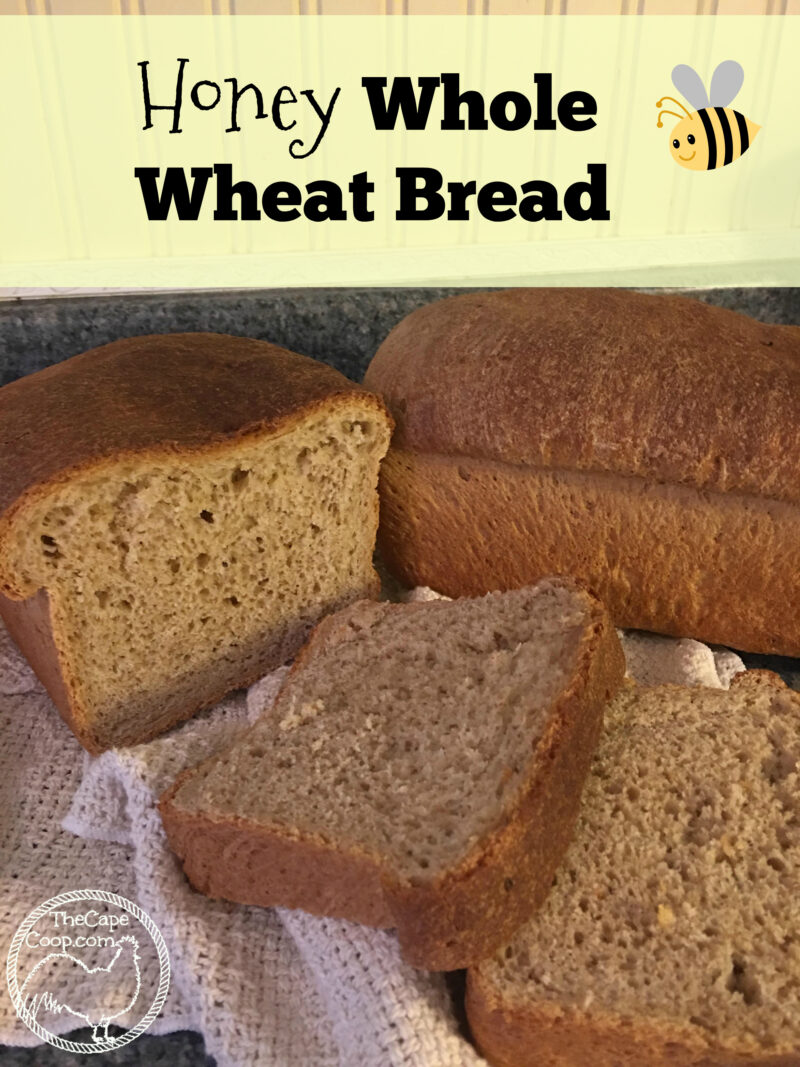 Aren't old cookbooks the best? My mom has an old copy of a Farm Journal Canning & Freezing Cookbook that I have photocopied lots of recipes from to put in my big recipe binder. I particularly like this book because you can almost read it like a novel, there are interesting notes and comments on the recipes that feel a bit like cracking open a time capsule. One of my favorites is a recipe for Honey Whole Wheat bread, not only is this a delicious recipe, but it's a big one. It make THREE LOAVES of bread, 1 to eat now and 2 to freeze for later, saving you time down the road!
Honey Whole Wheat Bread
3 1/2 cups warm water (110-115 degrees)
2 packages active dry yeast
6 tablespoons shortening
1/4 cup honey
1 cup unseasoned mashed potatoes
1 1/2 cup cups milk
4 cups whole wheat flour
1 tablespoon salt
6 1/2 – 8 cups all purpose flour
melted butter
The recipe calls for 1 cup of mashed potatoes, so first I pricked two potatoes and popped them in the microwave for 10 minutes, scooped out the inside and mashed them up with a fork. Alternately, you could use leftover mashed potatoes, or even instant potato flakes mixed with water
Combine 1/2 cup warm water & yeast in a bowl. Stir to dissolve and set aside
Melt shortening in a large pan. Remove from heat, add honey, remaining 3 cups water, milk & mashed potatoes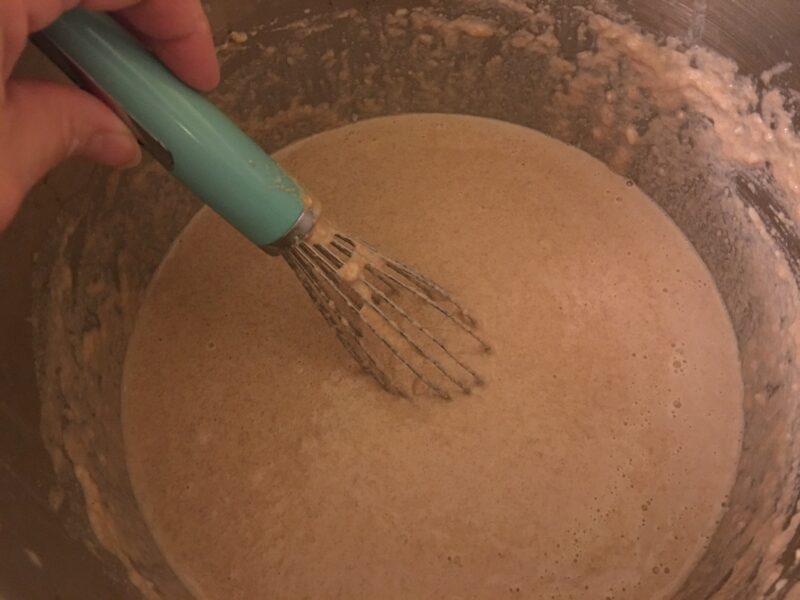 Add whole wheat flour & salt. Stir until smooth with wire whisk
Add yeast mixture and whisk smooth
With a large spoon, mix in enough all purpose flour to make a dough that cleans the pan (I mixed in 6 cups – so I could use the remaining 2 cups while kneading)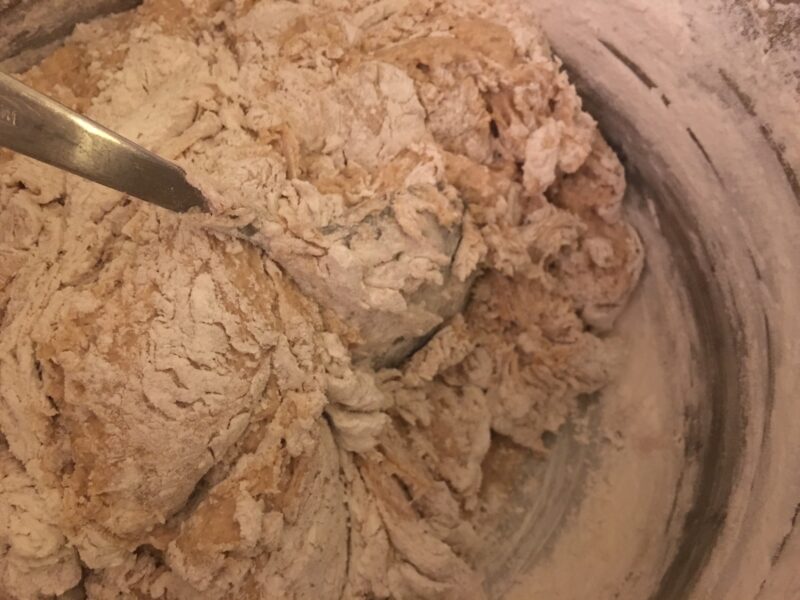 Knead on a lightly floured counter until smooth and satiny (8-10 minutes)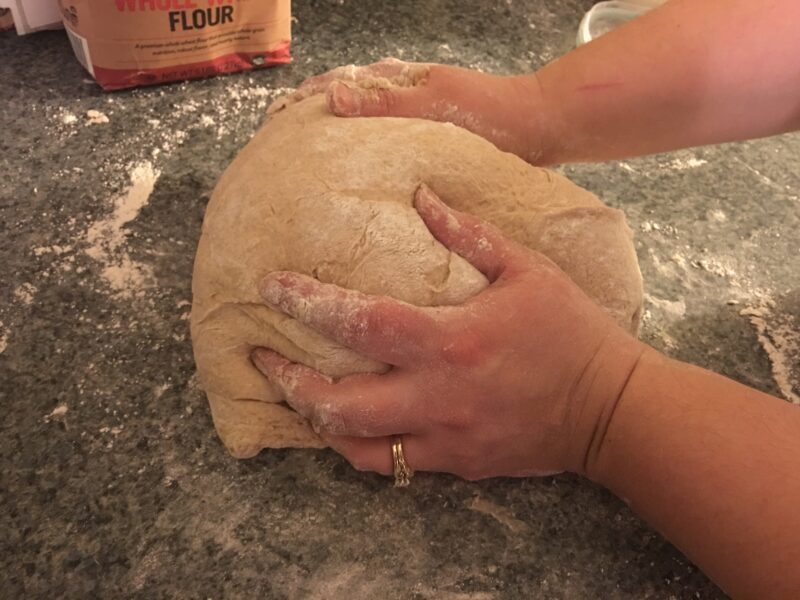 Grease a large bowl. Put dough ball in bowl and then turn dough so the greased part is facing up
Cover & let rise in a warm place until doubled in size (about 1-1.5 hours)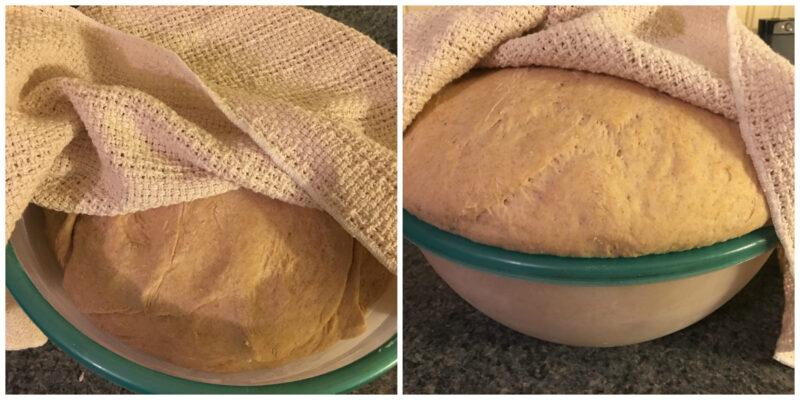 Punch down the dough and divide in thirds. Cover and let rest for 5 minutes.
Shape into 3 loaves and place in greased 9 x 5 x 3 loaf pans. For a smooth top, let the dough drape over your fist, then gently roll into loaf shape. Brush with melted butter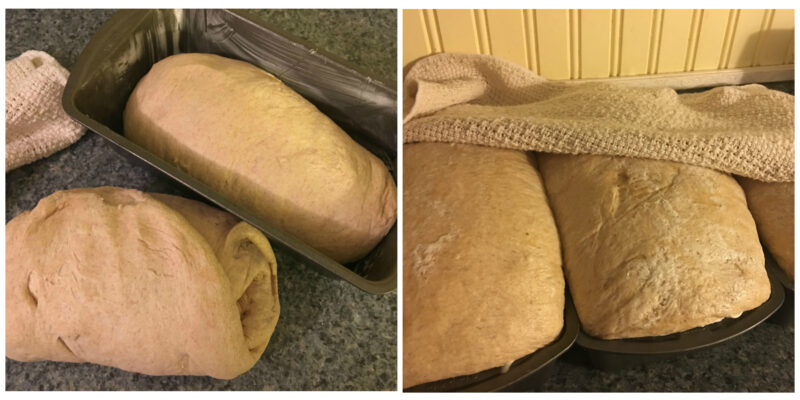 Cover & let rise until doubled (about 1 hour)
Bake in a pre-heated oven at 400 degrees for about 50 minutes.
Remove from pans and cool on racks. Wrap as soon as cool. Loaves can be frozen for up to 9 months. To thaw, let bread sit in it's wrapper at room temperature on a wire rack