*This post may contain affiliate links, which means as an Amazon Associate I may receive a small percentage from qualifying purchases if you make a purchase using the links, at no additional cost*
---------------------------------------------------------
It's that time of year! Summer is in full swing and your garden is bursting with fresh veggies. If you have ever grown zucchini you know that even one plant can yield pounds and pounds of harvest. There is only so much zucchini my family will eat at once. I like to shred & freeze a lot of it so we can enjoy the summer goodness all year. In my family, we more often use zucchini in quick breads, sauces, or soups so storing it pre-shredded is a great time-saving feature for later.
Freezing or canning zucchini can be tricky because it has so much natural moisture it can end up a mushy mess. Freezing it pre-shredded allows you the ability to "wring out" the zucchini to remove some of that moisture. When it is thawed, the texture isn't going to be quite the same as fresh, but when you are just adding it to breads or sauces you won't really notice much difference.

Freezing Zucchini
The best zucchinis to use are the tender, young, small to medium ones. I often use those ones for fresh eating. When I go out to the garden and find a massive 3-pound beauty hiding under the leaves (how do they get so big so quickly???) I have still frozen them with success. If you are using the big zucchinis, slice them length-wise and use a spoon to scoop out the seeds and stringy middle (your chickens will love these).
First, wash & dry the zucchini. Then slice off the ends and scoop out the seeds if needed. You can peel it if you want, but I don't.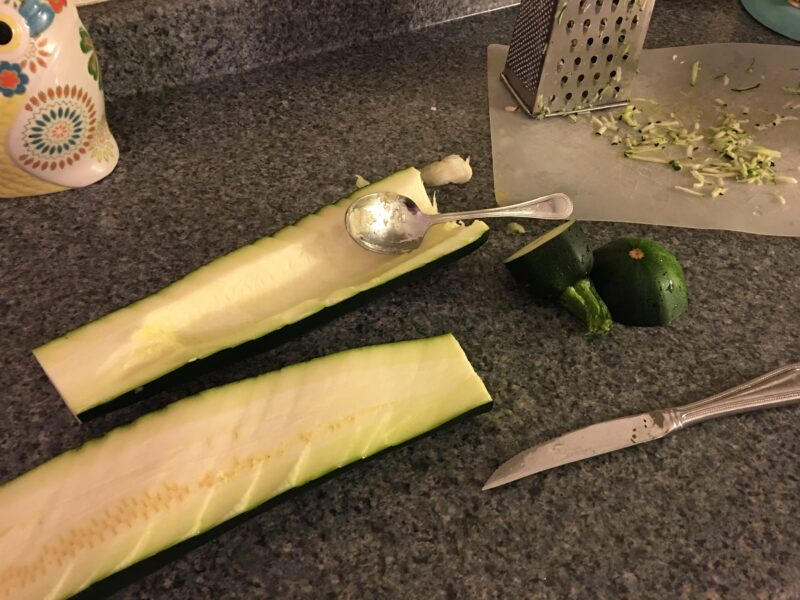 Shred the zucchini using a box shredder or food processor.
Put a good handful of shredded zucchini into a square of cheesecloth or linen. Gather the edges and squeeze the zucchini over the sink. Give it a few good squeezes to get a lot of the moisture out.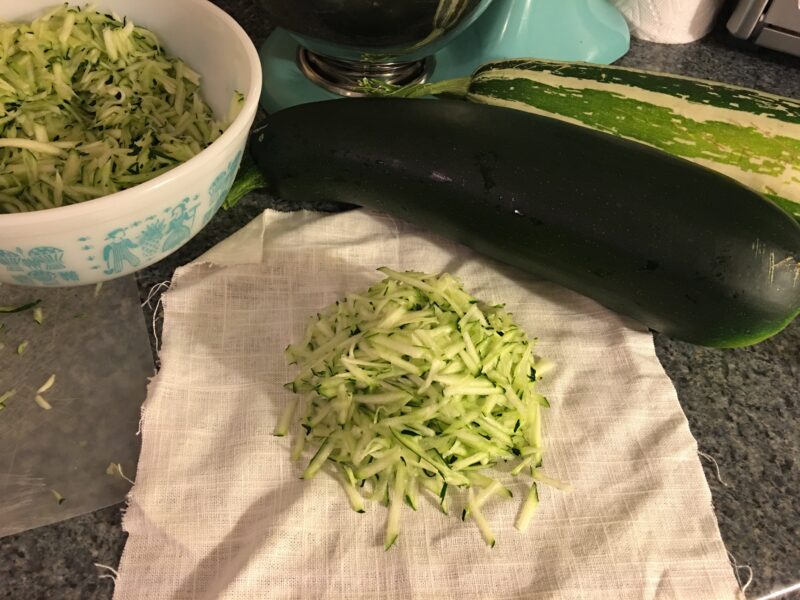 Measure out 1 cup of the shredded, squeezed zucchini and put into a zippered sandwich bag. Squeeze out as much air as possible.
Put all of the bags into a freezer-approved container or plastic freezer bag. Sandwich bags are generally not thick enough to stand up to freezing, so you will want to keep all the bags in a freeze-proof container. Write the contents and date on your container and use within a year.
That's it! Now you have a bunch of pre-shredded, pre-measured bags of zucchini perfect for whipping up some zucchini bread, muffins, and more!