*This post may contain affiliate links, which means as an Amazon Associate I may receive a small percentage from qualifying purchases if you make a purchase using the links, at no additional cost*
---------------------------------------------------------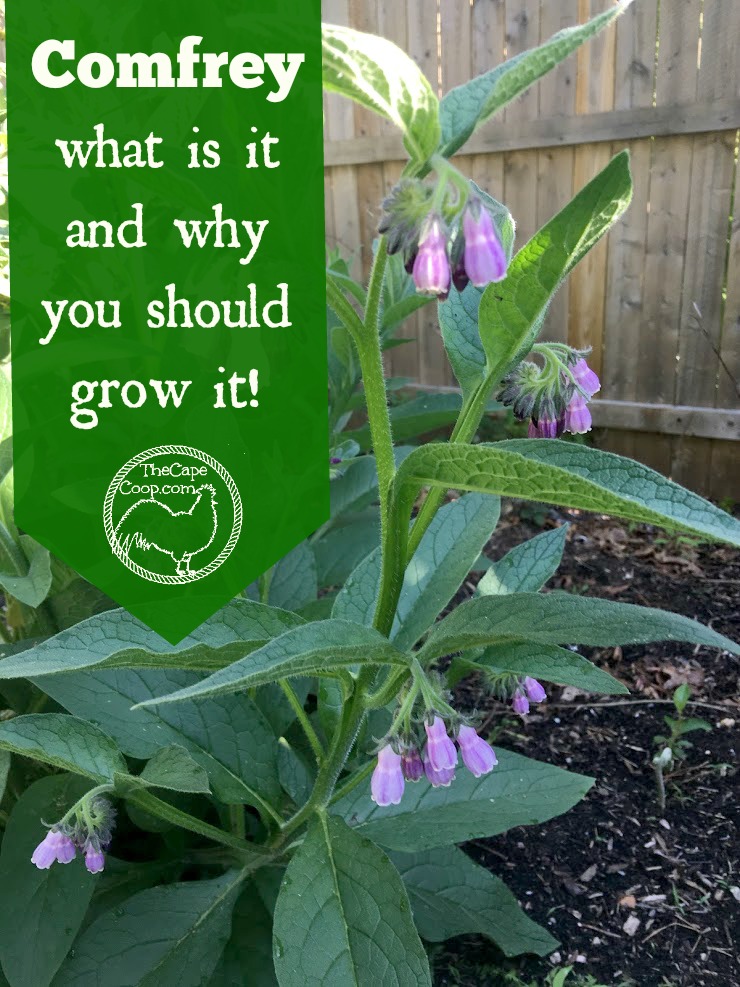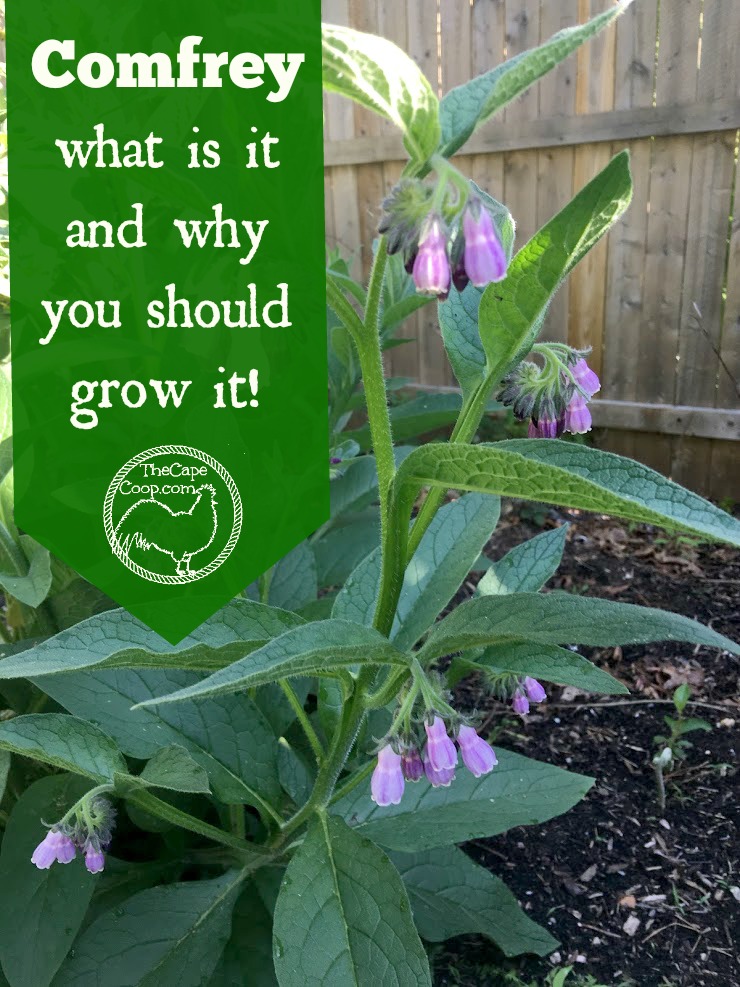 Thousands of years ago, comfrey was an important part of any herb garden. Today, modern gardeners and herbalists alike are rediscovering this easy to grow, easy to care for, multi purpose plant!
Comfrey is a tall, reliable perennial in USDA Hardiness Zones 4-9. When fully mature, under excellent conditions, it can be 3-6 feet tall and 2-4 feet wide so it could be considered a shrub and is a gorgeous way to get some height in your flower garden. Comfrey does best in full sun, but can tolerate partial shade, and because of it's deep tap root it is extremely drought tolerant.
Once established, it will basically take care of itself and can live for several decades before it begins to diminish. Lovely, large, deep green leaves are topped by blue, pink, purple or white bell shaped flowers in mid spring to early summer. One word of warning, once you add comfrey to your garden, it can be hard to get rid of with it's deep & dense root structure (but you won't want to get rid of it!).
Comfrey can sometimes be hard to find at your local nursery. I ordered mine online as 2 year bare root plants. The first year they were fairly small, but that second spring they were massive and have only gotten bigger and better with time!
Comfrey in the garden
As a spring bloomer with bright, attractive flowers, comfrey will attract lots of bees & other pollinators. This provides them with an important food source after the winter and ensures your garden will be on their "must visit" list all summer long!
The large, fast growing leaves drape over the soil, providing home for beneficial insects to live in & lay their eggs in, increasing your garden's biodiversity.
With it's deep tap root, comfrey is great for breaking up heavy clay soil.
Comfrey leaves are very high in nitrogen, making them excellent for natural fertilizer and composting. Composted comfrey has similar NPK levels (nitrogen, phosphorus, potassium) as composted chicken manure so it can be a great option for people who can't have livestock. Comfrey cuttings can be added to your compost bin as a "green" manure to balance out the "brown" materials (click here to read more about composting).
When you are putting your garden to bed in the fall, add some chopped comfrey leaves to the top layer of soil around perennials, fruit plants or trees. The leaves will break down over the winter and give the plants a jump start in the spring. Ground dried leaves in a food processor until you get a powder. Lightly sprinkle the powder around your garden for a spring time pick me up before the growing season begins.
Comfrey has been shown to help fruit trees grow stronger & produce better, so growing a plant at the base of your fruit trees is a great way to use comfrey in the garden. The leaves are very fast growing, so you can cut back your plant 4-5 times during the growing season to harvest.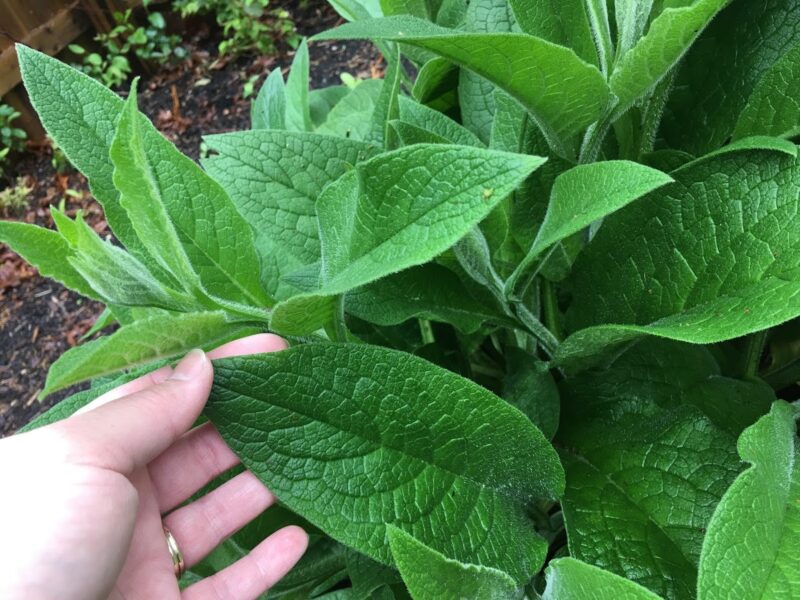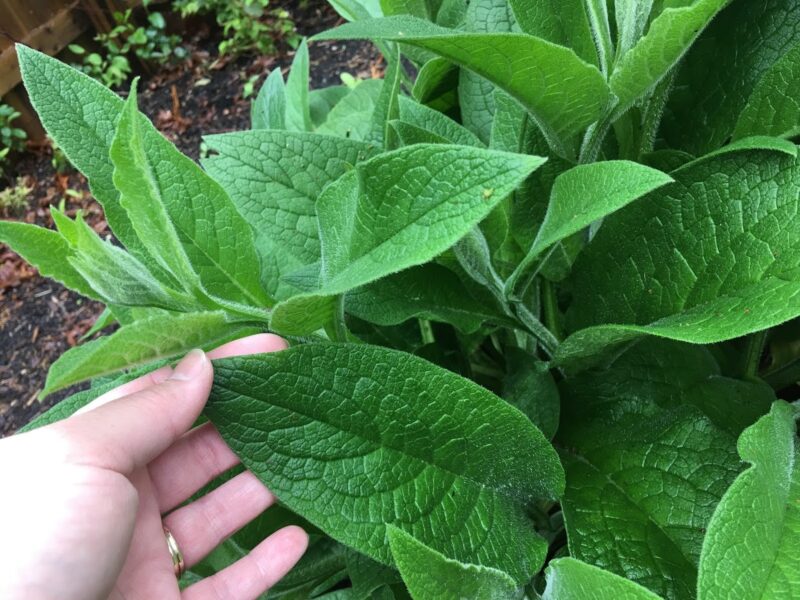 Healing
Comfrey (Symphytum officinale) is a member of the borage (forget-me-not) family. The genus name Symphytum comes from the Greek symphis, meaning growing together of bones. The plant's common name is derived from the Latin 'con firma' meaning knitting of bones. Another traditional name for Comfrey is, Knitbone.
Comfrey has a long standing medicinal history. Ancient Greek physician Dioscorides, a well-known healer, pharmacologist & botanist in his day (around 40-90 AD), extensively wrote on comfrey's properties and prescribed it for healing wounds, broken bones, as well as respiratory and gastrointestinal problems.
The natural healing properties of comfrey are due to it's high levels of allantoin, which promotes cell growth. Allantoin is found in the placenta of pregnant mothers, helping her baby grow from just a few cells to fully formed human being in just 9 months. It is also found in mother's milk to aid in rapid infant growth. The leaves also contain rosmarinic acid to help relieve pain & inflammation. The leaves harvested in early spring before the flowers open, contain the highest alkaloid content, making it the ideal time for a medicinal harvest.
Comfrey has been scientifically shown to be toxic to the liver in high enough amounts when taken orally, so comfrey should only be used topically unless you are under the care of an experienced herbalist. You should not use on large open wounds or if you are pregnant, nursing, have liver disease, or on certain medications.
A simple healing salve
To make a healing comfrey salve, harvest several large, healthy looking leaves. Air dry or use a dehydrator until leaves are crisp. You should always dry herbs first when making infusions so you don't encourage mold growth.
Infuse about 1/2 cup of crushed leaves in 1 1/2 cups olive oil. Strain the leaves and add 4-5 teaspoons beeswax pellets and about 20 drops of rosemary essential oil. Heat in a double boiler until beeswax is melted. Pour into a container and allow to cool & harden. Use the salve on bug bites, scrapes, scratches, bruises, minor burns, back pain, joint pain, sprains, & sore muscles.