*This post may contain affiliate links, which means as an Amazon Associate I may receive a small percentage from qualifying purchases if you make a purchase using the links, at no additional cost*
---------------------------------------------------------
You may have seen my posts lately on homemade kitchen cleaners (here!) and homemade bathroom cleaners (here!) – I am on a mission this year to replace many of the chemicals in my home with more natural, homemade solutions. So when I was given the opportunity to review the book "The Beeswax Workshop: How to Make Your Own Natural Candles, Cosmetics, Cleaners, Soaps, Healing Balms & More" by Chris Dalziel I was super excited!
I love burning candles. I knew they were made with paraffin and release harmful chemicals & soot into the air while they burn, but I just love them. I figured "The Beeswax Workshop" would have lots of great recipes for making natural beeswax candles and that could make the switch to natural candles easier.
I was right there are lots of candle ideas, and I can't wait to try them, BUT I WAS ABSOLUTELY BLOWN AWAY by the amount of things you can make with beeswax!! I usually have beeswax on hand for making lip balms, and I knew you could make candles with it, but beyond that I was pretty clueless. I am placing a nice big order today for more beeswax because I can't wait to try out more of these recipes (and my back and forth with wanting bees is now leaning more towards "I need them")!
click here to check out my selection of beeswax lip balms
click here to check out my selection of beeswax salves
"The Beeswax Workshop" contains over 100 amazing household recipes – including nearly two dozen candle recipes. Recipes for everything from perfumes, hand balms, mustache wax, shampoo bars, furniture polish, sunscreen, sandwich wraps, waterproof hats & shoes, fire starters, waterproof matches, baseball glove conditioner, crayons, modeling clay, and so many, many more uses! Is there anything beeswax can't do?
In addition to the great recipes, I found the first chapter fascinating with information on bees and how they make honey & wax and the different kinds of wax available on the market. The author also gives some helpful tips for cleaning up beeswax (tip: NEVER pour melted beeswax down the drain!)
The first recipe I decided to try is Peppermint Foot Care Lotion Bars. It's February, sandal season is a distant memory and isn't coming around anytime soon and I tend to neglect my feet in the winter. They are in pretty rough shape right now! These creamy lotion bars help speed the healing of dried, cracked heels thanks to the rich beeswax, shea butter, and healing calendula, and they have anti-fungal & anti-inflammatory properties thanks to the rosemary & tea tree oil. They smell SO GOOD and worked really well on my cracked feet & dry winter hands!
Peppermint Foot Care Lotion Bars
from "The Beeswax Workshop" by Chris Dalziel
makes: 1 1/2 cups (about 6 mini lotion bars)
Ingredients:
1/2 cup beeswax
1/2 cup Shea Butter
1/2 cup calendula infused oil
1/4 teaspoon peppermint essential oil
1/4 teaspoon tea tree essential oil
1/4 teaspoon rosemary essential oil
Directions:
First I had to make the calendula-infused oil. I decided to use olive oil but you could use any liquid oil you would like. I put 3/4 cup olive oil and 1/2 cup calendula petals in a glass measuring cup and put the cup in a pan with several inches of water. Heat the water to boil, then lower the heat. Simmer for at least two hours. Let the oils cool to room temperature then strain out the calendula. You will lose some oil during the infusion, so always start out with more than you need. If you have extra, store it in a sealed mason jar for later, if you need a little more, just add some plain olive oil. When infusing oils always use dried botanicals. Fresh flowers will have moisture that will transfer to the oils, which can lead to rancid salve.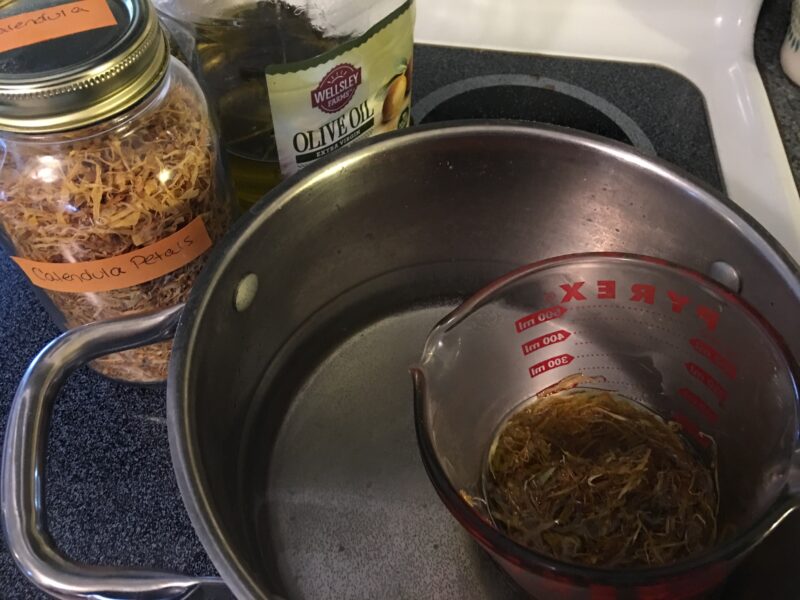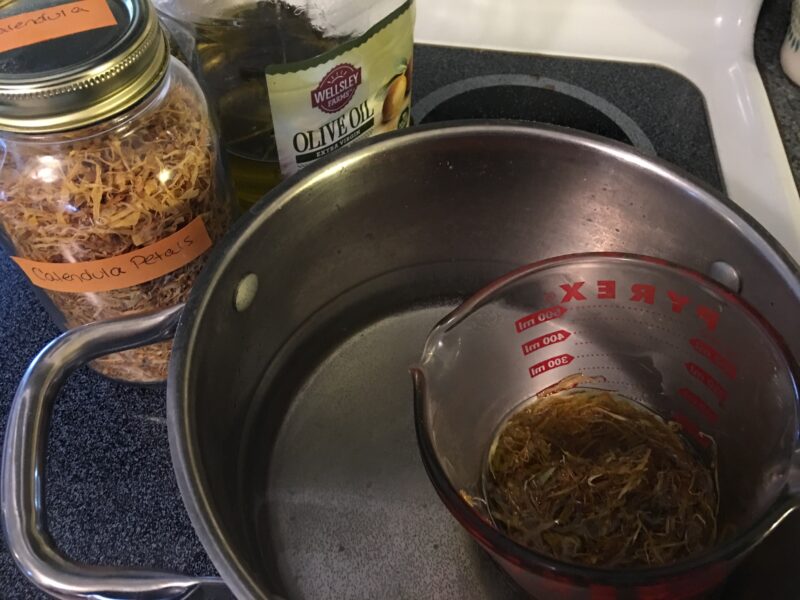 Add the beeswax, shea butter, & infused oil to your heavy glass measuring cup. Put the measuring cup in the pan of water again. Simmer & stir until all the beeswax melts. Keep the mixture in the simmering water for 20 minutes to temper the shea butter (this will make it less grainy in the finished product). Remove from heat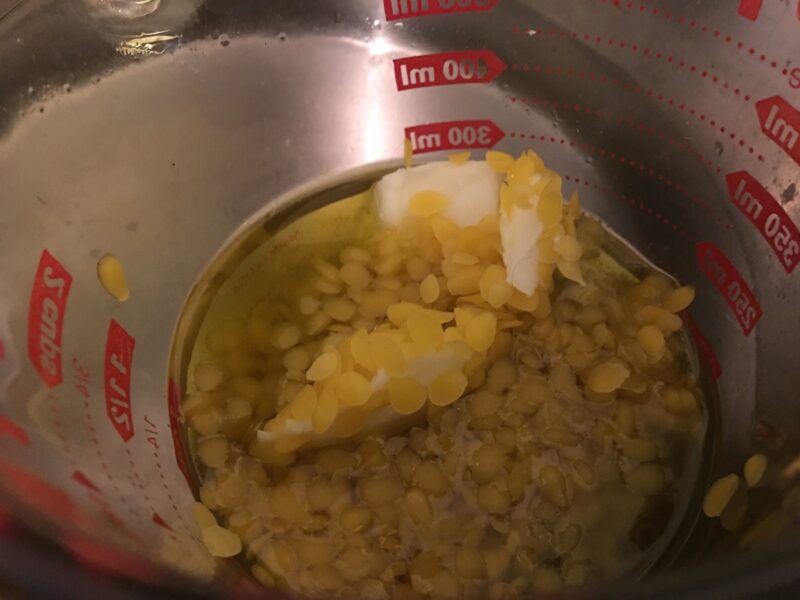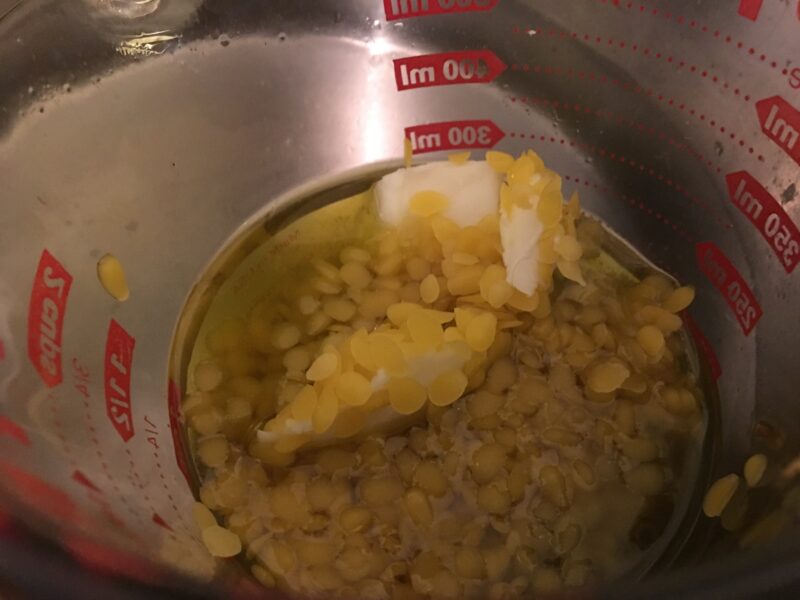 Stir while the mixture cools somewhat. When it is just warm to the touch and it is beginning to thicken, stir in the essential oils. Pour into molds. I used small silicone soap molds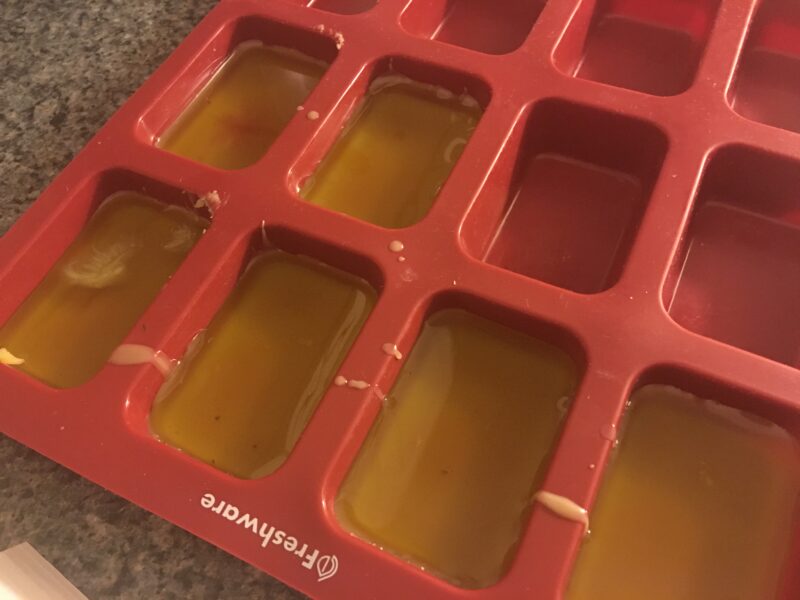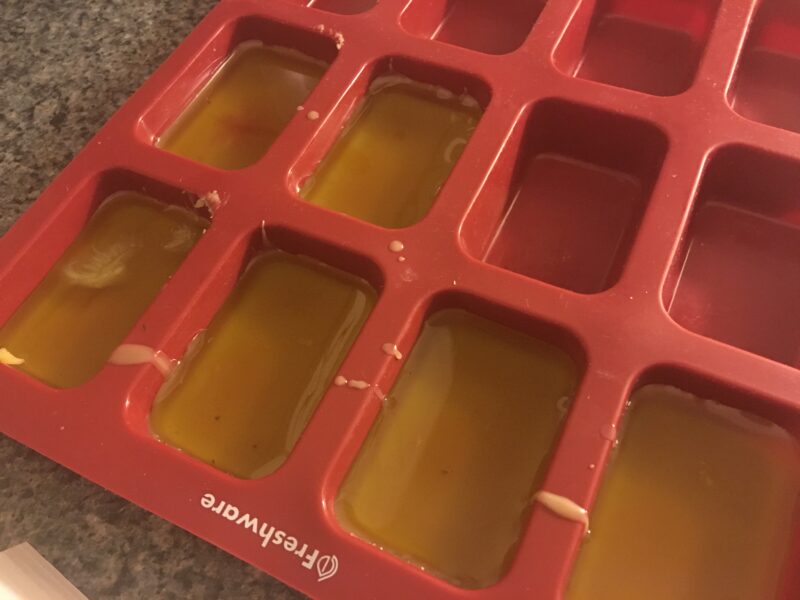 Allow the bars to harden at room temperature. Remove from molds and wrap bars in parchment paper. Store unused bars wrapped, in an air-tight container.
To Use Solid Lotion Bars:
The bars will be firm, but will melt slightly with the heat of your hand. Hold the bar in your hand until it begins to soften. Rub the warmed lotion that melts off the bar onto your feet & hands. Rub especially into your heels & balls of your feet. If you are going to keep this bar in your gym bag or purse keep it in a small tin so it doesn't make a mess of your bag.
I would definitely recommend checking out "The Beeswax Workshop" – I know I can't wait to try out some more of these recipes!