*This post may contain affiliate links, which means as an Amazon Associate I may receive a small percentage from qualifying purchases if you make a purchase using the links, at no additional cost*
---------------------------------------------------------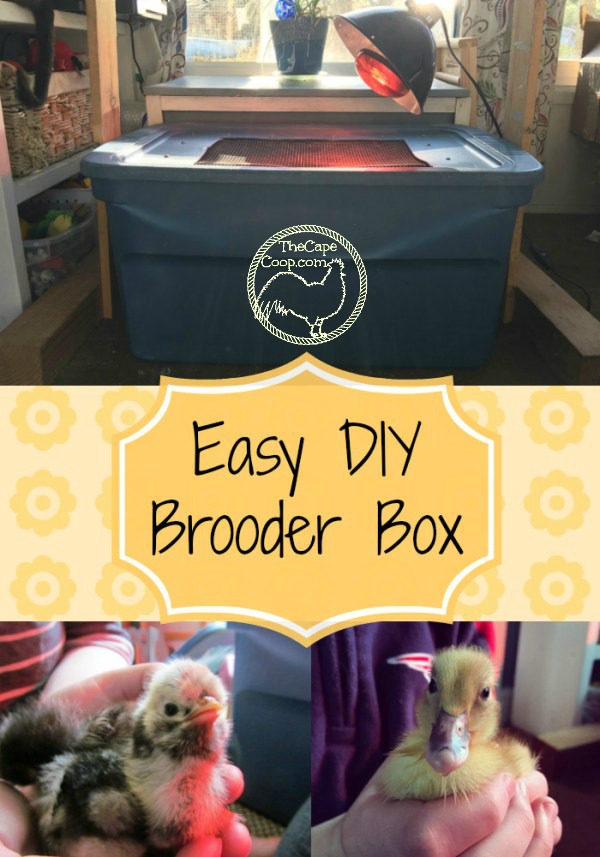 Making a brooder box from a plastic tote is super simple and even someone with limited DIY skills can do it!  *UPDATE* when I made this original brooder box, I just used a large bin that I already had.  When some mice chewed a hole in it while stored in the shed, I replaced it with a clear bin.  Being able to easily see in the box is so much nicer! So if you are buying a box new, definitely go for a clear one!
Supplies you will need:
*large plastic storage bin with lid
*hardware cloth & wire cutters
*nuts & bolts
*power drill
*jigsaw
Instructions
Draw the outline on the lid for the mesh top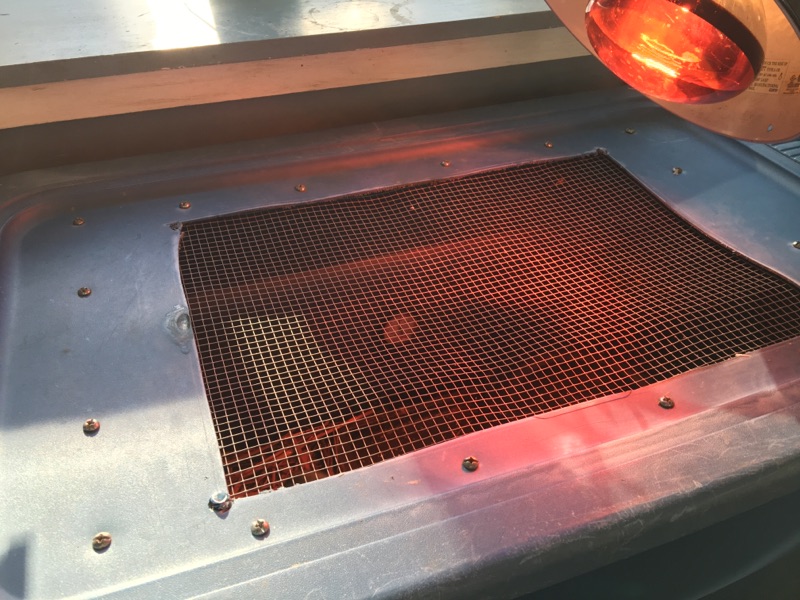 Drill a hole in each corner of the outline
Use the jigsaw to cut out the hole
Cut the hardware cloth to fit (be careful not to cut yourself on raw ends)
Drill small holes for the nuts
Attach the hardware cloth on the inside of the lid, using the nuts & bolts (and possibly washers if the holes are too big)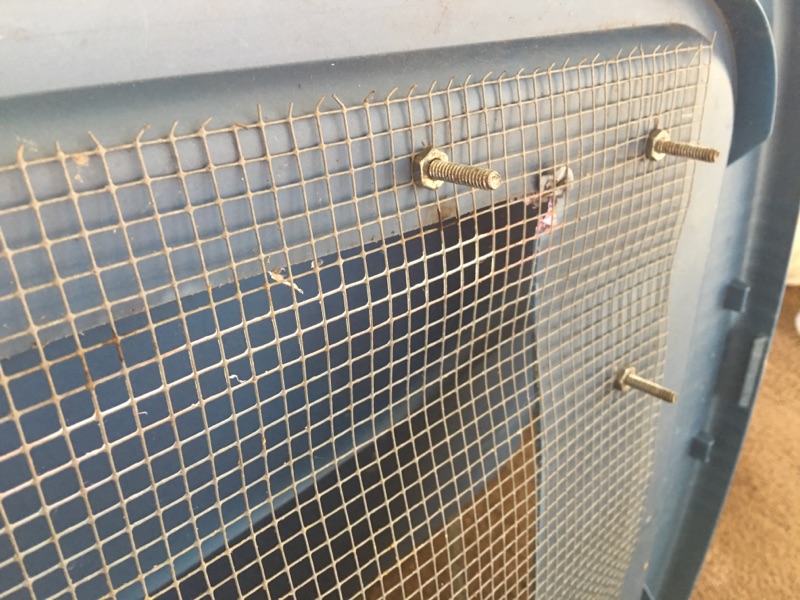 Fill with fluffy chicks or ducklings!
I like to tighten up the bolts every year when I take it out of storage, but they have never failed me despite my big fat cats that love to sit on top of the wire watching the birds and warming themselves by the heat lamp.  The box that I use is 32″ long x 19″ wide x 16″ tall.  This size box is good for brooding 5-6 chicks or 2-3 ducklings for the first 4-6 weeks of life.  I have used my brooder box for many seasons it's worked out great!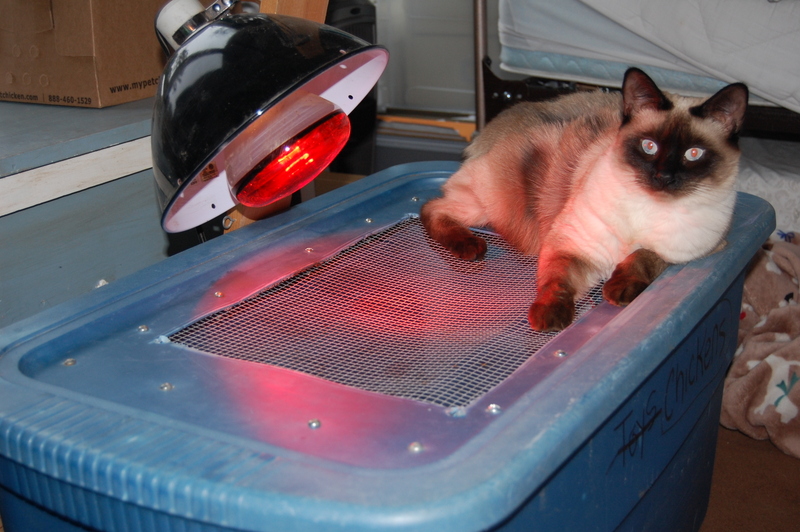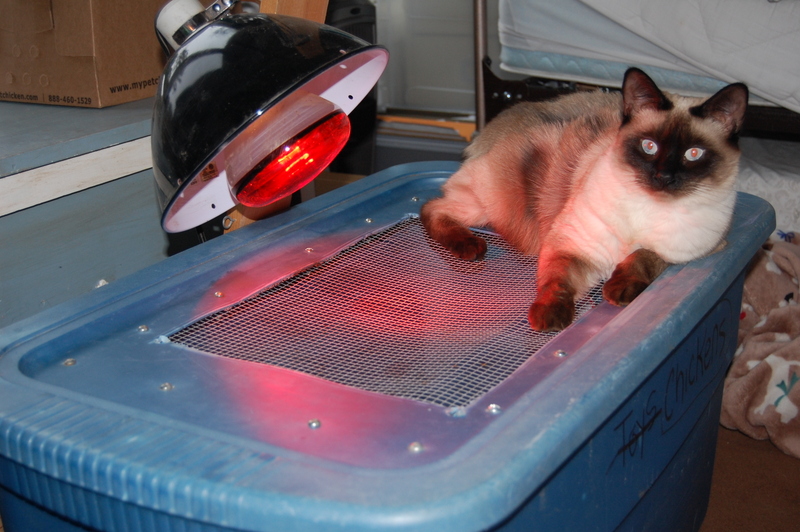 To hold up the heat lamp I made two stands out of scrap wood I had.  It is a 4×4 fence post as the base with a 1×4 screwed on as the upright "arm".  On the top of each 1×4, I screwed in a metal eye hook.  I strung picture frame wire between the two.  I made the wire long enough so that I can let it hang low to make the heat lamp closer when they need more heat, and then tighten it up when less heat is needed.  I have also experimented using just one of the stands and clipping the heat lamp at varying heights.  They both work, but I feel safer using the two stands.  For the heat lamp, use a bulb with a red filter.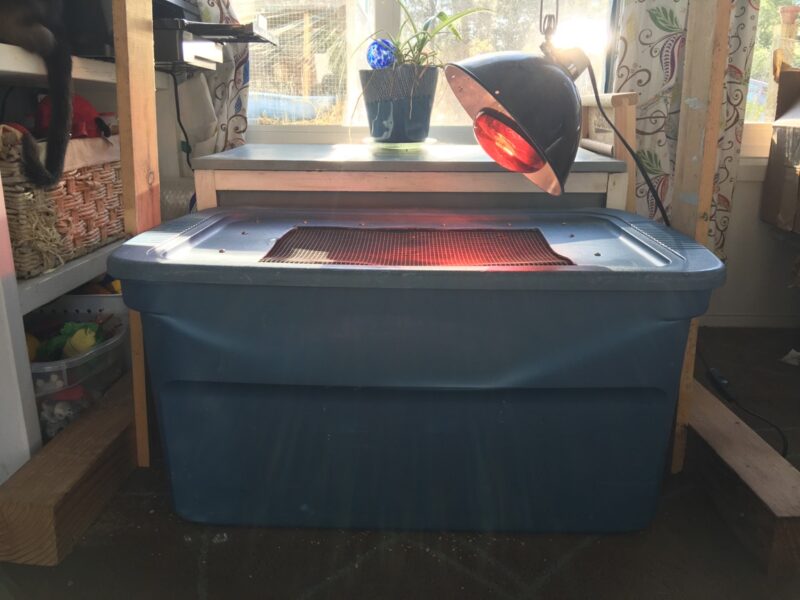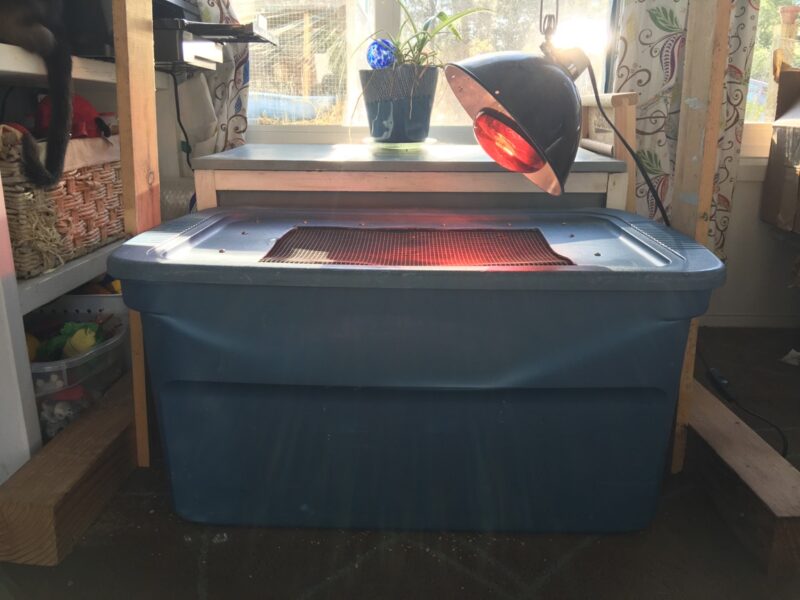 This is the set up with a heat lamp stand on either side. The lamp is clipped to a wire strung between the posts.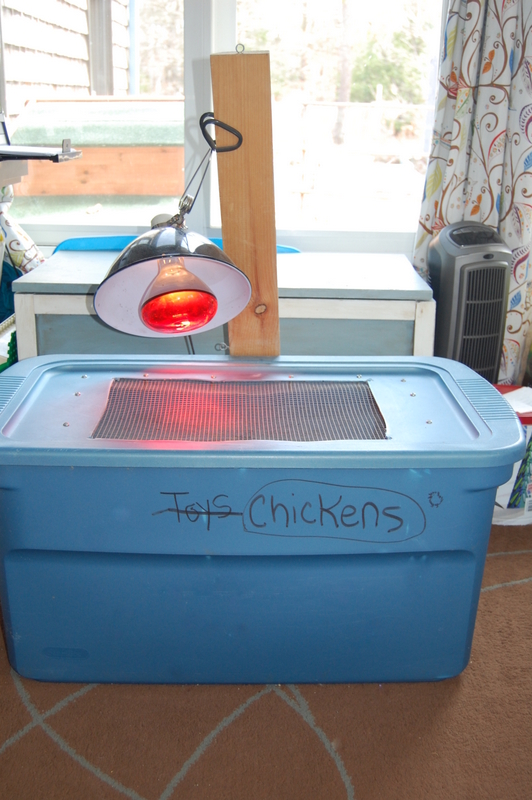 What goes into a brooder box?
Chicks:  Fluffy butt chicks will need dry bedding, I like to use pine shavings.  They will also need a food and water dish.  Mason jar water & feed bases are perfect and can serve your chicks until they are ready to move outside.  For the first few days while they are getting used to their surroundings, I just put the food & water dishes nestled into the shavings.  After that, I like to raise them up on a few bricks.  It helps keep the shavings out of the water and feed.
After the chicks are a week or two old, you can add a small roost for them to practice roosting on.  Mostly, they will just sleep in a giant pile of fluff together, but they will like jumping around on the roost.  I made one out of 2×2 lumber, the "legs" raise it just 4 inches off the ground so no one gets hurt jumping up or down.  Stick a thermometer on the back wall so you can monitor the temperature. Click here to read more about raising little chicks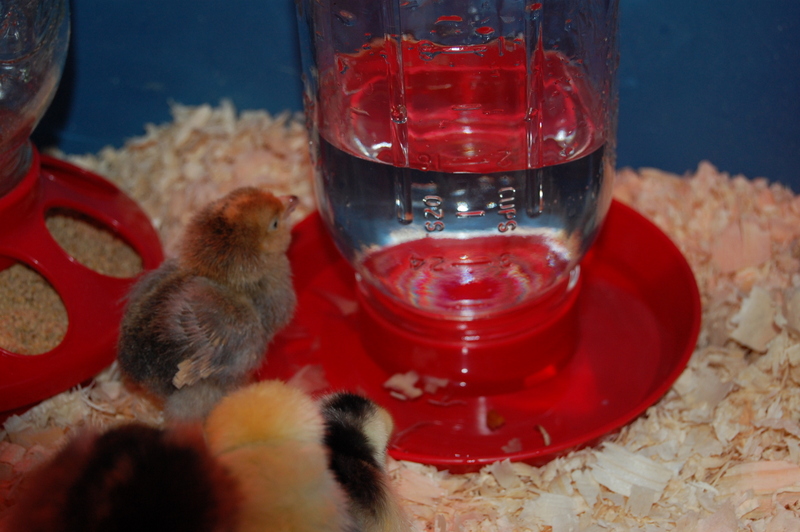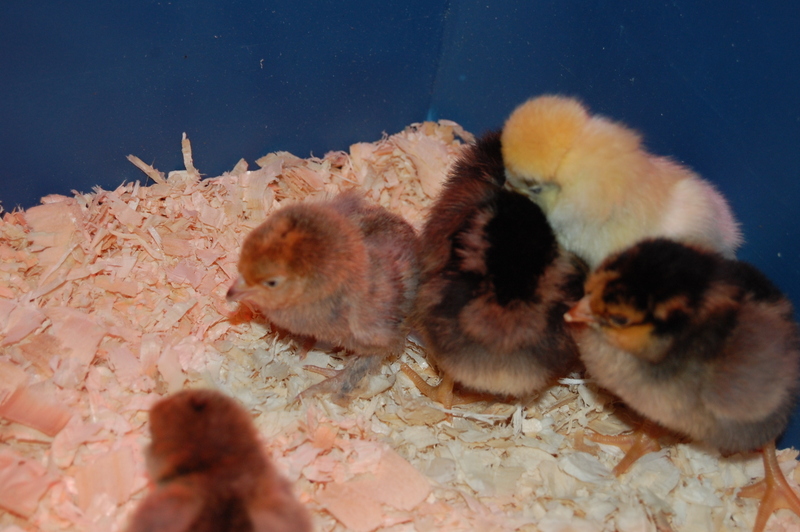 Ducklings: Brooding ducklings is a whole different game.  While you can brood ducklings and chicks together if you have a really big brooder, I wouldn't recommend it in a small plastic tote.  Ducklings love water and they love to splash around and mix their feed & water making a giant mucky mess.  The chicks will hate this.  For ducklings, cut a piece of rubber shelf liner to fit the bottom of the box.  This will provide a non slippery surface for the ducklings to walk on and will raise the bedding up a little bit so it's not soaking wet.
Pine shavings are not a good choice when brooding ducklings because they will get soupy fast.  Straw bedding is inexpensive and will hold up better to sloppy duck feet.  Get a small baking pan and place it in the brooder.  Put the feed & water in the pan and put straw bedding everywhere else.  The pan will help catch the water that is splashed around, you can take the pan out a couple times a day and dump it to keep the brooder cleaner.
For the feed, you want to use something shallow.  I use a terracotta pot saucer.  For their water, you can use a Mason jar base for the first 5-6 days.  The ducklings grow so quickly and they need so much water that it isn't practical to use it much longer than that, plus they need to be able to dip their head under the water and their little heads won't fit in the Mason jar base for long.  After that we switch to a 1.5 quart glass baking dish, deep enough for them to splash in.  You don't want to start off with a deep baking dish because awkward newborn ducks have a hard time balancing and can often find themselves turtled on their back unable to get up.  If that happened while they were drinking they could drown.  Stick a thermometer on the back wall so you can monitor the temperature.  Click here to read more about brooding ducklings